Artificial Intelligence in B2B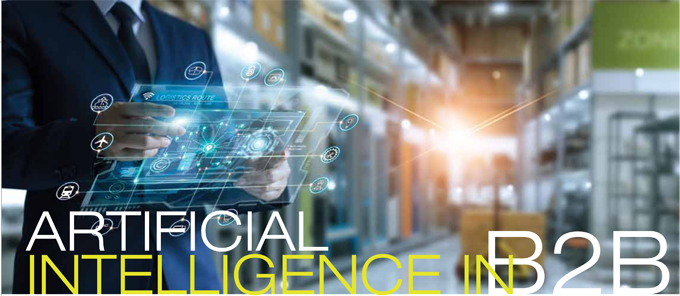 by Rohan Thambrahalli
The pandemic forced B2B industrial product companies to think about the future and continue growing in a post-pandemic world. B2B buyers are now researching and purchasing more products online, capsizing traditional buying cycles. A mere 20 percent of buyers want to go back to the good old days where in-person sales reps drove sales. These shifts in behavior are changing the way buyers shop for industrial products.
With the launch of Amazon Business in 2015, Amazon has seen tremendous growth among manufacturers and distributors. According to recent research, Amazon Business and the B2B marketplace is on track to hit $80 billion by 2025. As a result, Amazon Business has the power to change the industrial product market, which could be an opportunity or a significant fumble for companies.
The pandemic expedited shifts that were already underway within the economy, including new generations taking leadership positions who have more advanced technology expectations, and a greater dependency on it. Emerging technology is transforming the future of almost every industry. While numerous factors have created business opportunities, artificial intelligence (AI) is now the critical force driving change. Although AI, automation and machine learning have been advancing for years, the need for the efficiency it generates is stronger than ever. Industrial product companies can benefit from the rapid evolution of AI and automation with an opportunity to boost their B2B sales and be positioned as leaders within categories.
Insight, Mined Data, Advertising and Accounting
Unlike the static store shelves of the past, tech stacks leveraging AI, automation and machine learning are creating digital salescapes that allow industrial product companies to reach all their customers. What is more, these marketplaces like Amazon enable industrial companies to act and think strategically and agilely in their transactions and how they compete. Technology allows product companies to gain immediate and ongoing insight into competitive and category offerings within e-commerce marketplaces to decipher the most significant opportunities in terms of gaps. Through dashboard reported AI data, industrial product companies can track, identify and leverage real-time pricing intelligence to determine where they position for optimal profit.
By using AI technology, companies can intelligently mine product information, create product content, utilize performance data and empower brands to optimize product discoverability in the e-commerce marketplace. By extracting a single keyword or phrase, acquiring competitor product details and rankings, and gaps in SEO and content optimization, companies can compete in more significant marketplaces and with more competitive brands.
With the use of automation and data mining to manage the pricing of ads, industrial product companies can do what cosmetic, clothing and other consumer companies have been doing for years. Industrial products can now meet their customers based on their customers' preferences and optimize their ability to target valuable buyers specifically. In addition, through advanced AI technologies and automation, companies can implement a simplified process that increases advertising returns by utilizing customized reporting to achieve better results. This will result in revenue generation while saving valuable time with automation by effortlessly monitoring and analyzing performance on Amazon and other marketplaces.
Through machine learning, industrial product companies can forecast within marketplaces. They can manipulate their inputs, decisions and evaluate their visibility in the market. This helps companies mature to scale faster and become more profitable. By defining customer reviews and ratings and assessing marketing investments, companies can more accurately forecast and ensure more visibility in today's turbulent e-commerce marketplaces.
Utilizing advanced accounting and auditing automation tools provides a vast opportunity to maintain the complex and sophisticated accounting processes that may have held them back on marketplaces like Amazon. Today these complex processes can be fully automated, dispensing with the need for time-consuming, archaic processes. The demand for automating the accounting process is driven by the need for companies to identify incorrect shortage claims, duplicate billings and erroneous or late chargebacks. In addition, sophisticated tools that analyze and conduct monthly auditing, help manage processes by identifying, tracking and resolving costly marketplace chargebacks, will streamline the auditing process to ensure companies are fully optimizing their profitability.
Understanding AI, Automation and Machine learning technologies in the industrial e-commerce space
A report from B2B Marketing mentioned that the most significant factor holding back the adoption of AI is access to understanding. AI and advanced machine learning are technologies that will create and reach new audiences fresh to the industrial e-commerce world. Smaller and midsize companies can be directly targeted now, giving companies that want to forego face-to-face meetings with sales reps a more expedited and updated way of conducting sales interactions. As a result, companies can effectively reach new customers and more customers while maintaining and even growing profitability.
AI is not new to the industrial industry, but it is new to industrial e-commerce, as the segment has been slower to adopt the opportunity inherent to marketplaces like Amazon. However, AI is already applied throughout numerous sectors globally and addresses issues and recommendations on development. For example, every video game uses AI to track physical motions; smartphones like the iPhone use AI for facial recognition to unlock the screen. This revolutionary technology can help reshape the way we do business and alter our processes like never before.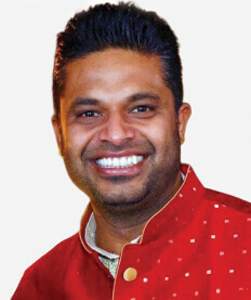 Founder and president of UpstartWorks, Rohan Thambrahalli, has made it his goal to develop a culture that embodies the builder who delivers best-in-class value to customers and partners. UpstartWorks is Rohan's most significant personal and professional achievement. It was his vision from the beginning to start a company that could provide vendors the reach, technology, scale and capabilities to compete with the best brands in the world. Rohan holds a bachelor's degree in MIS and Economics from DePaul University. In his free time, Rohan enjoys reading business journals and articles.
This article originally appeared in the July/Aug. 2021 issue of Industrial Supply magazine. Copyright 2021, Direct Business Media.
COMMENTS: 0
---