Safe warehouses are productive workplaces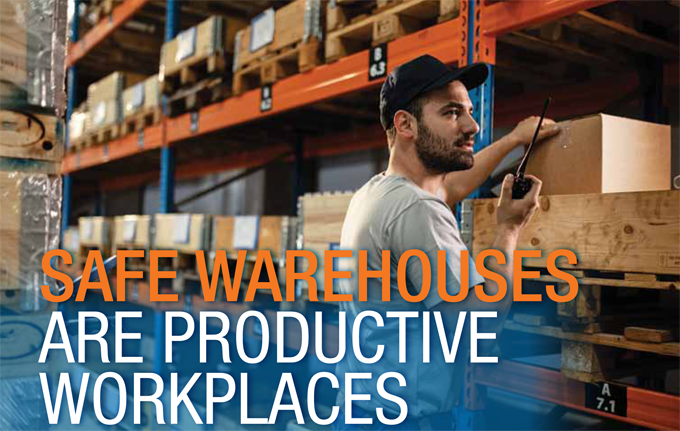 by Rich Vurva
Are you looking for ways to improve your warehouse productivity without sacrificing safety? Here are a few ideas from industry experts that are worth exploring. For example, regulating fork lift speeds in congested warehouse zones can decrease accidents. Using data analytics to measure forklift operator performance can help you spot where training opportunities might be needed. Implementing trailer restraints at docks and installing dock monitoring devices can avoid costly accidents and injuries. If you really want to go high-tech, you might want to consider automation, such as laser-guided vehicles and self-driven forklifts, to achieve safer, more efficient distribution centers.
Kim Stachler
Marketing Connected Product Manager
Crown Equipment
As the country begins to emerge from the pandemic, two trends dominate many customer conversations. The first is the difficulty companies are experiencing in finding workers. Hiring challenges experienced by many companies in the booming economy prior to the pandemic have continued or even intensified with the rise and fall of COVID-19. The significant growth of e-commerce, for instance, has placed even greater demands on the distribution center. Our customers are being challenged to attract new workers, while retaining their existing workforce and using it most effectively to meet growing demands.
The second trend is an increased focus on workplace safety and maintaining a strong safety culture. When it comes to working in warehouses and with forklifts, safety has always been top of mind. In many ways the pandemic has brought a new urgency to the idea of workplace safety. Maintaining a safe working environment also can be a key factor in employee retention.
One way Crown Equipment has responded to this trend is by working closely with our customers to help them not only understand the role data analytics can play in addressing these trends, but also help them set up programs and initiatives that enable them to act upon what the data is telling them to achieve business objectives. Many customers are hungry for data, so our focus is not only on identifying new data points, but also helping customers determine what they can learn from the data and how they can use it to provide business value.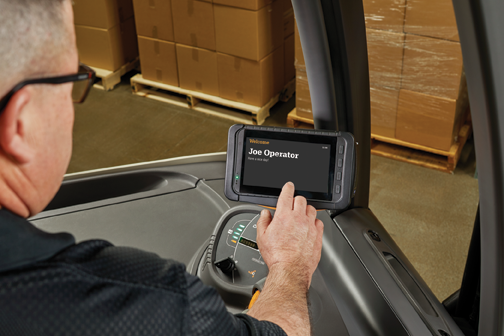 Our InfoLink operator and fleet management system is a connectivity solution that helps our customers capture data and then prioritize the data points that they need to realize business value, including data on operator performance, equipment status and health, and product movement.
It can also be a valuable tool in helping customers address the two major trends we referenced earlier, growing hiring challenges and the increased focus on workplace safety.
Crown's InfoLink system enables managers to collect a wealth of data that helps create an accurate picture of how the vehicle and operator are performing. Which operators are exhibiting incorrect behavior? Which areas of the facility or shifts see the most impacts? Facility leadership can then use this data to make adjustments in training, maintenance and facility layout. They can also set thresholds to quickly be alerted when an impact occurs so they can investigate.
InfoLink data can also provide visibility into forklift fleet utilization, showing not only how the forklifts are being used, but also when and for how long. This information can be used to determine a right-sized fleet so that no trucks are left idle during peak times and may also show opportunities for increased productivity. Utilization data can be combined with the service data to get a better understanding when forklifts need to be replaced.
While Infolink has traditionally been a tool for managers, we've made a number of updates that now make it an important tool for operators – especially when it comes to safety and training. For instance, every time operators sign on to the lift truck they'll see one of many rotating safety reminders on the InfoLink display.
There's also Dynamic Coaching alerts, which provide in-the-moment performance feedback to the operator. For example, if they do something incorrect, they get a negative tone to alert them and inform them of the correct way. For positive reinforcement, they will get a positive tone and message when they perform an operation correctly.
These interactive features are especially important for creating a positive experience for existing employees, as well as making it easier to onboard new employees and help them become more confident operators.
We are continually looking to add new features to our InfoLink system and expand its data gathering and analytics capabilities to add value for our customers and help them meet changing demands. Over time, we believe it is important to integrate many of these features into the lift trucks themselves.
We are also always looking for a way to enhance and simplify the operator's interface and interaction with the system. For instance, we are utilizing more graphical elements, such as with the startup checklist, to make it easier to understand. And given the growing diversity of the workforce, we are also looking at factors and features that are more encompassing. For example, the InfoLink system currently offers 25 different languages which can be personalized at operator login.
As demands increase, more customers are also looking at automation as a means of enhancing supply chain and warehouse operations even as they face difficulties hiring enough workers in a competitive job market. Dual mode vehicles enable both automated and manual operation, depending on the needs of the facility. They allow warehouses to take an incremental approach to deploying automation, with minimal supporting infrastructure and with or without a warehouse management system.
As one of the leaders in dual mode technology, Crown recently introduced the DualMode R reach truck and the DualMode T tow tractor and will continue to expand the line to meet future requirements.
Chris Webre
Safety Systems & Controls
Safety Systems & Controls (SSC) has been designing and manufacturing vehicle safety products locally in the U.S. for more than 25 years. Proactive in our approach, our goal is to prevent incidents from happening rather than warn of them. One area we have extensive experience in is limiting vehicle top travel speeds.
With end users wanting their purchases next day, same day, NOW, companies are building massive DCs with high density pallet racks to help meet their customers' expectations. To move product inside these facilities, today's fork trucks are built with the speed and power to move product quickly. Without speed restrictions, these fork trucks can move at high speeds, increasing the potential for accidents. For that reason, it's common for companies to limit top travel speeds even at the expense to productivity. That is where many of us are today.
To keep the safe speeds and address the production issue, SSC developed the Pace-One Zone Speed Control (ZSC) system. The idea is not to have one set safe speed, but to have multiple top speeds appropriate to the areas being travelled. The Pace-One ZSC system receives truck location information and outputs up to four different top travel speeds. Essentially ending up with slower speeds where there is congestion, sharp turns or pedestrians and faster travel speeds where there is little congestion and no foot traffic. Implementing Zone Speed Control is the key to maximizing productivity with minimal negative effect to overall fork truck safety.
As an example, a fork truck operator making $15/hour and working a 40-hour work week costs an employer $600/week not including benefits. Increasing speeds in low congestion/non-foot traffic areas to 7 MPH and keeping a 5 MPH speed limit in other areas can increase productivity by nearly 7 percent. That may not seem like much, but it's over $40.00 per week, per operator, per shift in this example.
OHSA lists "Speeding" as the second most common cause of fork truck accidents, the other top five include poorly trained driver, operating with an elevated load, improper turning and insufficient warning and markings. Using a top travel speed limiter with multiple speed settings can increase safety in these other areas as well. For instance:
When combined with an access control system, a "new" operator "slower" speed can be input until the operator shows operational competence.
With a mast height sensor, top speeds can be lowered when the mast is raised.
Combined with zone speed control sensors, travel speeds can be lowered at corners where fork trucks turn.
In addition to proper foot and fork truck traffic markings, providing personnel protection transmitters to all foot traffic tied to zone speed control slows fork truck traffic when both are in the same vicinity.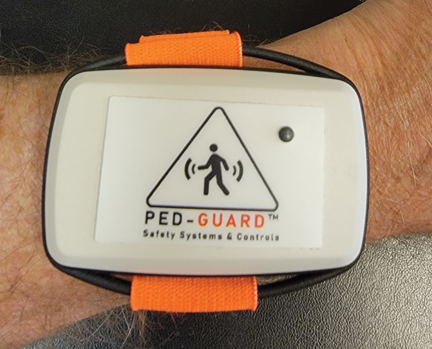 Initially, slower speeds were the golden goose to creating a safer operation. Now the buzz words are "collision avoidance" and "personnel protection." We address part of this with Nomad and Ped-Guard. Both are RF based transmitters and team up with Pace-One ZSC. Nomad is battery powered and about the size of a cell phone. It has an ON/OFF switch and when turned ON, transmits a RF signal to the Pace-One ZSC system and slows all vehicles in its immediate vicinity to a preset safe speed. This is ideal for maintenance personnel working in areas with fork truck traffic. Ped-Guard is like Nomad, but in addition to slowing traffic around the person wearing the device, it also vibrates alerting that person when a piece of equipment is operating nearby.
The Pace-One ZSC system can be utilized as illustrated or can be teamed with third-party AI, camera or other detection systems. In addition to zone speeds, Pace-One can give appropriate slower travel speeds when applying the inching pedal, entering a trailer, travelling in reverse, engine out of range operating conditions or after an impact event. Provide a signal and Pace-One will limit the truck to the top speed associated with that operation or event.
Safety will always be our top priority, but with today's technologies, one slower top speed does not have to be the only solution. Review operations and if you find there are areas where slower or faster speeds would be beneficial, a zone speed control system might be the ticket.
Rich Schlesinger
Director, U.S. Distribution Sales, Loading Dock Products
4Front Engineered Solutions
We're continuing to see a vibrant and growing commitment toward dock safety awareness in the distribution industry. Increased volume and velocity continue to drive the growth in demand for safety-related solutions and systems, top of which includes trailer restraints which have evolved into an industry must-have. In years past, trailer restraints were viewed as something you could get by without, but not anymore. The realistic prospect of a seven-figure accident resulting from a forklift falling off of a four-foot high dock is a strong motivator when it comes to safety at the dock.
Key as well to using the right restraint is integrating it—along with levelers and doors—with what we refer to as a next-generation digital master control panel. The more control, insight and decision-making intelligence available at the dock quickly translates into a much safer dock operation environment.
Last year we introduced our new cloud-based dock monitoring and management platform 4SIGHT Connect – Digital Dock from 4SIGHT Logistics Solution. The 4SIGHT Connect suite of smart and connected facility solutions has since expanded to now include 4SIGHT Connect – Gate as well as 4SIGHT Connect – Data which provide unprecedented improvements for dock scheduling and process flow data integration. Along with our Kelley and Serco digital master control panels, facilities now have complete visibility and control over their entire dock operations.
Facilities are increasingly moving toward 'lights out' operation along with improved efficiency across the board that will enable them to turn more trailers and turn them faster. Knowing what you're doing at your dock, how fast your doing it and how much from a quantity standpoint is all great, but having the right tools to improve on all of your efficiency metrics is critical which impacts safety as well.
Once a truck arrives at your dock, do you know how long it takes to actually begin loading, or once you're done loading, how long it takes for you to pull the trailer away from the dock? 4SIGHT Connect – Digital Dock will provide the prompts at the right time to make all that happen with a high degree of efficiency.
Also, APS Resource, our supplier of aftermarket warehouse safety products and a division of 4Front Engineered Solutions, is always expanding their product solutions that help to prevent accidents.
Enhancements will continue for the 4SIGHT Connect cloud-based dock monitoring and management platform which is redefining how the industry is looking at dock safety and efficiency. In fact, we recently launched a new 4SIGHT Connect website and we encourage your readers to check out the site's new videos and other useful content. We're also proud that 4SIGHT Connect – Gate was named Best IT Innovation as part of the 2021 MHI Innovation Awards announced at this year's ProMatDX.
Getting back to APS Resource, the company continues to bring new and innovative dock safety products to market. One of the company's most recent innovations is Impact-A-Track LED that not only protects overhead door tracks from damage but it contains embedded green, amber and red LED lights to communicate restraint status. In fact, it's the only secondary restraint lighting system that is designed for direct impact.
And of course, APS Resource offers the S.W.A.T. (Secondary Warning Alert Technology) module which visually alerts workers when a restraint enters an alarm state, a Tactical LED Dock Light that contains its own built-in S.W.A.T. module and DUAL CHAIN an easy-to-install barrier for dock door openings which also meets the latest OSHA fall protection guidelines.
Andrea Pongolini
Executive vice president sales
Elettric80
Improving end-to-end solutions with advanced technology and automated systems is a proven way to achieve the most highly efficient, safe and reliable factories and distribution centers.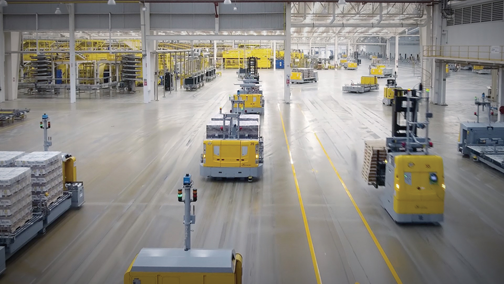 Automation safely meets all of today's intralogistics needs without delays, risks, waste or damage to products.
Today, automated guided vehicles, laser-guided vehicles, and self-driven forklifts represent the most flexible, reliable and advanced technology to integrate all the supply chain operations.
That's why Elettric80's solutions have become increasingly relevant to North American companies, and indeed, all of Elettric80's customers worldwide. By customizing state-of-the-art, end-to-end integrated systems with the highest level of innovation, Elettric80 is leading the Industry 4.0 transformation while benchmarking the future.
Since 1980, Elettric80 has completed nearly 300 integrated factories worldwide, with more than 2,000 robotic systems and 5,000 laser-guided vehicles installed in manufacturing and distribution operations. The company's continual integration of technology advances has enabled a highly streamlined approach for the operation of material handling systems, which provide significant advantages for improved throughput, uptime, energy management, sustainability, ROI and safety.
How? Thanks to the software.
Proprietary software custom designed specifically for the unique needs of each manufacturing and distribution facility manages all AGVs and LGVs movements within the factory. Elettric80's SM.I.LE80 software platform coordinates intralogistics flows and hardware systems, as well as manual and robotic activities. It allows dialog with the plant's ERP and guarantees real-time remote supervision of the entire system.
Using 3D mapping, it enables Elettric80 to optimize AGV and LGV trajectories within running plants and distribution centers, without interrupting operations or production, thereby minimizing costs and timing. Layout development and optimization is critical to achieving the most innovative plant layout design, and 3D mapping allows Elettric80's layout experts and its customers to envision the movements of AGVs from the very first design phase.
All Elettric80's AGVs and LGVs are powered with the latest-generation lithium Flash Battery technology with induction charging, a technology designed to maximize factory efficiency and reduce battery wear and charging times. Among the benefits, it takes far less time for these batteries to recharge than lead batteries, and working cycles are independent of battery charging times.
Moreover, lithium batteries reduce all of the management costs that would instead result from lead-acid batteries. The charging process is flexible, and during the entire lifetime, all operations of the LGVs fleet are daily and automatically remotely monitored through the "Flash Data Center" software.
Each solution is designed to meet specific goals and business purposes. Elettric80 customizes its systems according to the plant's specific requirements, designing AGVs and LGVs that can be used in various industrial sectors.
This article originally appeared in the July/Aug. 2021 issue of Industrial Supply magazine. Copyright 2021, Direct Business Media.
COMMENTS: 0
---