Collaborative sales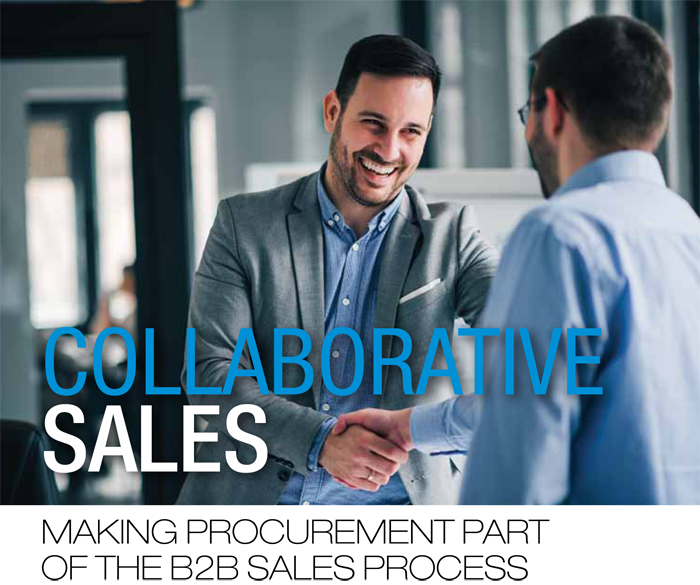 by Michelle Richardson
Any form of B2B selling is about collaboration. The sales rep has goods or services they want to sell, but they still need to demonstrate that the customer needs what they are offering. That's become harder to do in today's B2B sales climate. Business buyers are better informed and are less willing to be "sold." In fact, 77 percent of B2B buyers don't talk to a sales rep until the buyer has done their research, and 99 percent are comfortable spending $50,000 or more using a self-service web portal. That's why it's crucial that sales reps understand the needs of the customer's stakeholders. What are their pain points? How can you work with the customer to give them what they need to close the deal? The answers to these and related questions typically reside with the procurement department.
Procurement managers may be the most critical part of the purchasing process, and B2B salespeople frequently avoid or ignore them. Although the terms procurement and purchasing are used interchangeably, to us procurement means a strategic role. The
procurement department is responsible for identifying needs, sourcing suppliers, negotiating and managing contracts and costs, including looking for ways to save money. Procurement has a pivotal role in B2B purchases and should be included in the decision-making process as soon as possible, even if they are only there to observe. Procurement holds the purse strings, and it pays to gain their trust.
As with all sales and marketing activities, salespeople must apply a personalized approach. To successfully work with any procurement department requires understanding their buying processes, their goals and what they expect from their vendors. Developing a rapport with procurement to better understand their needs will make it easier to sell and negotiate with transparency to reach a mutually satisfactory outcome. Asking the right questions and even tracking the process backward will result in a collaborative
approach so the sales rep can focus on selling value rather than completing an RFQ.
Understanding the buyer's expectations
B2B buyers, including procurement professionals, tend to have common needs and priorities. It's valuable to keep these priorities in mind during the sales process. These days, procurement's top priorities include:
Risk management, resilience and agility. In Deloitte's 2020 CPO survey, 90 percent of buyers said they would rate the transparency of their extended supply chain as moderate to very low. The pandemic continues to catch many suppliers in the value chain off guard. As a result, buyers have little or no visibility into the supply of products or materials they need to make their products. The more transparency you can offer, the better the chances of landing the sale.
Cost savings versus revenue assurance. To promote resilience and agility, buyers also are more concerned with reducing spending and maintaining cash reserves. Revenue assurance is still an important consideration, but cash-in-hand trumps the promise of future profits in the present business climate.
Procurement with purpose. Sustainability and social responsibility have become important considerations for public and private companies. Investors increasingly apply environment, social and governance (ESG) criteria when assessing companies. Twenty-nine percent of B2B buyers require spending part of their annual budget with certified sellers. Demonstrating corporate social responsibility (CSR) can be a competitive differentiator unrelated to any product or service.
Digital transformation. As more companies embrace e-procurement, more buyers are looking for vendors with an excellent e-commerce portal. Eighty- seven percent of B2B buyers say they would pay more to a supplier with better digital tools. Enabling digital transformation has become another key differentiator.
Supply chain diversification. Minimizing buyer risk is always attractive. Offering multiple sources of supply or multiple locations could be more attractive than other suppliers, especially if nearby locations can reduce transportation costs.
Lowering total cost of ownership (TCO) and improving operational efficiencies. Helping procurement accomplish its goals and reinforcing long-term returns over price is another way to differentiate or create added value.
When connecting with procurement managers, it pays to keep these priorities in mind. Make a case for making procurement's job easier. Addressing any of these priorities will put you ahead of the competition.
Selling beyond lowest price
Since the procurement department will have an important role in any buying decision it pays to make them part of the sales process as soon as possible. Get to understand their priorities and goals. Try to become an advocate for procurement before they voice their needs.
In addition to the needs of procurement, understand the organizational dynamics and the needs of the other stakeholders. Find out who the decision-makers are at each level and determine who controls the purchasing decision. Create a decision tree to understand better who must be involved and to what degree. Price is always a factor, but it doesn't have to be the deciding factor. As part of the decision tree, identify the priorities and needs of each of the stakeholders.
It also pays to sell and negotiate with transparency. Be open in communications and provide background materials and resources that address goals and inform decision-making for each of the stakeholders.
Price will be an ongoing negotiating point, but don't be tempted to discount too quickly. Our B2B procurement professionals survey shows that 70 percent of them ask for a discount one or two times before they get a price break. There is plenty of room to reinforce the value of goods and services before settling on a price.
Have the answers ready
Successfully selling to procurement professionals means being prepared to answer detailed questions. No matter what the industry or the nature of the goods being sold, many of these questions will be the same:
Does your product or service meet our specifications? Determine which of the stakeholders has the details about specifications and be ready to address this question.
What is the impact on supply chain risk? Working with your organization should mitigate shipping and supply chain issues and support business resiliency and agility for the customer.
What is the real total cost of ownership? In addition to price, is there a case to be made for greater efficiency, cutting production time, reducing shipping costs, or some other savings? Are there savings or financial benefits year-over-year?
Are there hidden costs or concerns? This is where creating transparency in the buying process pays off. Be open about any additional costs such as freight or surcharges, and don't leave anything hidden that could surprise the customer.
What about account service? The human element is always important, even in the age of B2B self-service. Customers want to know they can get help when they need it, either through a self-service portal or help desk. They also want account consistency and usually expect one point of contact ("one throat to choke").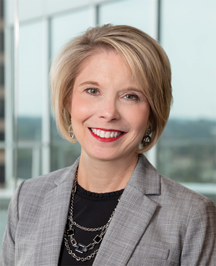 Despite digital transformation and the growth of self-service in business purchasing, B2B sales are still a highly collaborative process. Connecting with the procurement managers and other stakeholders early in the process provides an opportunity to exchange information and review everyone's objectives. The more communication and data gathering, the better the custom sales proposal and the more likely the deal will close.
Making an ally of procurement during the discovery process can be one of the best strategies for increasing deal size and supporting future sales.
Michelle Richardson is vice president, Sales Performance Research, The Brooks Group, co-author of Agile & Resilient: Sales Leadership for the New Normal.
This article originally appeared in the July/Aug. 2022 issue of Industrial Supply magazine. Copyright 2022, Direct Business Media.