Improve warehouse SPEED without sacrificing SAFETY
by Rich Vurva
Distributors are continually on the lookout for ideas that will help improve throughput in the warehouse. Getting products into and out of a warehouse or distribution center in a speedy manner can make a major improvement to every organization's bottom line. But while companies are always interested in speed, they never want to sacrifice safety. With that thought in mind, we asked some experts in warehouse productivity for cost-effective ideas on improving warehouse safety.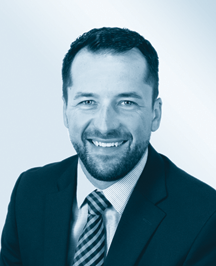 Andy Vaske
Marketing Product Manager
Crown Equipment
Many customers are asking about automation technology and product features that help maintain a focus on safety. They are being challenged to attract new workers while retaining their existing workforce and effectively meeting productivity expectations and customer demands. Increased employee turnover in the warehouse and an influx of less experienced forklift operators compound the issue.
Crown Equipment is working with customers to help them streamline onboarding and encourage the retention of forklift operators. This includes advances in forklift telematics and automation technology that enhance the operator experience and help newly-trained operators gain confidence and increase productivity while maintaining a strong safety culture.
A wealth of data can be gathered from forklift telematics systems, such as Crown's InfoLink Operator and Fleet Management System. These systems provide a powerful tool to help managers reinforce training and ensure the fleet is properly maintained and potential safety issues are identified and addressed. Operational and health status data can be integrated, aggregated and analyzed to identify trends and opportunities to improve productivity, efficiency and safety.
Warehouse automation has advanced to the point that many material handling challenges can either be resolved or mitigated using current technology. For instance, Crown's DualMode automated forklifts with natural features navigation enable warehouses to take an incremental approach to the deployment of automation solutions with minimal or no supporting systems or infrastructure. Operations that have not automated because they anticipate unavoidable process exceptions can leverage dual-mode vehicles to automate operations where it makes sense to do so while retaining manual operation to help address the exceptions.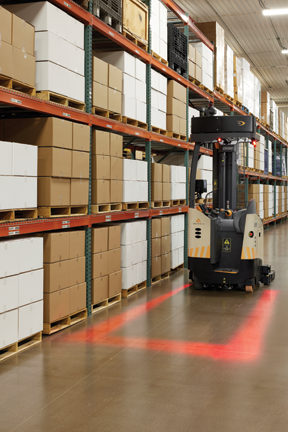 DualMode R 1000 Series is a double deep reach truck with MonoLift mast capable of operating in automated or manual mode.
Crown DualMode forklifts can switch between manual and automated operations to accommodate dynamic changes in the production plan. They feature an intuitive user interface that trained employees, often those who have previously operated manual forklifts, can efficiently operate. The forklifts can integrate with the warehouse management system in automated mode to ensure a consistent workflow customized to fit the operation.
Below are several safety and automation features that can benefit distributors.
Stand-Up Rider Floorboard Pedals and Sensors help promote correct operator positioning and control for operators driving stand-up rider counterbalance and rider reach lift trucks. An Entry Bar Safety Switch, positioned at the opening to the operator compartment, will slow the truck to a stop, sound an alert, and display a message if the operator attempts to drive the lift truck with part of the foot resting on the ledge, outside the operator compartment.
Crown's Intrinsic Stability System uses technology to monitor and control key lift truck functions and movements to enhance stability and safety and give the operator an added level of confidence. It helps the operator maintain a constant speed on ramps and provides travel and cornering speed control based on variables such as load weight, lift height, steer angle and direction of travel.
OnTrac Anti-Slip Traction Control improves lift truck traction control in environments with slippery and/or wet floors. This technology uses the lift truck's control system to determine whether the truck has lost traction. It decreases tire wear, helps reduce accidents and product damage, and improves operator confidence in slick conditions, such as refrigerated or freezer applications.
Crown's QuickPick order picking technology provides operator-assisted, low-level order picking- saving time, reducing risk and increasing productivity. Operators use a wearable, wireless device to advance the lift truck, allowing them to work from behind the forklift, moving back and forth across the aisle in an efficient Z-shaped pattern. With QuickPick enabled vehicles, operators maintain a smooth workflow pattern, focusing less on positioning the truck and more on the task of picking. This technology can yield productivity improvements of up to 25%.
The Auto Positioning System, available on the Crown TSP Series very narrow aisle turret truck, guides the forklift along the most efficient path to the next picking location. This automated system efficiently blends lift and travel and can increase productivity by up to 20% while reducing training time for new operators by enabling them to perform with more proficiency in less time. The TSP Series' optional Auto Fence helps promote safety by automatically slowing travel speed and stopping or limiting lift height within the vary narrow aisle based on the turret truck's location.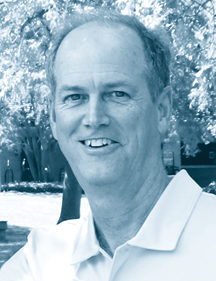 Chris Webre
President
Safety & Systems Control Inc.
Forklift safety has always been a topic of concern. What has changed are technologies that are available to increase safety. Safety Systems & Controls addresses one of the most common causes for forklift accidents, high travel speeds. Twenty years ago, SSC came out with the first top-speed limiter which limited forklifts to a single set top speed. Our current Pace-One product can output up to six different top travel speeds depending on vehicle location, proximity or activity being performed.
We offer multiple top-speed limiters that activate on an evolving range of inputs. Our receiver on the forklift is IR and RF-enabled. Signals to Pace-One include SSC's IR Transmitter which is ideal when setting up specific set travel speeds by location. It's fairly simple: place an IR Transmitter in the ceiling or above a doorway where you want speeds to change. IR Transmitters can also be hooked up to powered crossing gates so that speed is only reduced when the gates are open.
On the RF side, we offer Nomad and PedGuard. If maintenance workers are working in an area with forklift traffic, they turn Nomad "ON" and all traffic around them comes to a preselected slow speed, essentially creating a temporary "work" zone. With PedGuard, all Pace-One-equipped vehicles will slow down when they are near it. PedGuard is wearable, does not have an On/OFF switch (turns on automatically with motion) and vibrates to alert the wearer that a vehicle is approaching.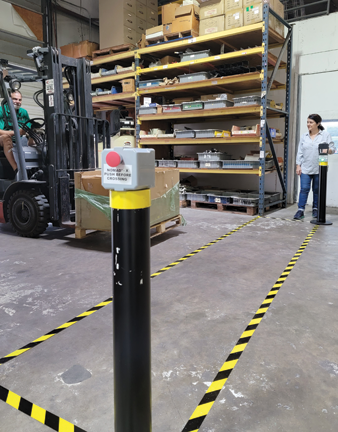 Workers turn Nomad "ON" and all traffic around them comes to a preselected slow speed, creating a temporary "work" zone.
The benefits to a multi-speed setup is that you don't have one set slow speed. EHS managers are happy because the facility is safe. Production managers are happy because their rolling stock is not moving at 4-5 mph top speed all day long. Companies get a safe and productive facility. It's a win-win.
A recent software modification stops forklifts at set locations for a set period of time, such as at the end of an aisle or before traveling through a doorway. This can be done for traffic traveling both directions or in one specific direction.
SSC specializes in top-speed limiters and while we do offer IR and RF activation inputs, there are other sensing options available. Vehicle travel direction or mast height can be selection criteria. There are third-party vendors that have camera, AI, tag, ultra wide band RF warning systems. But they are just warning systems. SSC supplies a wire stump tailed out of our Pace-One harness for easy hookup to these systems. So if a customer wants or has a different detection system, they can output signals from those systems to SSC's Pace-One, which turns that warning system into an active speed control.
Jim Augustyniak
Regional Sales Manager
Steel King Industries
Warehouse and distribution center efficiency and productivity has risen tremendously in recent decades. However, the gains can be jeopardized by safety breakdowns that lead to personal injury, equipment and product damage.
Efficiencies have been gained from better floor plans that allow for quicker throughput, from innovative racking solutions, and from robotics and other automation. At the same time, distribution facility employees are more productive than ever. Nevertheless, without the proper industrial safety products and approaches, collisions involving personnel with forklifts, tow tractors and other vehicles can be serious, potentially leading to grievous injury, loss of life and litigation.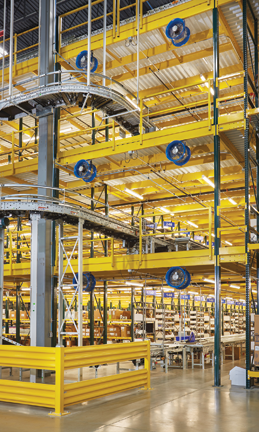 A well-designed and properly installed array of safety products, including guardrail, gates, and accessories, can greatly reduce incidents and protect the facility's people, equipment, and productivity.
Racking, work platforms like mezzanines, and modular offices inside warehouses also need to be protected with barriers to forklift traffic. As a designer and manufacturer of warehouse storage racks, pallet racks and material handling/safety products since 1970, Steel King Industries has developed a number of solutions to enhance safety.
Distribution center productivity can also be compromised if important equipment like racking, conveyors, electrical boxes and control panels are not properly protected with
barriers from vehicle traffic.
A well-designed and properly installed array of safety products, including guardrail, gates and accessories, can greatly reduce such incidents and protect the facility's people, equipment and productivity.
At a minimum, walkways and work areas around racking should be clearly defined. Lines painted on the floor can be helpful in promoting such separation. However, when no physical protection is provided, forklifts and other vehicles can cross over to the pedestrian side for reasons such as operator inattention/distraction or insufficient training.
A more comprehensive solution is to establish visual and physical barriers in the form of guardrails, such as Steel King's Steel Guard and Armor Guard. The guardrails, made with 11-gauge steel, keep pedestrians in defined walkways and vehicles along predetermined routes with protective barriers maintaining separation.
For heavy duty protection, three-ribbed guardrail like Steel Guard is designed to withstand impacts from forklifts and other vehicles commonly operated in warehouses and distribution centers. The guardrail can be installed with a single rail or a double rail that offers a 42-inch-high barrier.
A medium-duty guardrail like Armor Guard is usually a sufficient and more economical means to separate and protect people in workstations and walkways from light shop traffic. They have two ribs and can be installed at a single or triple rail height.
The guardrails also facilitate efficient traffic flow. When pedestrians are kept out of traffic lanes by guardrails, forklift operators can maintain their expected pace unimpeded, so overall efficiency is improved.
When easy employee access is needed, durable safety gates can be utilized where required. For greater flexibility of use, utilize safety gates with post openings designed to accommodate an easy change in the swing direction of the gate. For added safety, sturdy steel springs should automatically close the gate after an employee uses it.
Guardrails can also be installed to protect a wide range of important equipment. This includes rack aisle ends, mezzanines/platforms, conveyor systems, machinery, mechanicals, electrical panels, building features, and offices situated amid material handling or manufacturing operations. With racking systems and mezzanines protected, inventory stored on the structural equipment is also safeguarded.
Finally, pallet racks can be protected from one of the most likely sources of damage – forklifts – with accessories like Guard Dawg, a highly visible and effective rack protector. The protector's sections are anchored to the floor, nestling the uprights and standard footplates of the racking. With a low-profile design, this safety equipment is often used at intersections and along high traffic routes to preserve the rack that is most likely to be damaged.
This article originally appeared in the July/Aug. 2022 issue of Industrial Supply magazine. Copyright 2022, Direct Business Media.