Is your Millennial candidate really a good fit?
by Mary Jawgiel
Employers are in competition with each other to hire the "best" new entry-level employee, the Millennial who has all the specific skills listed in the position description: the candidate with great sales skills, technical abilities and knows there are many kinds of products your company sells. It may take six months, or even a year to fill a vacant position (while other staff members pick up the slack), but companies will keep looking for that one perfect entry-level employee who will stay with the company and can move up the ladder.
After a long search, the hiring manager finally finds that perfect young person for the entry-level position. The new hire has all the skills needed, and even has some product knowledge since he likes to fix things as a hobby. The manager is looking forward to the start date and so is everyone in the department. The perfect candidate becomes an employee. In just a few weeks, the manager knows this "perfect new hire" is not going to make it.
The new young employee tries hard, but he knows that, culturally, this is not the right place for him. He has some friends who work at a company with a more open policy on working from home, and others where flex-schedules are a given. After two weeks in the position, the employee starts looking for something else (Millennials aren't afraid to move on and they do so quickly) and spends at least an hour each workday searching for another job. After two months of trying to make a square peg fit into a round hole, the company finally starts the long process of documenting unacceptable behavior so they can do a clean termination.
Then the hiring process starts all over again. According to GradStaff, a national recruiting agency, it costs $5,700 - $8,900 to recruit an entry-level position, and an additional $1,000 - $1,500 to train that person. So, at the low end, you have invested $6,700 to find the perfect employee and now you will invest even more.
Most entry-level employees will not have the skill set to fill your positions, but they can be trained. If you screen for "cultural fit," you can get down to that training, and have a better chance of retaining that new hire, for the long run. So, stop placing the highest priority on looking for the employee who knows something about the field of industrial distribution, and start looking for someone who will fit in with your company culture. You can always train someone to learn a skill, but you can't change who they are to fit your organization.
Having a good cultural fit is extremely important, and many successful companies are paying more and more attention to how a new employee will fit into their culture. Zappos is just one example of a well-known company that hires for a cultural fit. They include their 10 core values on their website, and have even stopped posting job openings in favor of getting to know those interested in working at Zappos as people, and then determining if they fit the Zappos culture. See jobs.zappos.com.
What exactly is a company culture? Culture is made up of values, behaviors and beliefs that are shared by employees within the organization. It's the working environment for your company. It is shaped by both the executive staff and those working in the warehouse. It can be hard to define, but you can feel it.
Many recruiters are starting to ask specific questions during a phone interview about the values and behaviors of candidates, and screening out those who don't exhibit the same values, even if the candidate has the skill set for the position. For example, many Millennials are team-oriented, but your company may deploy people to assignments individually. Each individual knows how to do their job and they do it well. Employees don't collaborate or ask how someone else would do the job. A Millennial team player will feel like a fish out of water on day one. In pre-screening, ask your candidate questions about how they work best – alone or in teams. If the answers don't coincide with your culture, don't have them in for an interview.
Let's say you find a great potential Millennial candidate for your open customer service position. This position needs to have someone at the desk from 9:00 to 5:00 to respond to customer needs. You ask the candidate what kind of work schedule they are most comfortable with. They tell you they are looking for a flexible schedule that allows them to create their own hours and take time off when they want. But your company policy states that you need to provide a week's notice before you can take a day off, and you need someone to be at the desk from 9:00 to 5:00. This candidate won't fit your culture, so don't even think about having him interview for the job.
There are industrial distribution organizations that are using cultural fit as a prerequisite to screening candidates. We talked with Katy Thomsen, Learning & Development Specialist at Van Meter Inc., an employee-owned industrial distributor with 12 branches across the state of Iowa. Katy says, "At Van Meter, we believe having a cultural fit with new employees is extremely important. We have hired people that are a cultural fit who don't have experience in our industry and need training to get familiar with their role. We will hire for fit first and then experience. Being 100% employee-owned means all of us have a stake in the success or failure of the business. Protecting our culture is our No. 1 priority."
It is tempting to hire someone with the right skill set for the job, someone who would require minimal training, but if they don't fit in to your company culture, they won't be happy or productive and it won't be long before they are gone.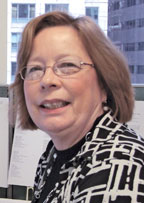 Mary Jawgiel is ICP program director for the PTDA Foundation and manages the ICP Job Board at http://jobs.idcareers.org. Mary's life-long passion has been working with young people. Industrial Careers Pathway (ICP) is a cross-industry initiative supported by ASA, the ISA Foundation, NAHAD: The Association for Hose and Accessories Distribution and the PTDA Foundation. For more insights on recruiting, hiring and training Millennials in the distribution industry subscribe to the ICP Talent Tipsheet at www.industrialcareerspathway.org/tipsheet.
This article originally appeared in the July/August 2014 issue of Industrial Supply magazine. Copyright 2014, Direct Business Media.
COMMENTS: 0
---