Rifle Shot Approach
Jergens Industrial Supply takes aim to help customers become more productive and profitable
From left: Jeff Hogya, Mark Pierson and Matt Schron say that JIS has benefitted from focusing on core suppliers.
By Rich Vurva
Jergens Industrial Supply (JIS) used to have a shotgun style of doing business. The Cleveland, Ohio-based distributor's line card featured multiple manufacturers with similar products. If a customer requested a specific brand, chances are JIS had it in stock.
When the company switched to a rifle shot approach – scoping out a select group of leading manufacturers to partner with – business started to take off.
"Today, we go to market with 30 core suppliers," explains Matt Schron, general manager.
The more targeted way of doing business enables JIS to focus training of inside and outside salespeople on core product lines, develop inventory dedicated to the core suppliers, and work more closely with those companies to bring in more business.
JIS has developed a capabilities checklist that it uses to continually evaluate suppliers in order for them to maintain core supplier status.
"JIS has become my main distributor in Northern Ohio. We had to prove to them that we had superior products and that we could help them go to market with and demonstrate process improvements and cost savings to their customers," says David Browne of Browne & Company, an independent rep from Chardon, Ohio.
After establishing the supplier base, JIS salespeople began upgrading customers to the product offerings from core suppliers.
"Focusing on core suppliers allows us to concentrate on those core lines with our salespeople, and go back to the days when there was true partnership and true value," says Mark Pierson, a senior outside sales manager for JIS.
When opportunities arise, JIS teams up with a core supplier to use their technology to make the application run better and faster and to save the customer money, adds Schron.
The closer relationship enables core suppliers to provide better pricing to JIS customers and to offer faster response time on quotes and deliveries.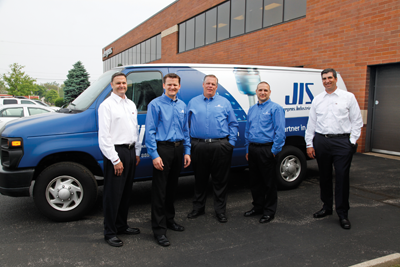 From left: David Browne of Browne & Co., Matt Schron, Mark Pierson and Jeff Hogya of JIS, and Patrick Curry, Fullerton Tool, were instrumental in earning the Excellence in Industry Award from the Industrial Supply Association.
"If I had 25 distributors like JIS across the country, I wouldn't need anybody else," says Patrick Curry, president of Fullerton Tool Company, a JIS core supplier. "This is a true partnership."
One recent success story demonstrates how JIS partnered with Fullerton, a solid carbide cutting tool manufacturer from Saginaw, Mich., to help a customer solve a production problem. If the issue had not been addressed, the customer might have lost a major contract.
The project also helped JIS earn the 2014 American Eagle Excellence in Industry Award from the Industrial Supply Association.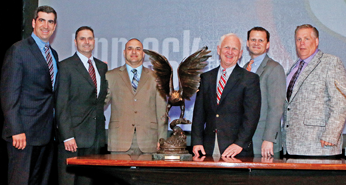 Left to right: Patrick Curry of Fullerton Tool, David Browne of Browne & Co., Jeff Hogya, Jack Schron, Matt Schron and Mark Pierson of Jergens Industrial Supply (JIS) accepted the 2014 American Eagle Excellence in Industry Award at the 2014 ISA Annual Convention.
Gunning for business
Slabe Machine Products of Willoughby, Ohio, specializes in high-temperature alloy machining. The company recently transitioned from manufacturing components used in the aerospace industry to making gun parts for major firearms manufacturers. The margins on gun components aren't as lucrative as in the aerospace industry, but volumes are much higher. Recognizing an opportunity to keep the plant floor busy, Slabe switched production over to making gun barrels, barrel extensions, bolt carriers and other products.
Slabe knew how to crank out aerospace parts using nickel-based alloys and other superalloys used in high-temperature applications, but was less familiar with
machining other alloy materials. Despite investing in 18 new vertical machining centers, Slabe had difficulty keeping up with production quotas to fill several large orders. Slabe turned to JIS for advice.
JIS cutting tool product specialist Jeff Hogya reached out to David Browne, who represents Fullerton Tool, and the pair started evaluating two production parts.
Their evaluation determined that a change was needed on several special tools and several high-performance end mills. Part of the challenge was the ability of the machines being used to produce the parts. Several CNC machines featured a BT-30 spindle with linear guides, which were quick and accurate but struggled to generate the heavier cuts needed. They also couldn't produce the finish desired by the firearms manufacturer.
Fullerton Tool designed a special form tool to run on this lighter duty machine, while still giving Slabe an acceptable cycle time and a finer finish.
"On the very first tool that Fullerton produced, we were able to eliminate one pass, double the feed rate and produce the finish they wanted. It was phenomenal," says Hogya.
The custom tool design factored in the end part to be produced – a bolt carrier – but also took into consideration the parameters of the CNC machine making the part.
"We used our in-house lab in Saginaw to simulate as much as possible, the exact application that Slabe was using," says Curry. "We had to take into consideration the machine's capability, including rigidity, speeds, feeds and horsepower. They were able to keep doing production instead of shutting a machine down for a test run."
The new tool generated a cost savings of nearly $269,000 over the total parts order. Using the custom-designed tool, Slabe increased productivity by eliminating one pass on a two-pass cycle, and the design generated a 30% increase in tool life.
Fullerton also agreed to regrind existing cutting tools – even those supplied by a competitor – to help Slabe burn through existing inventory. The tools typically can be reground up to five times before being replaced, generating significant cost savings compared to purchasing new tools.
The hunt broadens
Following that successful test, Hogya and Browne began looking at other opportunities.
Their next step was to evaluate standard, high-performance end mills. They spent two to three days per week over the next few months testing various tools and making program changes to eliminate non-productive cycles and to capture the best performance from the Fullerton tooling. Some of the challenges they faced included speed and horsepower limitations on live tooling.
"Our job wasn't just to provide what we thought was the best tool. We wanted to provide full service, offering suggestions on improving their process," explains Hogya.
When the testing program was completed, Slabe implemented all of the tools tested and the total cost savings produced on these six tools totaled slightly more than $215,000. The savings came from a combination of machine time reduction, tool life improvements, tool change over time and total tool cost.
"Slabe was gracious enough to offer us complete access to their shop floor," says Browne. "That requires a great deal of trust because they are showing us process sheets and prints, and showing us exactly how they're making their product. We had to earn their trust."
Upon full implementation, the total savings reached nearly $484,000. The productivity gains allowed Slabe to solicit additional work because of machine time gains and the ability to produce a higher quality part. Slabe also invited JIS to begin supplying additional product categories, including MRO supplies and safety products.
The partnership program doubled the business that JIS received from Slabe, and represented a 70% increase in Slabe business for Fullerton Tool. Slabe tooling engineers are now specifying Fullerton end mills and drills.
Additionally, JIS uses this program as a model for two other businesses currently doing high-volume medical and tool manufacturing.
"The relationship between customer, distributor, manufacturer's rep and manufacturer worked exactly the way it was supposed to," says Matt Schron. "The word partnership is commonly used in our industry, however, when a true partnership is formed at all levels of the supply chain, amazing things can happen."
Utilizing this approach to doing business, JIS, Browne & Company and Fullerton believe they can become true leaders in partnering with local businesses by providing leading edge technology and productivity gains to benefit U.S.-based manufacturing.
Click the link below to watch the interview of the winners of the ISA Excellence in Industry Award, conducted by Industrial Supply editor/publisher Rich Vurva.
This article originally appeared in the July/August 2014 issue of Industrial Supply magazine. Copyright 2014, Direct Business Media.
COMMENTS: 0
---