Tevens recognized for lifetime achievement
by Rich Vurva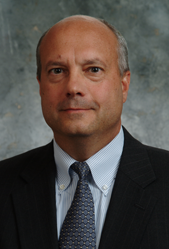 When Tim Tevens first became active in the industrial supply channel, the Internet was still in its infancy. While serving as vice president of information services for Columbus McKinnon Corp., Tevens was selected to serve on the electronic commerce committee of the American Supply and Machinery Manufacturers Association (ASMMA).
"As a company, we were trying to figure out how to take advantage of technology to help us grow," Tevens recalled. The committee also was charged with developing standards for electronic data interchange (EDI) between channel partners.
"That experience opened my eyes to the complexity of the MRO channel. It provided a fabulous foundation for my understanding of our channel partners and how they work," he said.
As Tevens rose the corporate ladder at Columbus McKinnon – eventually becoming president and chief executive officer of the publicly held designer and manufacturer of material handling products – his industry knowledge continued to grow. The relationships he began building during those early years helped him earn the respect of his peers and proved especially valuable when the Industrial Supply Manufacturers Association (ISMA) and the Industrial Distribution Association (I.D.A.) merged to become the Industrial Supply Association.
ISA honored Tevens with the John J. Buckley Lifetime Achievement Award at its 2014 annual convention.
Tevens credits previous association leaders as having influenced his leadership style.
"I really admired Jack Haag. He cared deeply about the industry. He was one of those guys you really wanted to listen to because there were nuggets of wisdom when he spoke," Tevens said of the former ASMMA president, founder of SGS Tool Company. He recalls with fondness other influential leaders, including Ray Reynertson, president and CEO of Sturtevant Richmont, whom Tevens describes as "steady and unnerving," and Allen Chartier of Midwest Industrial Tools, "another of those quiet guys who was incredibly smart and understanding of people."
"What stands out in my mind about these people is that every time an obstacle came up, this group of people was dedicated and committed enough to overcome that obstacle," Tevens said.
Industry accolades
Industry executives who served alongside him on the ISA board had equally kind things to say about Tevens.
"Sometimes you can best discover an individual's true character when faced with a challenging situation," said Steve Short of Updike Supply, ISA president from 2006-2007. "Such was the case with Tim, as a small group of us worked to bring the MROP channel manufacturers and distributors together. His vision and leadership, coupled with the respect he garnered from other manufacturers, was instrumental in our success."
Tom Berger, the former president of Fuchs Machinery and ISA's first president, recalls how Tevens helped the two associations become one. "When the two boards got together to talk and agreed to move forward, not everyone was receptive to the idea," Berger said. "Tim was the right person to lead us through those discussions. One of the things you've got to give Tim credit for is that he exudes common sense. He thinks issues through thoroughly."
Berger was I.D.A. vice president and Tevens was vice president of ISMA when the two associations merged. "It was at Tim's urging that I became the first president of ISA," Berger recalled. "He thought it was incredibly important that a distributor be elected as the first association president."
Tevens served as ISA president in 2005-2006.
Chuck Stockinger, former executive director of ASMMA, said Tevens follows in the footsteps of previous Columbus McKinnon executives, Frank T. Stone and H.P. Ladds, Jr., in serving as president of the leading industry association.
"Tim took the helm of the newly merged ISA in its infancy, and at a difficult time, when expanding the membership and enhancing quality networking among channel leaders needed to be reinforced. Tim succeeded in effectively launching and leading ISA, helping it to re-focus, and position it for future success, in what has turned out to be a
difficult and challenging economic environment," Stockinger said.
Tevens has been active in a number of professional and charitable organizations, including the American Production and Inventory Control Society, and Insyte Consulting, a not-for-profit organization that helps Western New York manufacturing and technology companies succeed. He has served as chair of the Western New York March of Dimes, and twice co-chaired the March of Dimes Gourmet Gala with his wife, Colleen. He also chaired the American Heart Association's Heart Ball and participated in events for the United Way.
He has also served on the Erie Community College Manufacturing Technology Advisory Council and the St. Joseph Collegiate Institute Board of Trustees, and was a member of the Canisius College Board of Regents and the College's Leadership Society.
The John J. Buckley Lifetime Achievement Award is named after the former executive vice president of the Industrial Supply Association. "It is very fitting that the
individual selected for the award was involved in the search committee that brought John Buckley to ISA.
Their paths crossed again when Tim became president of ISA early in John's tenure," said Ed Gerber, immediate past president of ISA, and executive vice president of sales for Industrial Distribution Group, who presented the award to Tevens at the ISA
Convention in New Orleans on May 17.
"Having spent 20-plus years in this channel, I continue to be amazed at its strength and vitality," Tevens said. "I'm thankful that I had a chance to start early in my career and spend a lot of time in it, study it and build some very close friendships along the way."
COMMENTS: 0
---