Top 20 Industrial Distributors
Trends driving growth among industrial distributors
by Lindsay Konzak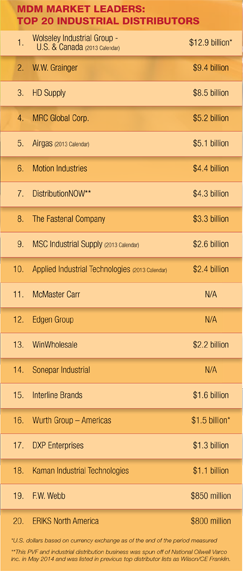 While 2013 did not see the growth rates of those years immediately following the Great Recession, growth was steady for most distributors on MDM's list of the top 40 industrial distributors for 2014. The list, which presents the largest distributors in North America, was recently released and is now available at mdm.com.
The Wolseley Industrial Group – made up of Wolseley's North American businesses Ferguson Enterprises and Wolseley Canada – leads the Top 40 Industrial Distributors list from Modern Distribution Management in 2014. Chicago-based Grainger was No. 2 with sales of $9.4 billion in 2013. And No. 3 HD Supply's sales have been steadily growing, hitting $8.5 billion.
Expansion in product categories was one driver of growth for the distributors on the list, but a much less significant one than it has been in the past. Still, distributors such as Interline Brands with its investment in janitorial supplies have benefited from the strategy. Interline's sales grew more than 20 percent from 2012 to 2013, one of the strongest growth rates in the Top 20, thanks to its acquisition of JanPak, which had more than $230 million in sales when acquired at the end of 2012.
Acquisitions drove some of the fastest-growing companies on the list this year; MSC Industrial Supply's position, moving up to No. 9 from No. 10 in 2013, reflects in part its acquisition of Barnes Group's North American distribution operations in 2013.
WinWholesale, growing 13.4 percent in 2013, was among the most active in 2013, with growth driven both by acquisition and by new locations throughout the U.S. DXP Enterprises also reaped double-digit growth by acquisition in 2013, buying four businesses in select geographies to support its rotating equipment and metalworking divisions.
As part of the 2014 MDM Market Leaders, the annual Distribution Trends Report is also published. Here are some of the trends MDM is tracking this year:
The year 2014 seems to be a year of technology for many distributors across segments. Distributors have stepped up their focus on initiatives around e-commerce, sales force mobility with tablets, data and analytics, warehouse management systems and more.
Online-only competition seems to have heated up in the past year, with concerns over Amazon's place in the B-to-B market and the largest distributors' growing investments in their e-commerce and mobile platforms. As a result, many distributors are taking the plunge and upgrading their websites to move toward a full e-business experience with suppliers and customers.
Challenges with vending profitability continue, after a burst of activity over the past few years. Some industry-watchers say that distributors, including some of the largest, are pulling back from the aggressive sales approach they had been pursuing. But customers continue to ask for the services, and despite these challenges, vending and other inventory management services continue to be key growth drivers in the industrial distribution sector.
In the years immediately following the recession, we saw an increasing number of distributors diversifying their product mixes as part of a strategy to insulate themselves against future downturns. Now, we're seeing some distributors pull back or at least take a more conservative approach, with a harder look at the potential payback they may get from the investment. The challenges include profitability of new lines and the ability to dedicate resources to grow those product categories.
The distribution mergers & acquisitions market is expected to be stronger in the second half of 2014, with large and regional industrial distributors pursuing strategic acquisitions for product, service and geographic expansion.
Finally, hiring and retaining talented people continues to be a big challenge for distributors. In fact, we believe that concerns around finding qualified talent and filling the skills gap are at their highest point in years. Distributors have built initiatives to recruit the next generation straight out of universities and are taking better advantage of training programs, both internally and through colleges and industry associations.
Methodology
Data for MDM's lists of top distributors were based on 2013 revenue size alone. In most cases, we used fiscal 2013 revenue, but in some cases, MDM used calendar-year revenues for an apples-to-apples comparison. Calendar-year measures were based on either Jan. 1, 2013-Dec. 31, 2013, or Feb. 1, 2013-Jan. 31, 2014, depending on when quarterly breaks occurred. To collect data, we used SEC annual filings for public companies. For non-public companies, companies were asked to provide data about revenues. In the end, not every company was willing to provide revenue data, yet we deemed it important to include them anyway. We utilized several resources to estimate where to place these companies. Revenues for all companies in this report are in U.S. dollars. For companies who report their data in other currencies, we converted their revenues to U.S. dollars using the exchange rate in place on the last day of that company's fiscal or calendar year to determine ranking.

Lindsay Konzak is a writer and the former editor of Modern Distribution Management and mdm.com, a specialized newsletter and Web site for wholesale distribution professionals. Reach MDM at editor@mdm.com.

This article originally appeared in the July/August 2014 issue of Industrial Supply magazine. Copyright 2014, Direct Business Media.
COMMENTS: 0
---