Training Tips: Abrasives
By Rich Vurva
More exotic materials and advanced manufacturing techniques are driving innovation in the abrasives industry. Industrial Supply Magazine asked the following abrasives manufacturers to highlight some of the trends they are responding to in today's marketplace. Here's what they said: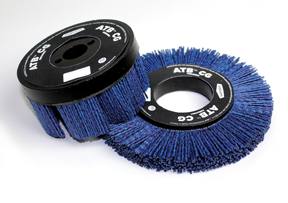 Osborn
The end-user's need to add value and reduce costs is what drives the market today, says Jeff Naymik, marketing manager for Osborn. "Customers are encountering technical machining requirements that are complex and require additional time. We're seeing more exotic metals including Inconel, Hastalloy, ductile iron, compact graphite, powdered metals, stainless steel and titanium. These alloys, along with increased machining speeds, are creating difficult burrs," he says.
Responding to these trends, Osborn developed its Ceramic ATB (advanced technology brush) line. The ceramic grit has a sharp, jagged grain that provides a deeper cut to remove material faster. Osborn's unique, blue filament is harder and stiffer than other ceramic filaments and has the durability to work on Class 3 and Class 4 burrs, which are larger, well attached and require significant mechanical finishing in order to be removed. The filament in the new line is tougher and the ceramic is harder; it cuts deeper and removes a heavier burr faster.
Osborn is launching a new product this year that it calls both aggressive and compliant. The new crimped ATB (advanced technology brush) silicone carbide and aluminum oxide filaments can do what the regular rectangular filament cannot for ductile type applications.
Osborn launched a new initiative this year to work closely with its channel partners to provide the solutions the end-user needs. Its technical labs are able to recreate real world environments to understand the problem and provide the right brushing solution. A complete report is created for the distributor to present to the end-user, eliminating guess work or traditional "trial and error" methods.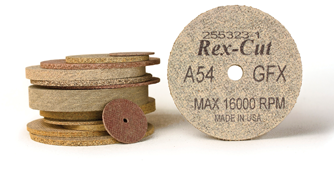 Rex-Cut Abrasives
The use of specialty metals is on the rise among end-users, whether in aluminum, stainless steel and alloy applications, says Tim Borges, sales manager, North American Distribution, for Rex-Cut Abrasives.
"Each of these metals has different characteristics that react differently to abrasives. As a result, abrasive products that perform well on specialty metals are now in higher demand."
As an example, aluminum instead of traditional steel is being used more often in the automotive industry. Also, in deburring applications, more automated robotic cells are being used. Products that are compatible with these machines are in demand.
"Developing relationships with the engineers designing the robotic deburring cells, as well as the companies using the machines, allows us to match the machines with the most effective abrasive for the application. Fitting the machine with the correct abrasive product ensures efficient deburring," Borges says.
Borges encourages distributor salespeople to work closely with suppliers to provide detailed application formation in order to provide the best solution.
"Rex-Cut often works with distributors and end-users to solve application problems and help find the correct abrasive for the job. These interactions also inspire new product development for specific applications," he says.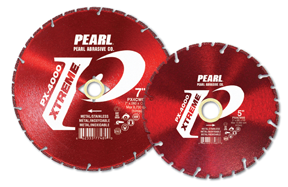 Pearl Abrasive
"We are seeing trends for both high-performance wheels to cut and grind metal and stainless steel, as well as affordable wheels that offer a price-performance value," says Ted Skaff, director of marketing communications for Pearl Abrasive. "In addition, we are seeing a growing demand for abrasive products designed for aluminum, which has been stimulated by the new 2015 Ford F150, as well as other factors."
He says that Pearl's newest technology for improving productivity and durability in the metal and stainless steel cutting market is the new Pearl Xtreme Diamond Wheel for metal applications. The product offers operators advantages over traditional products. It features fast cutting speeds compared to conventional bonded abrasives and much longer life. It is extremely efficient because it reduces the need to change wheels frequently, which increases productivity dramatically. In addition, the shape of the wheel does not change over time; therefore, the size of the wheel remains the same from the first cut to the final cut. The Pearl Xtreme lasts 65 times longer than conventional abrasives and will provide the operator their lowest cost per cut, Skaff says.
Skaff predicts that demand for diamond wheels for metal applications will continue to grow in the market. "Our diamond wheels work fantastic on metal and stainless steel, while saving the operator money and downtime," he says.
He adds that suppliers and distributors can collaborate together to announce new products and technologies to the market. Effective methods include training distributor sales and customer service teams in product knowledge; providing distributors with point-of-sale displays and co-op funds for monthly or quarterly promotional materials, including e-blasts; supplier ride-alongs with distributor sales teams to introduce and demonstrate new products and technologies to end-users.
Norton/Saint-Gobain
Customer requirements for faster removal rates, unique applications, advanced alloys and composites are driving new product development, according to Lori Mata, market manager, industrial distribution, for Norton/Saint-Gobain.
"We continually assess customer feedback, identify needs and try to provide full solutions as well as the right products," she says.
Surface finish control trends are driving finer grits and higher tolerances. Finer grits usually mean shorter tool life and material removal rates, so focusing technologies on achieving similar life with finer grits is key, she adds. "Also, new materials are getting harder to machine, such as powdered metal Inconel, whisker ceramics and reinforced composites. Our innovation has to keep pace with these trends in order to maintain end-user efficiency."
Mata says Norton/Saint-Gobain continues to invest in advanced grain technology that maximizes cut while improving finish, which translates into productivity increases, reduced process steps and lower overall costs for the end-user. She encourages distributor salespeople to reach out to suppliers for technical support.
"The salesperson, along with Saint-Gobain's highly technical corporate application engineers, can identify process and abrasive needs, and work with our R&D facility to solve customer problems," she says.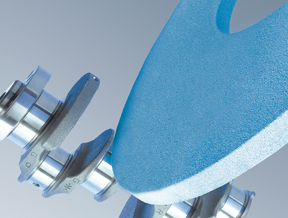 Radiac Abrasives
Enhancements in grain and bonding technologies are driving innovation at Radiac Abrasives, a Tyrolit Company, according to Marianne Dodakian, director of business units.
Modern manufacturing trends, such as near net shape and cast-to-size components, that strive to make initial production very close to the final shape and size, are impacting processes in a number of industries.
"The end-users are demanding tighter geometries to their components. These requirements set the course for the machine builders and the abrasive manufacturers to provide improved quality, faster cycle times and reduced cost," she says.
These trends are driving innovation such as Tyrolit's Genis bond system that makes it possible to guarantee optimal wetting of the CBN grain, even with the lowest levels of bond content. The vitrified bonded high-performance grinding is being used in the automotive industry for grinding camshafts, crankshafts and gearshafts. "The cool grinding specifications of the Genis high-performance tools allow a reduction of the grinding forces, and make efficient use of the CBN grain," according to automotive business unit manager Bill Bennett.
Radiac's CSS Ultra high-performance grinding wheels have improved the grinding wheel micro-architecture using new high-quality materials and innovative sintering technology. This enables the abrasive grain to withstand much greater loads during use without breaking out prematurely.
If a reduction in cycle times is required, this must be realized without negatively impacting quality. This can be achieved only with a grinding tool that offers both high cutting ability and a long tool life, Radiac says.
This article originally appeared in the July/August 2014 issue of Industrial Supply magazine. Copyright 2014, Direct Business Media.
COMMENTS: 0
---