Crowning Achievement
Don Ruggles caps off career with the Lifetime Achievement Award from ISA
By Rich Vurva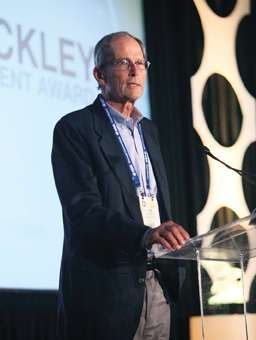 In his 55-year career in the industrial distribution industry, Don Ruggles has played a role in two watershed events. He helped spearhead creation of the Industrial Supply Division of the marketing and buying group Affiliated Distributors, and also served in a leadership role in the merger of two separate distributor and manufacturer associations into the Industrial Supply Association (ISA).
Ruggles recently received the ISA 2016 John J. Buckley Lifetime Achievement Award. Named after the first executive vice president of ISA, the award honors an individual in the MROP channel for longstanding service in the industrial supply industry, for making significant contributions to the success of the industry or their community, and for earning the respect of their associates and peers.
Ruggles is chairman of the board of Martin Supply Company, a distributor headquartered in Florence, Alabama. He joined the company in 1960 but admits that a career in industrial distribution was not on his radar after graduating with an engineering degree from the University of Alabama. He was offered a job by company founder Louis Martin after asking for Martin's permission to marry his daughter, Edith.
"If I hadn't married into it, I don't know if I would have gone into this business," Ruggles joked, while accepting the award at the ISA Annual Convention in Rosemont, Illinois, in April.
Ruggles has spent his entire career with Martin Supply, working his way through the ranks to become president and, eventually, chairman of the board. During that time, he led the company from a small, one-branch operation to become a leading regional distributor in the Southeastern United States.
In the early 1990s, along with several other independent distributors, Ruggles was instrumental in approaching Affiliated Distributors about forming an industrial division. Ruggles eventually served on the AD board for two years.
He said the idea for the industrial division grew out of discussions between members of the DEN Group, an advisory group of 12 industrial distributors around the U.S. who met regularly to serve as a board of advisors to members. DEN Group members were concerned about the growth of "big box" competitors such as major catalog houses and national distributors. "We started discussing the issues that we were facing and realized that we're out here by ourselves fishing in this big pond and these big guys are coming in and taking our fish," recalled Ruggles.
The DEN Group invited about 30 independent distributors from around the country to participate in a meeting to discuss how independent distributors could compete more effectively against larger competitors. Someone mentioned that a group of electrical distributors participated in Affiliated Distributors, so the decision was made to approach AD. Ruggles was one of four distributors to meet with AD's then president, Bill Weisberg.
"AD decided that this was something they wanted and were willing to do, so we formed the Industrial Supply Division of AD," Ruggles said. "It gave independent distributors an opportunity to sort of level the playing field and get more competitive and have better relationships with manufacturers," he said.
Association leadership
Ruggles has held numerous leadership roles within the industry. He served on the board of the Southern Industrial Distributors Association (SIDA) when that group merged with the National Industrial Distributors Association (NIDA) to form the Industrial Distribution Association (I.D.A.). He worked his way through the chairs and eventually served as president of I.D.A. from 1992 to 1993. He also served as temporary executive director of I.D.A. after the death of executive director Gary Buffington. During his one year tenure as interim director, Ruggles was part of the leadership team that decided to merge I.D.A. and ISMA, the Industrial Supply Manufacturers Association (formerly the American Supply and Machinery Manufacturers Association, or ASMMA) to form ISA.
"That merger made a big difference in how manufacturers and distributors work together. Sometimes in the past, they were viewed as adversaries. Now we're working together," Ruggles said.
Looking back on his career, Ruggles is amazed at how the industry has changed over the years. From the advent of systems contracts in the 1970s – where distributors assembled a list of products that they could provide to customers and agreed to contract pricing for a period of six months to a year – to Martin Supply's first integrated supply contract with a General Motors Rochester Radiator plant in Tuscaloosa, Alabama, in the late 1980s, the industry has become much more focused on creating innovative ways to serve customers and to lower their procurement costs.
"From systems contracts, to integrated supply, vendor managed inventory storerooms, and just-in-time inventory, all of those various ingredients kind of came together. Some variations of those programs are still being done today," Ruggles said.
Throughout his career, Ruggles was approached many times about merging or being acquired by other distributors. His decision to remain independent has provided a chance for his three sons, David, Douglas, and Gordon, and now a grandson, Alex, to build careers in the family business.
"They have taken the company to a whole new level, well beyond what I would have anticipated," he said.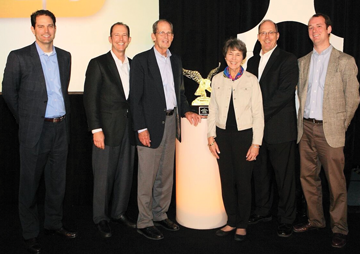 Family members on hand when Don Ruggles accepted the Lifetime Achievement Award include (from left to right) sons David and Douglas, Don and his wife Edith, and son Gordon, with grandson Alex.
The younger Ruggles generation is equally proud of their father's accomplishments.
"Dad has spent his entire career devoted to the industrial distribution industry, and our family is very proud that his contributions were recognized by being chosen as this year's John J. Buckley Lifetime Achievement Award winner," said David Ruggles, current president of Martin Supply Company, and one of three sons active in the family business. "Dad's passion for the Industrial Supply Association, and leadership and vision for Martin Supply, are the hallmarks of his 50-year business career. We are blessed to still have him active at Martin serving as chairman of the board; his counsel and wisdom have been, and will continue to be, critical to our continued success."
This article originally appeared in the July/August 2016 issue of Industrial Supply magazine. Copyright 2016, Direct Business Media.
COMMENTS: 0
---