Conveyor solutions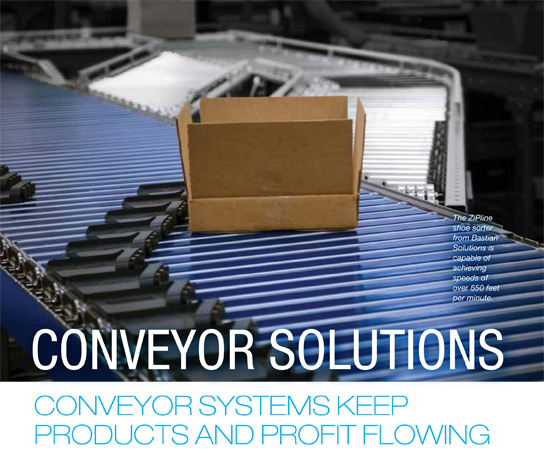 by Rich Vurva
Warehouse managers are becoming increasingly aware of the ways in which conveyors can make their facilities more efficient. Moving products from point A to point B in a warehouse via conveyor means that workers don't have to walk as many steps in a day. That translates into greater productivity because one employee can handle more products in a shift aided by a conveyor system. Additional factors to consider before installing or upgrading a conveyor system include energy efficiency, aesthetics, noise, speed/rate, diagnostics and ease of maintenance. If you are thinking about installing conveyors in your warehouse or distribution center, here are some ideas from conveyor manufacturers that may aid in your decision making.

BASTIAN SOLUTIONS
Increasingly important factors include energy efficiency, aesthetics, noise, speed/rate, diagnostics and ease of maintenance. Our 24V solutions such as ZiPline RZPDC and BZPDC conveyor models utilize motor driven live roller (MDR) technology to provide increased energy efficiency, reduced noise and ease of maintenance compared to their traditionally AC powered counterparts.
By utilizing distributed MDR drives, the conveyor only runs when needed to move product, thus lending to low energy use and quieter operation. Due to their simplicity, maintenance is also reduced, and when necessary, quick and easy.
Throughout the range of our ZiPline Conveyor product line, we have considered aesthetics and utilized a compact side frame with a plastic cover and high grade powder coat paint. This provides a modern and sleek look, giving a facility not only a functional solution but also something visually appealing. Customers are proud to introduce the product to their employees as well as show it to their own customers and suppliers.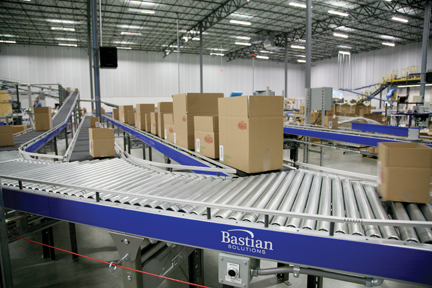 We continue to push our technologies to higher speeds to meet our customers' needs. Their customers are demanding faster order fulfillment times—next day, same-day—so our conveyor solutions need to keep up. To increase throughput rates, we are expanding the capabilities of our existing 24V MDR technology and utilizing 48V options.
Features are also being developed for real-time monitoring of conveyor components, allowing for advanced and predictive diagnostics. When combined with Bastian Solutions' industrial controls and Exacta WES, the operation has a robust tool aiding customers in maintaining high operational efficiency.
Bastian Solutions offers a wide range of case, carton and pallet conveyor equipment and accessories. To complement our ZiPline Conveyor brand, we also offer complete systems integration, software, controls, and consulting services. This allows us to provide our customers with a turnkey solution. We can design, install and support conveyor systems of any size, but also provide all necessary tools to develop systems that provide clients with flexibility and scalability as they grow—everything from conveyor to goods-to-person systems to software.
Specific to conveyor:
ZiPline DC conveyor offers – lower total cost of ownership, low energy use, quiet operation, ease of maintenance
ZiPline AC conveyor offers – lower initial investment, higher speeds
ZiPline zero pressure accumulation conveyor offers – controlled, non-contact accumulation for buffering product
ZiPline sortation conveyor includes – a wide range of low- to high-rate sortation including transfers, pivot diverts and shoe sorters. Transfers and diverters are all electric designs, no air needed and quiet operation. Our shoe sorter includes design features for ease of maintenance and high reliability.
We are working on some new developments across our product line, but earlier this year, we debuted our ZiPline shoe sorter. Although shoe sorters are not a new technology, our engineering team worked hard to produce a model with advanced capabilities.
The ZiPline Conveyor shoe sorter features:
Patent-pending, "gentle touch" divert system for positive and gentle sortation
High-speed, precision servo motor divert switch actuation – all electric, no pneumatics
Local divert control processors for minimal response time of pin detection and switch actuation
UHMW slat surface for low friction and easy cleaning
Maintenance friendly, easy drop out divert switch
Quick access side panels and tool-less slat removal
Common shoe with "no pinch" profiles for right hand, left hand and dual-sided applications
Noise dampening components for quieter operation manager, distribution
systems market
Dematic North America

Three trends are currently driving development in the conveyor industry.
Trend 1: Increasing use of Goods-to-person workstations
Modular conveyor is the foundation of goods-to-person workstations. Modular conveyor is the structure that indexes the load into a precise position where it is accessed by a worker. Modular conveyor can sequence cartons and totes into and out of the goods-to-person workstation. The conveyor configuration accommodates worker ergonomics.
Trend 2: Change creates need to reconfigure
Modular conveyor accommodates the need to reconfigure. The accelerating rate of change in operational requirements is driving the need to implement conveyor systems that can be reconfigured. For example, a steerable wheel sorter module can be relocated in the existing side frame.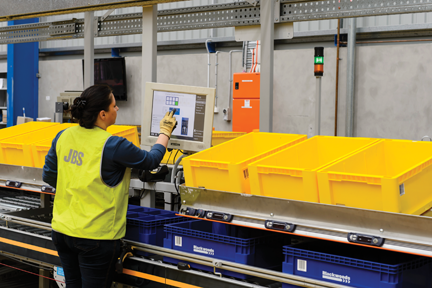 Trend 3: e-fulfillment centers ship orders in bags
Conveyor systems with all belt conveying surfaces accommodate poly bags for e-fulfillment operations. This trend has increased the application of segmented belt surface conveyor with accumulation zones.
In addition to these three primary trends, distributors are more likely to implement conveyor systems that are engineered as standard modules, allowing faster and easier layout changes in the future. Modular architecture also means common components throughout, thereby allowing universal connectivity and requiring fewer spare parts. Furthermore, creating a conveyor system layout is faster and easier as implementation teams only need to configure the system by selecting the parameters using standard pre-engineered conveyor modules.
In the future, distributors should expect to see more development in the area of robotic piece picking for order fulfillment. Modular conveyor is the foundation of robotic piece-picking cells. The robot is the centerpiece of the cell, however, the robot requires a conveyor module that can sequence and position inventory containers and order containers for the robot. Modular conveyor indexes the load into a precise location where it is accessed by the robot.
Dematic is currently focusing on low- to mid-capacity applications. An example of this focus is the introduction of the Narrow Belt Sorter. It can be implemented in a multitude of configurations to accommodate the specific requirements of the application. It can sort loads to both the left or right sides using the perpendicular transfer at a 90 degree angle. The pop-up wheel diverter can sort loads to the left or the right at a 30 degree angle. The Dematic Narrow Belt Sorter is capable of operating at rates up to 50 cartons per minute with the perpendicular transfer and up to 115 cartons per minute with the pop-up wheel diverter.
Intralox
www.intralox.com
Warehousing and distribution centers demand efficient, reliable material handling conveyance systems that can handle a variety of product types with fewer controls, while managing amplified throughput within a small footprint. Intralox's equipment, Activated Roller Belt (ARB) technology, and layout optimization meets warehouse and distribution center needs with cutting-edge solutions not possible with traditional automated material handling technologies.
Intralox's patented ARB technology enables increased flexibility, high throughput, reduced footprint, gentle product handling and simplified controls. For more than 15 years, over 7,500 ARB conveyors have met the demand worldwide for efficient and reliable sorting, merging, turning, and singulating across a wide range of industries.
Our approach to layout optimization is key to ARB technology's success. Our comprehensive knowledge of equipment, as well as the industries we serve, ensures that you receive the right solution.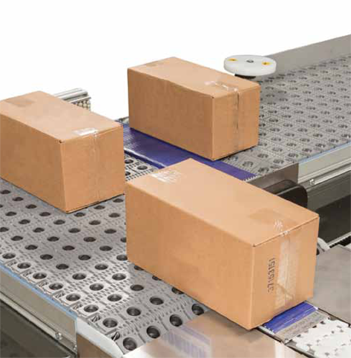 When Intralox Activated Roller Belt technology is applied to a line layout, it can enable radical improvements of layout concepts that are not possible with traditional technology. While installing one piece of ARB equipment can improve a single application, reconfiguring a whole layout with multiple ARB solutions can optimize the performance of the entire line.
Intralox's dedicated staff of ARB experts works closely with customers to determine if ARB technology can positively impact the functionality and cost-effectiveness of a distribution or production line layout. Using physics-based simulation software and exact customer specifications, Intralox reps can demonstrate the effect that ARB technology will have on an entire layout.
How ARB technology works
On an ARB conveyor, products rest on free-spinning angled rollers rather than on the belt surface. These rollers extend above and below the belt surface and are positioned at an angle in relation to the direction of belt travel. Rollers that are activated by the carryway surface below move products across the belt in the direction of roller orientation rather than the direction of belt travel. Because it is possible to move conveyed products selectively, ARB-equipped conveyors can change the direction, alignment,
location, and speed of an item independently without using rails or complicated mechanical controls.
Intralox ARB technology enables efficient handling of most items:
Boxes, cases, cartons, totes or trays with dimensions as small as 2 inches x 2 inches or as large as needed, weighing 1 ounce to 200 pounds
Difficult-to-convey packages such as tray packs, 2-liter shells, litho-packs, bundles, polybags and shrink-wrapped packages of all sizes
Oddly shaped items such as boxes with rounded bottoms and objects that are not perfectly round or square
Increased throughput
Flexibility to handle changing products, throughput rates and other requirements
Lower system ownership costs
Less floor space consumption
Increased system reliability
Reduced system controls
Safer working environments due to encased moving parts
Reduced maintenance
ARB pallet layer descrambler
Intralox's ARB Pallet Layer Descrambler is a highly reliable and flexible complement to robotic de-palletizing that prepares products for the next downstream application. The Intralox depalletizing system employs ARB technology to quickly unscramble, singulate, align, and orient pallet layers of all types into single file.
Intralox's descrambler typically is comprised of five compact sections of ARB conveyor, including an ARB Singulator, an ARB Aligner and an optional ARB Case Turner. The system is effective at unscrambling pallet layers containing over 80 cartons, using almost no controls and without product damage.
ARB singulator
Intralox's ARB Singulator moves a group of side-by-side products into edge-aligned single file for downstream processes. This extremely reliable singulation system reduces product jams and sorting errors due to side-by-side items. The ARB Singulator is also a component of the de-palletizing system.
This article originally appeared in the July/August 2017 issue of Industrial Supply magazine. Copyright 2017, Direct Business Media.
COMMENTS: 0
---