Building a digital moat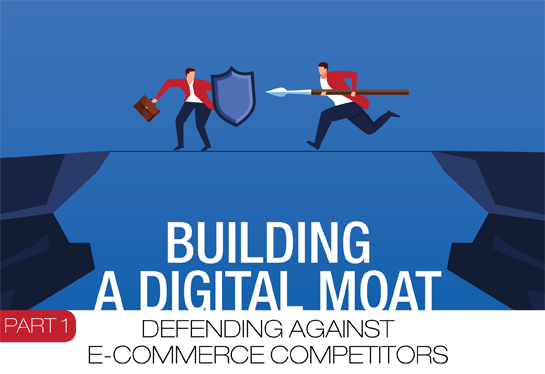 by Scott Benfield
The digitization of the wholesale supply chain has become a reality, with 15 percent of B2B sales conducted online by the end of this year. It is not uncommon to see research calling for a significant change, regarding sales loss, for distributors servicing the industrial/MRO/contractor markets. A recent report from McKinsey, The Coming Shakeout in Industrial Distribution, predicts a sales loss and reduction in channel power for industrial, MRO and contractor-based distributors from made-for-e-commerce models. The report is no surprise, as any number of articles have warned distributors that the heyday of channel dominance by wholesaler-distributors in B2B sectors is coming to an end.
By 2025, a quarter of all sales will be online; a point at which the directional dominance and ascension of online specialists will be widely recognized. Today, the online sales for traditional full-service distributors is a pareto, with 20 percent of wholesalers selling 80 percent of online sales. However, traditional distributors secure only half of online sales; the other half are going to made for e-commerce models that have sprung up in the last 10 to 15 years.
The primary advantage for made for e-commerce competitors is their low price, which is a function of having few, if any, sellers and limited number of branches. The full-sales force and intensive brick and mortar efforts of traditional distributors can cost 25 percent to 35 percent of cost-of-goods or a common range of 5 percent to 10 percent of sales.
Distributors will need to carefully rationalize seller number, deployment logic, sales value model and consolidate branch locations to remain competitive. They will also need a competitive online offering. These actions are, in the not-so-far future, table stakes for survival. We also find a small, but growing number of distributors, that are extending the value chain in unique ways to form a Digital Moat; a solid defense against made-for-e-commerce competitors.
The Value Chain Extension
Distributors have long sought competitive advantage by offering new products and creating value-added services. Our recent research, however, found that value-added services were most often not fee-based. Only 12 percent
of distributor sales were represented by service fee income, the predominance of unique services were used to sell products of which, on average, six of 10 are commodities. Commodities are the playground of the made-for-e-commerce specialists and they are increasingly good at them with great pricing and good delivery.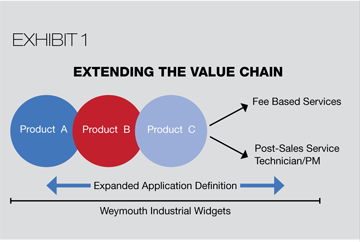 Our work, instead, has found a core group of distributors that create new value streams by expanding the application definition of new products and new technologies. A diagram of the process can be seen in Exhibit I.
In the Exhibit, we find that for the fictional customer, Weymouth Industrial Widgets, the distributor has taken three new products (A,B,C) and combined them into a packaged service across connected applications. The packaging or combining of products can be done in several ways but, typically, is done as a reduction in operating costs, improvement in life-cycle costs, lessened down-time, and easier to troubleshoot series of operations. The key is for the distributor to take new technologies and combine them across a common series of operations which are often seen as separate by the customer. In some instances, distributors have done this with existing products. The problem here is that many of these products are commodities or old in their life cycles. The distributor too often performs the consultative or application selling work, only to lose long-term sales to less costly service providers including new e-commerce competitors.
Historically, distributors have provided application and product specialists, and closeness to the customer and vendors, that e-commerce competitors can't provide. In the future, however, they will need to target new technologies and new products. They will also need to combine these technologies across common applications for a new, expanded view, of reduction in ownership cost and operational improvement for the customer.
Many distributors sell and measure new products. The problem with their focus is that their vendor(s) will add competitive distributors once the market has been established. There are ways around this problem but none as effective as making the individual new product part of a broader application with several new products within adjoining operations. The upshot is that the distributor moves from selling singular new products to new, broad-based and redefined, applications.
To illustrate the concept, consider fictional distributor Fort Supply. Fort learns that Weymouth Industrial has a product line that wastes a significant amount of material in the cutting process(es). Fort recommends a new product that reduces the waste, which lowers the gross weight of material of the finished product, thereby reducing direct material costs. However, there is still significant unused scrap from the operation that is of no value. Fort's application experts find a way to turn the scrap into usable material for another operation with a new machine from a little-used vendor. They recommend new grinding technologies to significantly improve throughput of the new material. The resulting new product sales involving reduction in waste, turning scrap into direct materials, and improving throughput on scrap-based products is an example of combining new product applications into an entirely new offering. The seemingly disparate operations also offer opportunities such as new fee-based services and post-sales technical services.
In a different industry example, we found a Jan-San distributor that sold commercial floor cleaning machines. The breakdown of the machines required immediate attention which was done by a collection of small, independent repair services with limited capital for software and training. The distributor purchased the independent repair services across a wide geography, put them on a common IT system with time-tracking/invoicing software, and provided training and management. In addition, because of the scope of the repair shops across a wide geography, they discovered they could repair other customer machinery and systems outside of those sold by the distributor. Our work with the distributor stressed the need to move new products and new technologies throughout the network, making them competitively unassailable in their market area.
To successfully expand the value chain, however, requires rethinking core capabilities in the marketing and sales offerings of the traditional distributor. We cover this in Part II of the series.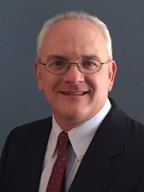 Scott Benfield isa consultant for distributor and manufacturers in B2B markets. He is a member of Digital Channel Advisors, a full-service firm that takes mature businesses through all parts of digitization. He can be reached at Scott@BenfieldConsulting.com or (630) 428-9311.
This article originally appeared in the July/Aug. 2019 issue of Industrial Supply magazine. Copyright 2019, Direct Business Media.
COMMENTS: 0
---