Dock safety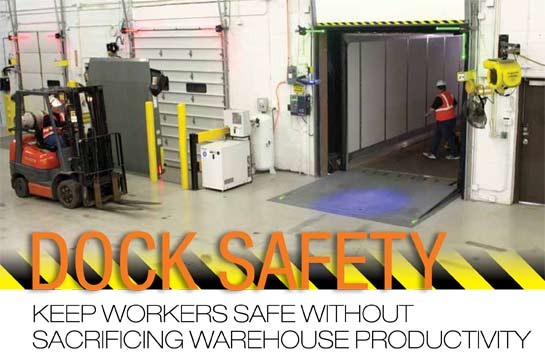 by Rich Vurva
Dock safety is a driving force at Tri Lite Inc., a manufacturer of specialty lighting and electrical products for the material handling industry. Many accidents that occur in a warehouse happen at the loading dock, says Sarah Fiola, product marketing manager.
According to the Bureau of Labor Statistics, 25 percent of all industrial accidents occur at the loading dock, while OSHA states there is a forklift-related death approximately every three days.
"The ubiquity of mobile devices make it so anyone can be preoccupied while working in a dangerous, busy loading dock. Busy loading docks are great for business, but extra tall stacks of boxes on pallets can cause blind spots for pedestrians and lift-truck operators," she says.
Tri Lite provides safety solutions for material handling and truck parts distributors by keeping up with technology when updating or creating new dock accessories. Products include loading dock lights and signs and stop-go safety lights.
"Every time there is a product refresh we look into whether there are newer, brighter, more rugged, or longer lasting parts available. We also look into if there is a way to squeeze money out of the product in order to pass saving along to our buyers. It's important to get the pricing right in order to have our safety lights in a warehouse," she says.
Once the safety accessory is in place, it must work reliably, with a low chance of breaking. That can be a tall order when a glass lightbulb gets hit by a 10,000-pound forklift. Creating dock accessories that use LEDs instead of glass resolves the issues of the light breaking, keeping the dock clear of glass, but also more fundamentally, keeping the loading bay up and running.
As space becomes at a premium at a loading dock, and loading dock bays sit closer together, Fiola says Tri Lite is coming up with slimmer communication light systems that fit into tighter spaces. "The stop-go communication works the same, with red for stop, green for go, but the signals can be placed above a dock door or placed in between bays with wide dock seals."
Trailer creep and premature departure are two preventable issues that can be solved with the wheel chock safety system provided by Perma Tech Inc., according to Sandra Pomichter, marketing and dealer services. The custom contour design fits snugly against the tires to prevent the unintentional forward movement of a stationary trailer.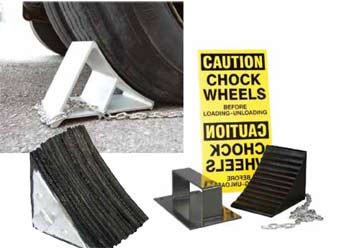 "This is an inexpensive form of security that helps protect loading dock personnel," says Pomichter. "Once the trailer has docked, the driver or dock attendant removes the wheel chock from the sturdy wall bracket and wedges it manually in front of the rear tire. After loading or unloading is complete, remove and store the chock."
Perma Tech also provides safety yellow caution signs to alert drivers to use wheel chocks. They're printed in both standard and mirror image, allowing drivers to see the sign in the mirror as they back into the loading area.
The wheel chock safety system comes with a 1/4-inch heavy-duty zinc plated chain solidly attached to the chock which is anchored securely to the dock wall or easily welded to the heavy duty wall bracket.
The system meets OSHA regulation 1910.178 (k)(1) that establishes that brakes of highway trucks shall be set and wheel chocks placed under the rear wheels to prevent the trucks from rolling while they are boarded with powered industrial trucks.
As a result of past accidents or fear of accidents, people are looking at ways to increase forklift safety, according to Chris Webre, president of Safety Systems & Controls (SSC), a Houston-based developer of products that enhance driveability and safety of industrial and commercial equipment. Dock safety solutions include reducing top vehicle travel speeds, designating forklift-only travel areas, clearly assigned and marked pedestrian walkways, using visual blue spot lights that shine on the floor to warn people of hazards, and other warning systems for operators and pedestrians where there is vehicle/pedestrian traffic.
"Rather than solely warning of potential safety issues and relying on human response(s) to the warning, SSC develops products that offer a more active role in reducing the potential of incidents from ever occurring," Webre says.
SSC has been designing and manufacturing fork truck speed limiter systems for nearly 20 years. "In designing products, we strive to find ways to lessen the likelihood that something bad will happen. So, instead of warning of a potential incident, we try to help prevent them from ever happening," he says.
SSC's Pace-One G2 Speed Limiter has the ability to adapt on the fly to control top travel speeds. Originally, SSC provided different travel speeds for direction of travel or mast height. The company then designed a receiver to work with Pace-One that added the ability to read IR and RF signals and increase the number of top travel speeds in Pace-One to four. "By placing IR transmitters in the facility, you can basically map out a facility and have top travel speeds appropriate to the area being travelled," Webre says.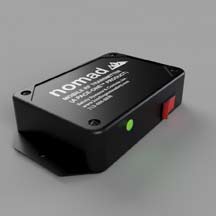 A newer solution, called Nomad, is a battery powered RF transmitter ideal for protecting facility maintenance people. If they are working in an area where they normally don't work, and there is fork truck traffic, by flipping a switch all vehicle traffic equipped with the Pace-One ZSC system in close proximity automatically slows to the designated speed. Nomad is ideal when working on a lift or boom truck, cleaning up a spill or setting up a temporary work area.
"Part of the reason this product is so popular goes beyond the safety aspect. By not slowing fork trucks to a single safe slow speed all the time, productivity increases. How you say? By increasing travel speeds in areas where it is safe to do so, like a back aisle where there is little congestion or foot traffic or outside. By not having a single safe speed, we increase cycle times and improve overall efficiency safely," Webre says.
SSC will soon introduce Ped-Guard, a wearable RF transmitter that has many of the same features as Nomad. It slows all Pace-One equipped vehicles to a slow speed when inside the RF broadcast area. In addition, it will vibrate (like a pager) to warn the wearer of oncoming traffic. Automatically slowing the vehicle and warning both the operator and people in the area reduces the potential of an incident. Ped-Guard's target audience includes pedestrians walking through a facility giving tours, counting inventory or whatever other activity takes them out onto the floor.
With customers expecting quicker delivery times, distribution centers must receive and ship product faster than ever before, which leads to an increase in loading dock activity, says Walt Swietlik, director of customer relations and sales support for Rite-Hite. As an already-hectic area becomes even more chaotic, there is still an expectation of safety for workers.
"Rite-Hite doesn't believe distribution centers have to choose between safety and being productive. We've been at the forefront of developing products that improve loading dock safety and simultaneously increase productivity. For example, Rite-Hite offers simple push-button controls as an alternative to mechanical operations that require potentially hazardous manual labor," Swietlik says.
For instance, instead of putting workers on the ground in dangerous positions near semi-trailers and trucks to lay out wheel chocks, the Dok-Lok is affixed to the wall below the dock opening and wraps around a trailer's rear impact guard (RIG) automatically to safely secure trailers to loading dock positions. This prevents a variety of trailer separation accidents that can lead to serious injuries for forklift workers during the loading and unloading process. Rite-Hite also provides hydraulic levelers that can be operated with the simple push of a button, increasing efficiency and reducing strain on workers' backs.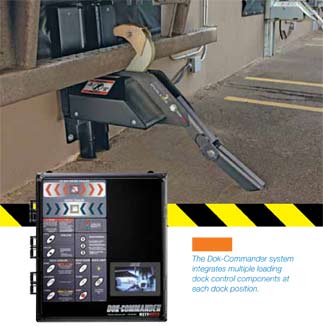 Additionally, these pieces of equipment can be controlled by a single control called a Dok-Commander. The Dok-Commander can interlock a safe sequence of operations for the restraint, dock door and leveler. Rite-Hite's Dok-Commander also provides real-time camera views, called Lok-Vu, outside the loading dock position to verify the vehicle restraint has worked properly. This ensures the Dok-Lok has engaged the RIG and workers don't need to go outside to visually confirm.
Rite-Hite recently pioneered the Rite-Vu Hazard Recognition System, which alerts workers inside and outside the loading dock of possible danger. Outside the loading dock, Approach-Vu uses a motion sensor to detect if trailers are backing into the dock area and lights a strobe near the Dok-Lok and sounds an alarm that can be heard by workers who are potentially in the way. This safety measure can keep workers from being struck by semi-trailers, which OSHA has identified as the second leading cause of backover fatalities in the United States. Inside the dock, Pedestrian-Vu uses a motion sensor to detect if there is activity inside a trailer. If there is, it shines a blue light on the leveler so workers inside the dock know that a forklift or person might emerge from the trailer, which essentially becomes a blind spot during loading/unloading.
Likewise, further inside distribution centers and other facilities that have constant traffic, Rite-Hite developed the Safe-T-Signal that detects motion in aisles with blind spots. The device lets workers know if they are safe to move through an intersection or if they should slow down because traffic is coming from another direction.
"Think of it like a traffic light on the road. Through the use of symbols and colors on the device, Safe-T-Signal lets workers know if it's safe to continue at full speed through the intersection or if they should slow down if it's potentially unsafe," Swietlik says. "All of these solutions were designed with goal of increasing safety while maintaining efficiency. It is possible for distribution centers to meet all of their order fulfilments while also avoiding potentially catastrophic accidents that can screech productivity to a halt."
Safety certainly takes a lead role when forklifts are being utilized in warehouse and distribution center environments, says Ron Grisez, director of product safety for forklift manufacturer Crown Equipment.
"When it comes to safety, one of the most important trends is the technology advances bringing us closer to realizing a fully connected warehouse or distribution center. A connected facility, where components, equipment and people are interconnected, can be a valuable asset in building and maintaining a strong safety culture. When properly implemented and utilized to its fullest potential, greater connectivity can help transform any safety program and boost safety initiatives," Grisez says.
Forklift manufacturers continually introduce new features and technology enhancements that help improve the safety of forklift operation. These include on-truck sensors to slow trucks while turning or when masts are elevated, and geofencing technologies that allow users to designate zones with limited truck speeds and heights in very narrow aisle forklift applications.
There is also continued emphasis on new features that relate to ergonomics and increase operator visibility, including masts designed to increase visibility at nearly all rack levels, as well as floorboards that provide cushioned, shock-absorbing rides and backrest extensions.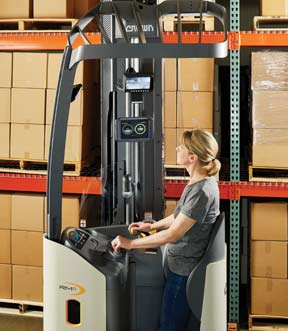 "At Crown, we are also focusing on advances that increase forklift connectivity. Today, critical information is readily available via forklift fleet and operator management systems that afford managers the opportunity to create and maintain a culture that promotes safety. Specifically, forklift fleet and operator management technologies are equipped with safety-based applications that manage equipment access and operator certification and streamline pre-shift inspections," he says.
New technologies control equipment access by requiring operators to enter a login prior to use, or limit truck speeds for novice operators while still allowing greater performance for experienced operators. "We are finding, in many instances, that safety considerations and initiatives are actually accelerating the adoption of connected technologies and equipment," he adds.
For instance, with connectivity you can control access to ensure equipment is never operated without a proper inspection or by unauthorized personnel. What's more, connected equipment can alert you every time there is an impact, providing an opportunity to investigate the cause and implement corrective actions.
Grisez says one area with potential for increasing safety is by creating a more informative and personalized experience for operators. For example, technology that increases engagement with the forklift allows for equipment operation to be tailored to each user and delivers real-time feedback to operators.
"Dynamic Coaching is a term Crown has coined to refer to the delivery of real-time feedback to operators that reinforce correct behavior and recognize incorrect behavior. This can be in the form of context-sensitive visual and audible alerts delivered through the forklift display module to promote safety awareness. Think of it as a virtual onboard supervisor for each operator. For instance, an alert that informs operators to wait until the vehicle comes to a complete stop if they exit too soon," he says.
Grisez says everyone is a contributor to safety, and it starts with the right mindset that produces safe behaviors. Regardless of an employee's role in an organization – or even outside of the warehouse – each person has a responsibility to their family, co-workers and employer to consider safety in their daily decision-making process, Grisez concludes.
This article originally appeared in the July/August 2019 issue of Industrial Supply magazine. Copyright 2019, Direct Business Media.
COMMENTS: 0
---