Eye on the future
Backed by nearly a century and a half of experience, Hagerty Industrial Supply builds for the future
by Rich Vurva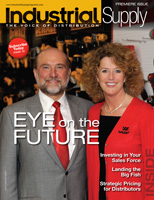 Managing a business during a recession is hard work. But Hagerty Industrial Supply has witnessed economic downturns before. Since it was founded in 1860, the company has experienced 16 official recessions identified by the National Bureau of Economic Research. While the current downturn has hit its two primary markets – manufacturing and construction – especially hard, the management team is convinced the company will outlive this slump also.
Like many industrial distributors, business was booming for this Peoria, Ill.-based general-line distributor for most of 2008. Double-digit sales increases had become the norm for the past seven or eight years, and 2008 revenues were about 14 percent higher than the previous year, reaching more than $15 million. Then the bottom fell out in December.
Housing starts fell into a deep funk, credit markets dried up and manufacturers began showing signs of a severe recession. Early in the first quarter of 2009, Caterpillar, the area's largest employer and a bellwether for the global manufacturing economy, announced plans to layoff more than 20,000 employees worldwide.
Caterpillar accounts for less than 10 percent of Hagerty's total business, but many other local companies that buy from Hagerty are much more dependent on the heavy equipment manufacturer for their survival. When their Cat business declines, their need for industrial supplies decreases.
"In a community the size of Peoria, a company the size of Caterpillar has a pretty pervasive influence," says Hagerty president Randy Fellerhoff.
As summer approached, sales were down nearly 25 percent, and a growing number of manufacturers continued to announce layoffs and plant shutdowns.
"It's kind of week-to-week and order-to-order for a lot of our customers," says Fellerhoff. "If they don't need it today, they're not going to buy it today. If they don't need it until tomorrow, they'll wait until tomorrow to buy it."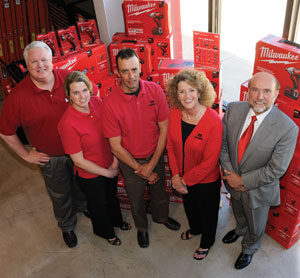 Surviving the slowdown
The company has made several strategic decisions to see it through the economic slowdown, including diversifying into non-traditional markets, focusing on cost-control and helping customers lower their own total costs, and appealing to local customers to keep their dollars close to home by supporting a locally owned business.
"We're maintaining a positive attitude and building for the future. One of our strategies has been to expand our market approach by getting into market sectors where we haven't participated in the past," says general manager Mike Hayes.
Hagerty began to tap into the contractor supply market about four years ago when it built a new showroom in East Peoria, Ill. The new facility provides a convenient location for contractors to pick up supplies on the way to a job site, drop off tools and equipment for repairs, and is the centerpiece for open houses and customer product demonstrations. Hagerty picked up about 20 new lines to meet the needs of contractors and greatly expanded sales of existing suppliers' products. For example, prior to opening the showroom, annual sales of Milwaukee Electric Tool products totaled about $40,000. In 2008, Milwaukee's sales topped $500,000.
Hayes says several preferred suppliers of Affiliated Distributors have been especially helpful in expanding the company's business to contractors. Since opening the showroom, A-D preferred supplier purchases grew from $750,000 a year to $2.5 million.
The technical education field represents another relatively new market. That opportunity should increase for the foreseeable future since manufacturing layoffs typically ignite an uptick in enrollment at community colleges and vocational-technical schools. Before fall classes begin, schools invite local suppliers to exhibit at events where incoming students can order tool kits required for the training. Hagerty has worked closely with Danaher and other suppliers to assemble tool kits for students who are training to become diesel mechanics or learning a similar trade. Hayes is hopeful that government economic stimulus funds will also become available to students enrolled in retraining programs.
Wind power generation and ethanol plant production are additional markets that show promising growth potential.
"We're looking at some training programs being offered by the American Wind Energy Association to understand the technologies involved. We have attended some of those and plan to do more," Fellerhoff says.
Helping customers cut costs
Although local manufacturers employ fewer people than in the past, the region is still heavily dependent upon construction and agricultural equipment production and metalworking. Hagerty's approach with its traditional customer base is to lend a hand in lowering costs and introducing productivity improvements to help them survive the manufacturing recession.
"Part of our responsibility in the marketplace is to help our customers through these tough times," says Hayes. "Now more than ever they've got to look at how to get the job done at the lowest total cost."
Convincing customers to switch suppliers or to convert to a different brand is rarely a slam-dunk proposition, even when the solution lowers the customer's costs. "Pulling the trigger on a change is difficult and takes time," says Fellerhoff.
Often, salespeople need to achieve buy-in at multiple levels in a facility – from equipment operators, to buyers and purchasing agents, to production engineers and plant managers – before a final decision can be reached. Since many facilities have cut staff and production schedules, it's difficult for them to find time to arrange test runs on new products. Hagerty recently began evaluating a grinding operation for a major bearing manufacturer. More than a month into the process, a final decision had not been made.
"It's a time consuming initiative and they don't have people just standing there waiting to run these trials or talk about these test results," says Fellerhoff. "With many of our customers, people have assumed additional responsibilities because of reductions in work force."
Fellerhoff says the selling cycle on some product conversions can take from six months to a year.
One study on a new metalworking coolant solution for an existing customer has taken eight months. "At every turn, it's proving out to be a very effective solution. But it's a plant-wide, systemic change and they're going about it very thoroughly and methodically to get everyone on board," he says.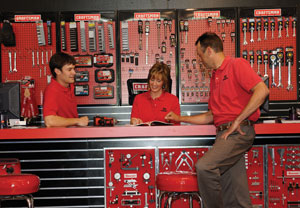 Appealing to the local customer base
Manufacturers that have grown weary of seeing domestic jobs being exported overseas are anxious to do business with local suppliers. But those customers are also concerned about managing costs so they can be competitive in a global marketplace.
"Our job is to convince them that we can provide them with better pricing, value, ongoing cost savings and
productivity increases. Our message to them is, 'Every dollar you spend with us stays in this community.' If we can help them cut costs through better tooling or coolant or better pricing, that's one or two more people they don't have to layoff," says Hayes.
Fellerhoff adds that local distributors need to be nimble and have the ability to customize their offerings.
Two recent success stories demonstrate the importance of customizing solutions. One local OEM relied on Hagerty to supply fasteners that were shipped with the final product for assembly by the end customer. Mixing and matching the appropriate fasteners became difficult for the OEM. Hagerty offered to assemble and package the components in kits that would arrive on the assembly line in time for the finished equipment to be shipped. "It solved a problem for the customer and creates a bit of a barrier to entry for our competitors," says Fellerhoff.
Another customer was searching for a way to speed repairs on fall protection equipment used by installation crews spread across the country. Hagerty offered to send a repair technician to Seattle to become certified in the repair of the fall protection device. Instead of sending the faulty devices to the supplier and waiting for them to be repaired and returned, the customer now brings the equipment to the Hagerty technician, who repairs them the same day.
Holding the line on expenses
Survival today demands keeping a close eye on expenses. Hagerty has made a few headcount reductions in administrative support positions and in the warehouse, but has kept its sales force intact. "We want to keep our customer-facing positions completely deployed so they can be out there talking to customers on a regular basis," says Hayes. He also believes it's important for the management team to communicate regularly with employees about what's being done to manage expenses. Knowing their company has survived previous recessions provides a degree of comfort to employees during a negative business climate.
Demonstrating good fiscal restraint also builds credibility with customers, who are closely scrutinizing their own expenditures.
"We're keeping very close attention to what we're buying and the quantities we're buying, yet still maintaining service to our customers at the highest level," adds purchasing manager Whitney Vincent.
Many economists are now predicting that the worst of the manufacturing recession is behind us. A recent report from the Manufacturers Alliance/MAPI suggests that manufacturing production should experience a modest rebound in 2010.
If the economists are correct, when the company's 17th recession is history, Hagerty Industrial Supply hopes to be positioned to begin another growth trajectory.
This article originally appeared in the July/August 2009 edition of Industrial Supply magazine. Copyright 2009, Direct Business Media, LLC.
COMMENTS: 0
---