Invisible borders
Channel partners cooperate to help New Flyer Industries solve cross-border differnces in product, pricing and processes
by Rich Vurva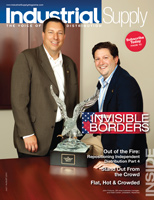 Manufacturers with multiple plant locations often discover inconsistencies in the MRO products used in individual facilities. Workers who perform the same jobs in separate locations sometimes use different tools to complete the same task. Even when they use identical products, they don't always pay the same price from their local supplier.
That's why product standardization has become one of the more common methods for distributors to help manufacturers generate cost savings. Organizations benefit not only from improved pricing based on volume discounts, but also realize process savings when
everyone follows the same best practices.
Standardization sounds like a simple goal. But when New Flyer Industries (NFI) decided to standardize the price, products and processes across three manufacturing facilities in the United States and Canada, achieving that goal turned out to be more complicated than anyone imagined.
Headquartered in Winnipeg, Manitoba, NFI is a manufacturer of heavy-duty transit buses. It operates a manufacturing plant in Winnipeg and two facilities in Minnesota, and buys most of its MRO supplies from industrial distributor Replenex, based in Eden Prairie, Minn.
When an internal audit revealed inconsistencies in product and pricing, NFI and Replenex established a cross-functional standardization committee to identify and prioritize
opportunities. NFI asked Replenex to invite key suppliers to participate as required. The committee looked at price, product and process inconsistencies across the NFI facilities to identify the best solutions available, potential cost savings, and ways to standardize processes on both sides of the border.
"It became apparent that there were price inconsistencies, plus we were paying a higher cost for processing far too many purchase requisitions far too often, and tackling product performance issues at a plant level as opposed to a corporate level," says Scott Nicol, New Flyer MRO manager.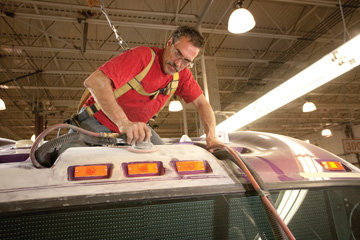 The new standardization process ensures that workers on both sides of the border are using the same supplies.
Two countries, one solution
Replenex asked 3M, one of its premier suppliers, to participate on the committee. Team members quickly got to the heart of the problem. As a global company, 3M has decades of experience selling across borders. However, because it has a decentralized structure,
subsidiaries in other countries may have different personnel, reporting structures, product part numbers, pricing and marketing programs.
"There were situations where the plant in Winnipeg might be using the same 3M product in a particular application as the plant in St. Cloud, but it would have a different SKU, carry a different price and different marketing programs," explains Matt Cohen, Replenex president.
Since the two subsidiaries operate independently, their separate marketing and merchandising programs sometimes had unintended consequences. For example, suppose 3M Canada had a promotional effort to reward distributor salespeople for converting sales from a competing brand of sanding disc to a Scotch-Brite SL surface conditioning disc. The salesperson would get credit for the conversion at the Winnipeg facility, but wouldn't benefit from the products sold into the St. Cloud and Crookston facilities in Minnesota.
The end result was that three different representatives calling on NFI facilities could potentially offer three different products for a similar application. The solution required two separate operating subsidiaries to change their normal way of doing business and work more closely together in order to satisfy a shared customer's needs.
"It was a matter of getting in touch with the right people to make change happen," says John Fortuna, 3M's area business manager for the Twin Cities. "It took a lot of communication between 3M U.S. and 3M Canada to agree on merchandising plans for Replenex."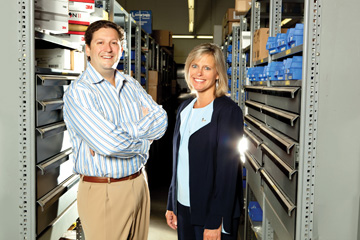 Matt Cohen and Tina Mueting, a 3M senior account representative, devised a new merchandising plan that worked on both sides of the U.S.-Canada border.
Tina Mueting, a 3M senior account representative and channel specialist, worked closely with Replenex, NFI and her counterparts in Canada to develop a single cross-border merchandising program and consolidate multiple SKUs. With both subsidiaries working together, 3M was able to provide common product names and SKU numbers, and resolve pricing issues that arise when products are sold into markets that have different currencies.
"We had to develop a holistic merchandising plan for Replenex. It really forced us to think out of the box," she says.
NFI now has a single point of contact at 3M to address issues and to ensure that Replenex and NFI receive consistent support from both 3M operating companies.
Award-winning effort
The Replenex and 3M activities enabled NFI to achieve an estimated $250,000 in annual savings, and earned 3M and Replenex the American Eagle Value-Added Partner Award from the Industrial Supply Association. The award recognizes channel partners that work together to demonstrate exceptional documented cost savings or productivity improvements for an end-user customer.
"On average, New Flyer is spending 15 percent less per labor hour on production consumables as a direct result of these changes," says Nicol. "These initiatives to date have resulted in improved inventory control through reduced number of SKUs purchased, reduced lead times, product consumption and rejects."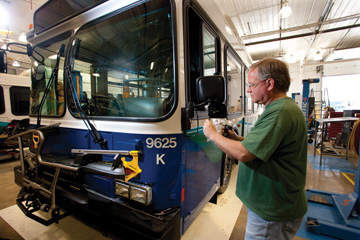 The standardization team came up with a new method for taping bus windows prior to painting, saving 30 minutes per vehicle.
The standardization team continues to meet every two weeks to uncover new ways to eliminate operational waste and gain manufacturing efficiencies. In some cases, Replenex and 3M devised custom solutions to solve unique problems. For instance, in NFI's paint operation, workers had to carefully apply masking tape and paper to individual bus windows prior to painting the bus. Replenex asked 3M if it could provide a product that would be faster to apply. 3M developed rolls of paper with adhesive on the top and bottom.
"Workers can now start in the interior of the bus, roll out the paper and mask the entire bus in one step," says Tom Folska, Replenex vice president of sales. "It saves about 30 minutes of time per bus. When you think of the labor and burden rates, that savings dwarfs anything you could achieve in piece price."
In another project, the team solved a problem with an adhesive used to assemble roof joints. The existing adhesive lacked elasticity in cold climates, which caused it to stiffen and create the potential for the joint to pop loose. To devise a solution, 3M sent an engineer from France to Winnipeg in the middle of winter to review the current process. Based on New Flyer's requirements, the engineer modified an existing product and developed a way to dispense the custom product.
"That's another example of the shift that's taking place in the supply chain, from just being a distributor and a manufacturer that provide product, to a distributor and manufacturer that are involved in the production process and have the ability to work with the customer to drive productivity," says Cohen.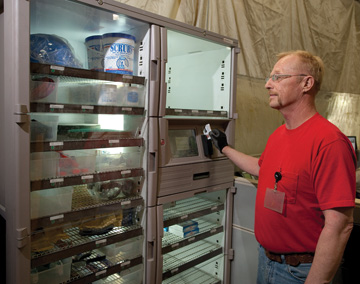 Vending machines installed at NFI facilities have helped the heavy-duty bus manufacturer control its MRO spend company wide.
Nicol says the changes also required NFI to look at solving problems in a new way. "The focus has gone from employees at individual plants concerned only about their own budgets or areas of responsibility, to thinking about what's good for the overall organization," Nicol says. "All parties had to buy into the fact that this wasn't a one-time event. It was permanent and it was positive change."
It has also changed the way NFI views its relationship with its suppliers.
"With all of these initiatives that we've undertaken, Replenex and 3M are positioned now as the suppliers of choice at New Flyer," Nicol says. "Whatever issues arise, Replenex and 3M are the suppliers that our engineers and production people contact right away."
This article originally appeared in the July/August 2010 edition of Industrial Supply magazine. Copyright 2010, Direct Business Media, LLC.
COMMENTS: 0
---