Making miracles happen
ISA members earn award for helping medical manufacturer certify tools used in knee replacement surgery
by Rich Vurva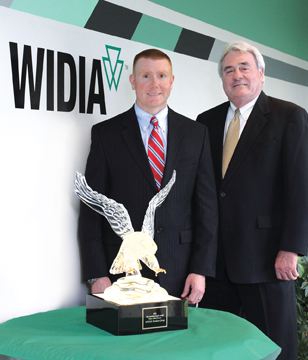 To people needing knee replacement surgery, new materials that replace damaged joints are nothing short of miraculous. In some applications, orthopedic surgeons prefer cobalt-chrome. This cobalt-chromium-molybdenum metal alloy blend used in many surgical implants is built to last.
It's a preferred material for implant surgeries, such as knee and hip replacements, not only because the body can tolerate it, but because of its extreme strength and long life. However, the durability and hardness of the alloy make it a very difficult substance to machine.
When a Florida medical manufacturer was performing research and development on a new tibia fit tray, a component used in a total knee joint prosthesis, the manufacturer turned to its local cutting tools distributor, Cornerstone Supply of Jacksonville, Fla., for assistance. As a long time supplier to the medical manufacturer, Cornerstone was asked to help locate a new end mill for machining the cobalt-chrome casting. The existing end mills in the pocket milling application would begin to fail after machining only six to seven parts per cutter. Frequent downtime would cause production costs to soar.
In September 2010, Cornerstone sought advice from Ron Wallace & Associates, an independent rep firm based in Clover, S.C., that covers the Southeast United States for the WIDIA-Hanita tooling line. Sales manager Chris Roberts often helps Cornerstone troubleshoot difficult machining applications, and this one was especially hard to solve because it's a relatively uncommon alloy.
After determining what tool the manufacturer was currently using, Roberts took some standard four-flute and five-flute end mills to the plant for testing. The tools broke down immediately.
"What I was seeing in the application was they weren't getting chip clearance. With a four-flute, it was cutting the chips and dragging them back up underneath the cutter, and that's what was beating the cutter up," Roberts said.
He contacted another Ron Wallace & Associates sales manager who had experience with a cobalt-chrome application for a medical manufacturer in Tennessee. That application used the WIDIA-Hanita 4SO series of end mills, but the tool lacked the .060 corner radius needed for the Florida job. So Roberts asked WIDIA senior applications engineer Don Wilson to expedite some modified tools for testing.
The need for speed
The manufacturer was anxious to select the correct end mill before going into full production on the tibial trays. The tools also needed to be certified by the Food and Drug Administration so they could be used to produce medical devices. Two weeks later, Roberts and Wilson arrived in Florida to test the modified tools to determine if they had hit the "sweet spot," that sometimes hard to find balance between material removal rate, surface finish and tool life.
"We started out at 100 surface foot per minute and ended up at 130 surface footage, which was a lot better than our competitor was doing," said Wilson. "We got better tool life, better performance, and the tools lasted longer."
In a head-to-head comparison with the current tool, the WIDIA-Hanita end mill cut per-piece cycle time almost in half, from 10.5 minutes to 5.51 minutes, and more
than doubled tool life edge, from 63 minutes to 148.68 minutes. Translated into dollar savings, the customer would see annual cost savings of 48%, or $353,671
on each machining center.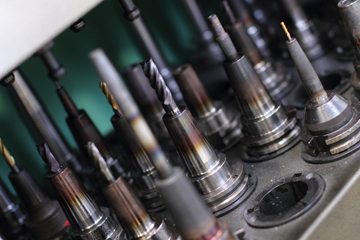 "As this production moves to more machines, every time they do this job on another machine, it's a savings of more than $353,000," said Bernie McConnell, vice president of the WIDIA Products Group. Since completing the test in October, production has expanded to six CNC machines, generating an estimated annual savings of more than $2.1 million.
Initial tests were conducted using a standard tool modified for the application, explained Ron Wallace. "Now, they're making a special tool from a blank just for that specific application and that's why it's performing much better," he said.
WIDIA sales manager Jeff Carey said that, thanks to the efforts of WIDIA and Ron Wallace & Associates, other reps and distributors may benefit by using the new tool in other applications where cobalt-chrome is being machined. "The machine might be different and the parts might slightly differ, but we could take the same coating, corner radius and the same helix and take it to another user,"
he said.
Wilson added that Cornerstone Supply will likely benefit from additional business with the medical manufacturer as a result of the success of this one project. "We never had any Hanita business with this customer before. Now, that customer is looking to us for other end mill machining opportunities," he said.
Team effort
McConnell said the award-winning effort demonstrates the value that's created when channel partners work closely together to come up with solutions to problems that can't be solved with off-the-shelf products. "When you bring the collective IQ of the team together, anything is possible," he said.
To the industrial supply channel, the solution demonstrates the type of work that distributors, independent reps and suppliers do every day to make their end-user customers more competitive in a global marketplace. But to the recipient of a cobalt-chrome knee replacement, the solution is nothing short of miraculous.
This article originally appeared in the July/August 2011 issue of Industrial Supply magazine. Copyright 2011, Direct Business Media.
COMMENTS: 0
---