Top 10 Distributors
A look at what's driving growth in the industrial distribution industry
by Lindsay Konzak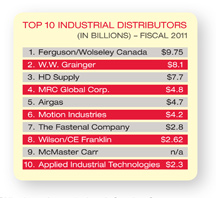 As HD Supply continues to pare its portfolio of companies, Grainger has ramped up its growth over the past few years and has taken the No. 2 spot from HD Supply on MDM's list of the Top 40 Industrial Distributors in its annual MDM Market Leaders report, which is based on 2011 fiscal revenues. June marked MDM's release of its annual MDM Market Leaders Top 40 Industrial Distributors list and rankings for the largest distributors in 13 other sectors.

While it did expand in some areas in 2011, HD Supply sold its $421 million HVAC/Plumbing business to Hajoca in the second half of 2011; it also sold a five-branch electrical business in Canada to Sonepar. HD Supply grew sales by just 2.6 percent in 2011.

Grainger, meanwhile, continued to expand internationally, making growth in Europe a priority with the acquisition of fasteners distributor Fabory, which at the time had US$300 million in revenue. Grainger also ramped up its safety and inventory management programs in the first half of 2011, and continued to grow sales via its grainger.com platform. Grainger sales grew by about 13 percent in 2011, more in line with the industry.

Overall, growth was strong in industrial distribution in 2011, with an average revenue growth of 19.4 percent among the Top 40. Last year's report showed average
revenue growth of 10.4 percent for the largest companies in the sector.

One of the biggest growth rates in industrial distribution in 2011 was by MRC Global – which underwent an initial public offering at the start of 2012. The industrial PVF distributor – previously known as McJunkin Red Man Corp. – moved up to the No. 4 (from No. 5) spot this year thanks to both its aggressive growth overseas as well as its focus on the oil & gas markets. MRC Global had a nearly 25 percent increase in sales over 2010.

While the past few years have not seen much in terms of change to MDM's Top 40 list, this year we saw some great jumps thanks in part to acquisitions.

For one, we added ERIKS, a Europe-based distributor, to the list this year due to its acquisition of Lewis-Goetz & Co., a rubber products distributor that came in at No. 23 on the Top 40 list last year. In 2011, as a result of the Lewis-Goetz acquisition, ERIKS' North American operations nearly doubled, with an estimated $700 million in annual sales, making it an industrial distributor to watch in several subsectors.

Some of the greatest growth we saw over the past year was from regional distributors, many of which are also pursuing acquisition strategies. FCX Performance grew by 30.5 percent in 2011; Womack Machine Supply grew by 27.8 percent; and BlackHawk
Industrial Distribution, a newer platform company, more than doubled its sales base in 2011.

As part of the 2012 MDM Market Leaders report, MDM also publishes an annual Distribution Trends Report. Here are four trends we are tracking that are impacting the industry:

1. An increase in focus on vending as a growth strategy
Vending is not a new concept, but many of the largest distributors – MSC Industrial Supply, Grainger and Fastenal, to name a few – have called out vending services in the past year as key and fast-growing elements of their strategic growth plans. This has challenged smaller industrial distributors that want to compete but may not yet have
the capital needed to pursue the strategy.

2. A critical mass of interest in e-commerce
While we are not yet seeing actual implementation of e-commerce or improved Web sites among many industrial distributors, we are seeing a significant increase in interest in updating Web sites. Not everyone is pursuing a transactional Web site like Grainger's, but distributors are making changes to better automate the customer service function or
to allow existing customers to purchase online.

3. A challenge of finding qualified employees
Again, not a new issue, but definitely a challenge that is front of mind right now as distributors look to build their businesses back up with strategic hires that are ready to meet changing market needs.

4. Consolidation ramps back up
Dozens of deals have been announced in distribution in 2012 thanks to a perfect storm of
contributing factors that includes a large number of owners who are ready to retire, significantly improved deal valuations and a group of larger distributors and private equity firms that have stockpiles of cash they need to deploy. Also, when an economy is not growing quickly, one of the easiest ways to show growth to shareholders is acquiring businesses.

To view the MDM Market Leaders lists and the full 2012 Distribution Trends Report, go to www.mdm.com/marketleaders.
Methodology
The 2012 MDM Market Leaders lists are ranked in order of 2011 revenue size alone; no other factors were used to compile these lists. Also, as much as possible, MDM refines the lists to reflect North American revenues where they are clearly broken out by global distributors. Data for these reports was collected in several ways. Some companies self-reported data online via a form on MDM's Web site providing data about revenues and trends. We also utilized SEC annual filings for public companies. For those unwilling to provide us with data, we utilized several resources to estimate where to place these companies on their lists including past reported revenues, average revenue increases in sectors, data from economic reports and conversations with industry experts.

Lindsay Konzak is editor of Modern Distribution Management and mdm.com, a specialized newsletter and Web site for wholesale distribution professionals. She can be reached at lindsay@mdm.com.

This article originally appeared in the July/August 2012 issue of Industrial Supply magazine. Copyright 2012, Direct Business Media.
COMMENTS: 1
Product Data Management" service for profitable e-Commerce
Posted from: kavitha, 12/1/14 at 6:26 AM CST
Bluemind Solutions is one of the leading providers of Data Solutions for e-Commerce business applications. We specialize in enhancing, organizing and enriching product information to Retailers, Wholesalers, Distributors, Suppliers and Manufacturers. We have assimilated deep domain knowledge in organizing Sell-side and Buy-side data for many industry verticals. Over 90% of our staff is comprised of professional product analysts with relevant industrial experience. Our expertise range from Retail, Healthcare, Life Sciences, Mechanical, Electronic, Electrical, Safety, Furniture's, Office Supplies, Building Supplies, Consumables and MRO.
---