Driving Dock & Lift Truck Safety
Many are the means for accidents, so equipment manufacturers are stepping up efforts to keep employees safe.
by Kim Phelan
Warehouse docks are busy, congestionprone hubs of the distribution center, where moving forklifts, dismounted drivers, height, dock doors, dock levelers, and pedestrian workers and supervisors all converge throughout the day. Ideally, it is a picture of well-ordered choreography, but through the lens of a safety director, it can look like an accident waiting to happen – and sadly it often is.


Inadequate training as well as distractions are leading causes of the top three types of lift truck-related accidents – hitting pedestrians, tipping shelving, and forklift overturns. In addition to all the other variables, different environmental hazards may be present in dock settings, such as moisture, debris or product on floors. With so many dynamic risk factors at play, equipment manufacturers are beefing up resources focused on both training and product technologies that improve lift truck safety around the dock and throughout the warehouse.

According to the Bureau of Labor and Statistics, nearly 100 workers are killed and another 20,000 are seriously injured in forklift-related incidents annually, wrote Mark Gates, product support manager at Toyota Material Handling, in a 2022 web article. Statistically, he said, that means one of every 10 forklifts in the U.S. will be involved in an accident every year.

Distributors can do much to improve safe conditions in their warehouses, and indeed have intense incentives to be vigilant in this area of the business. Tragic injuries and fatalities are heart-wrenching and also inflict financial consequences. Also, reputation damage from accidents has more impact than ever – a poor safety record can disqualify a distributor from customer contracts, said Matt Flanahan, vice president of safety at Duracorp. Increasingly, companies in all industries don't want to do business with suppliers whose safety records are subpar – and there's a good chance they won't tell you that's the reason they're leaving or choosing your competitor.

AWARENESS IN THE WAREHOUSE
A big problem in lift truck safety, says Flanahan is the driver's vision being blocked by the load they're carrying.

"A lot of injuries happen by people being blindsided – somebody steps out of an aisle way and they just get run over," he said. "The other problem is not understanding the weight limits of the product that you're going to lift, and the lift tips over. The simplest safety device that could save lives is nothing different than your vehicle: seatbelts. If you're not wearing a seatbelt, and you tip a forklift over, the chance of you being able to jump out of the way and this machine not crushing some part of your body or your head is remote. It happens so quick."

At the dock, Flanahan says it's imperative to have a device that is keeping the trailer at the dock. While forklift driver and tractor trailer driver must be communicating, a truck restraint hooks onto the back bar of the trailer to prevent the driver from pulling out while a forklift is transitioning into or out of the trailer.

"If the trailer drives out and that forklift falls from the 48 inches on the dock to the pavement outside – that's where a lot of forklift deaths or very bad injuries happen," said Flanahan. "It's one of those deals where guys think they can jump out of the way, but they can't.

"Rollovers due to miscalculated load weights certainly endanger the driver, but those poor decisions, as well as careless driving that causes a collision with warehouse racking put many employees in jeopardy of being crushed," Flanahan said.

A major root cause of accidents has become use of a cell phone while driving a forklift, he added, which is why some distributors require drivers to put their phones into lockers – mitigating distractions is a growing focus among safety directors and supervisors.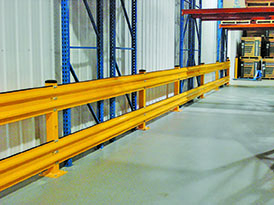 Safety products, including guardrail, gates, and accessories, can greatly reduce incidents and protect the facility's people, equipment, and productivity.
But one thing that can't be put into a locker is complacency, another serious problem that lies beneath preventable accidents. Flanahan says weekly – or even daily – safety huddles known as "toolbox talks" are one way to keep safe thinking top of mind among drivers and the whole warehouse team.

"You have to kill off complacency," said Flanahan. "Maybe you've gotten away with something 10 times, and you've cheated the system, but your luck is going to come to an end. They need to be reminded: Take your time, be efficient, and pay attention to what you're doing."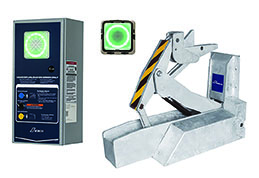 Serco model SL60 Truck Restraint
features a control panel and outside
communication light.
Simple though it may sound, it's critical that operators are thinking about their actions before they accelerate and always look in the direction of travel, including when reversing the truck, said Mike Moran, executive business manager, Yale Lift Truck Technologies.

Some companies are concerned about speed of lift trucks traversing throughout the warehouse. According to Moran, parameters for lift truck acceleration – top speed and coast functions – are configured by the original equipment manufacturer when the truck is produced.

"But distribution warehouses should also be aware that they should examine and adjust those parameters," he said, "within the acceptable limits established by American National Standards Institute (ANSI) B56.1 standards, based on their particular application and environment. For instance, some operations may find it helpful to reduce the speed of acceleration of their lift trucks to allow additional time for the operator to look in the direction of travel before moving."
Moran says Yale is laser-focused on engineering equipment that helps operations answer their toughest challenges, including safety concerns. Proper, comprehensive training is the critical first step, he added.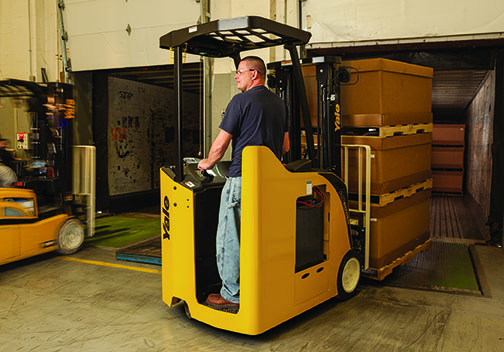 The Yale three-wheel stand comes with a number of features engineered
to enhance operator comfort and performance, including a suspended
floor system, a low step height for easy ingress/egress and an adjustable
armrest.

Yale offers training video content that can fulfill most of the truck-related topics in the formal instruction requirement, to help high-intensity warehouses take control of their lift truck operator training. Hands-on safety demonstrations and instruction are also essential elements of any training program, said Moran. Assigning an experienced mentor to work directly with new hires provides an additional resource for asking questions and obtaining facility knowledge, increasing the chances of successful onboarding.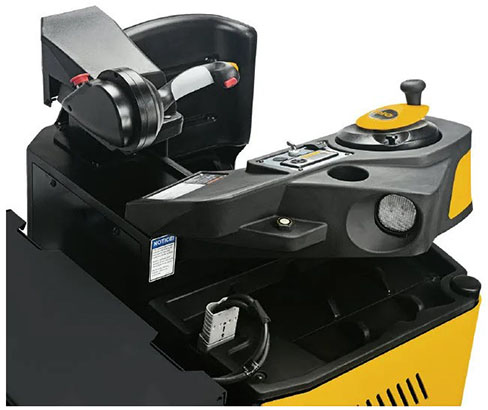 Optional automatic LED work lights with an ultrasonic sensor help
increase visibility and awareness in low-lit areas such as transport
trailers.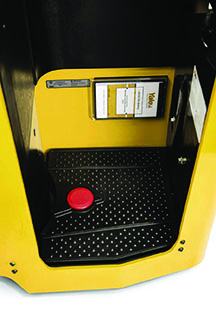 The operator-sensing system
features a pedalfree design
that allows operators to
adjust stance for a comfortable
working environment with
more usable floor space
than leading competitors.

"Training is the basis of an ongoing relationship you have with your operators," he said. "You need a supervisor on site observing and coaching, just as a baseball player needs a hitting coach there to help him optimize his performance. For the practical training and operator evaluation portions of OSHA certification requirements, our dealers can help you close the gap and deliver fully compliant operator training programs specific to your trucks."

Moran added that in addition to operators, pedestrians must understand how to interact safely with lift trucks. These employees should participate in training that addresses pedestrian safety issues, including interactions with lift trucks and other mobile equipment, as well as understanding hazards presented by mobile equipment in that facility. A pedestrian training program should also cover topics such as wearing safety vests for greater visibility and posting pedestrian signs in locations where lift trucks operate.

OEMS RISE TO THE OCCASION
In addition to training support, Moran says Yale's product design and technology integration is focused on translating customer safety and productivity challenges into problem-solving equipment. For instance, one of its lift truck models for dock environments, the three-wheel stand, has standard features that help reduce operator fatigue and injuries, and give operators more confident control so they can perform optimally. The multifunction control handle provides one-handed, simultaneous control of travel and hydraulic functions, such as forward/reverse, lift/lower, horn, tilt and auxiliary functions.

The Yale smart operator sensing system, also standard on the three-wheel stand, uses sensor technology to detect operator presence within the truck, eliminating the need for operators to stand on a pedal to confirm their presence. This allows operators to comfortably reposition both feet during operation, providing postural relief, and the detection sensors serve as a training aid, confirming proper operating position.

While the three-wheel stand is a more typical model for dock environments (since the operator position and stance lends itself to looking in the direction of travel by simply looking left or right, rather than having to turn around), for operations that are using sit-down counterbalanced models, Yale also offer features such as a rear drive handle with a horn button on the overhead guard. This optional feature provides a comfortable place for the operator to grab as they are turned around for reverse travel, to help mitigate the risk of placing their hand at a potential pinch point, and allows for easy activation of the horn to notify nearby trucks and pedestrians of their presence.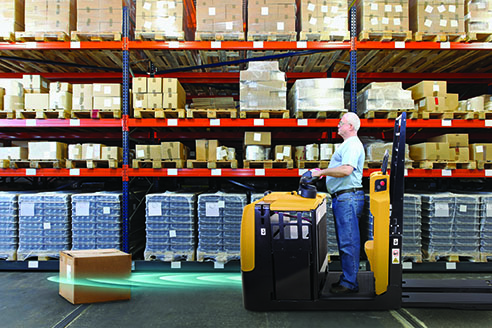 Yale Reliant alerts the lift truck operator and automatically adjusts
performance based on real-time information, such as when there
is an obstacle in the path of travel.

Another example of truck features and technology designed to help support operators in dock environments are optional LED work lights available on our enclosed end rider. These automatic lights use an ultrasonic sensor to detect and automatically turn on when the lift truck moves into a dark space like a trailer, and likewise turn off when it exits the trailer so that the work lights are not on outside of the trailer, where they aren't needed or might shine in the eyes of other workers.

Looking at technology solutions, a telemetry system like Yale Vision can be used to digitize pre-shift checklist completion and help managers to identify and address potential risks and make informed decisions about the lift truck fleet and training.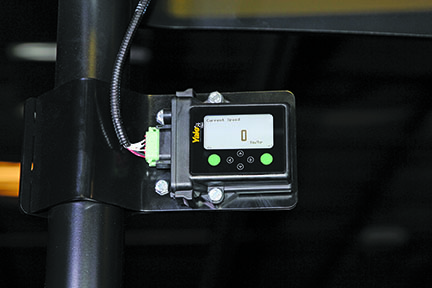 Telemetry tools like Yale Vision provide operations with
insights and controls to monitor equipment and improve
lift truck operator behavior.
While telemetry captures and reports lift truck status and usage, providing the data to inform a more reactive approach to managing operator behavior, other technology can take a more active role, providing operators with real-time alerts and automatic performance limitations based on the real-world operating environment, load and equipment status, making it easier to adhere to best practices. Yale Reliant is an industry-first solution that stands out among other OAS tools on the market because it offers a robust package of features designed to optimize lift truck operator performance and enhance operator confidence. These capabilities include line of sight support, location-based fork height restriction and speed controls, automatic speed reduction and more.

Christopher Grote, senior product manager at Crown Equipment, affirms that the design of the forklift is a key element that can positively contribute to employee safety.

"At Crown, we continue to evolve the design of our forklifts in ways to help better enhance our customers' safety programs. The following are four safety-related areas we currently consider when looking to add features that can potentially enhance safety programs."
(1) Curbing Operator Fatigue.
Crown has directly integrated Human Factors & Ergonomics (HF&E) logic into its product development process. Crown's HF&E expert focuses on the forklift operator, helping ensure forklifts are designed around the way operators work rather than forcing them to adapt their work habits to the vehicle's design. This approach has led to many of our ergonomic features in the operator compartment.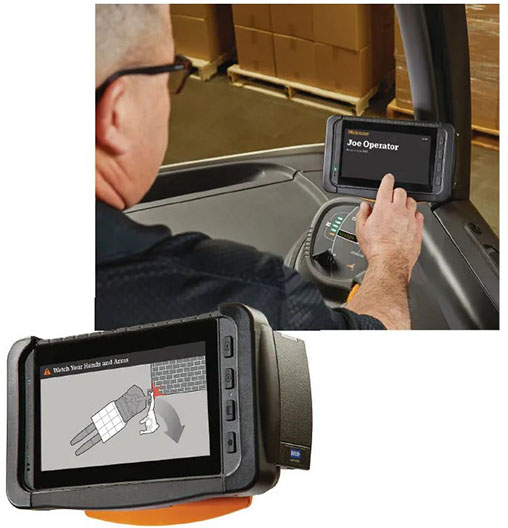 InfoLink's operator and fleet management system helps customers capture data,
including operator performance, equipment status and health, and product movement.
(2) Assisting Operator Performance.
Several operator assist technologies available today can work passively or actively to reinforce training and guide operators to employ best practices consistently. Advanced sensors and software can adjust forklift performance parameters based on the load, task and environment to promote safe, productive operations. Crown's Proximity Assist system uses Lidar sensors installed on the lift truck that scan for objects, pedestrians and other forklifts to alert the operator of their presence and actively slow the vehicle if corrective actions aren't taken. Crown's Geo Assist technology utilizes locationbased tracking to automatically decrease travel speed of the lift truck and avoid overhead obstructions.
(3) Enhancing Visibility.
Crown continues to enhance operator sightlines in a variety of applications, to help reduce the risk of accidents caused by obstructed views. For example, the side-stance design of the RC Series stand-up counterbalance forklift provides open views of the forks and load as well as the direction of travel.
(4) Maintaining Focus.
Crown offers interactive, customizable on-board screen displays to create a more informative and personalized experience for operators. Its intuitive and easy-to-read menus and configurable widgets enable operators to customize their digital user experience and receive contextual alerts to increase engagement. These systems can also provide safety reminders to reinforce training. Crown also continues to integrate a variety of intelligent sensors and systems into our forklifts to help reinforce correct operating practices. For instance, Crown's stability, traction and operator position controls can help even the most experienced operators improve their approach to safety. Its stand-up rider forklift models feature an entry bar safety switch to prevent the operation of the forklift when the operator's foot is on the entry ledge.

INTO THE FUTURE
Looking to the future, as dock operations continue to embrace operator-assist technology, distributors will be able to take advantage of real-time location sensing for even greater built-in safety, sources said.

"Warehouses can set business rules with customized geofencing to proactively reduce travel and hydraulic speed when operators approach pre-determined areas within the facility," said Moran. "Operations could use this to restrict certain equipment to certain areas, such as the dock, or exclude other trucks from entering if they shouldn't be operating in that zone."

Flanahan added that more flashing and colored lights will help alert personnel working around the dock about hazards and get their attention if they're distracted. Motion sensors will also be employed to keep doors from activating in unsafe conditions to pedestrian workers and lift truck drivers.
This article originally appeared in the July/August 2023 issue of Industrial Supply magazine. Copyright 2023, Direct Business Media.
COMMENTS: 0
---