Smart, Safe and in Stock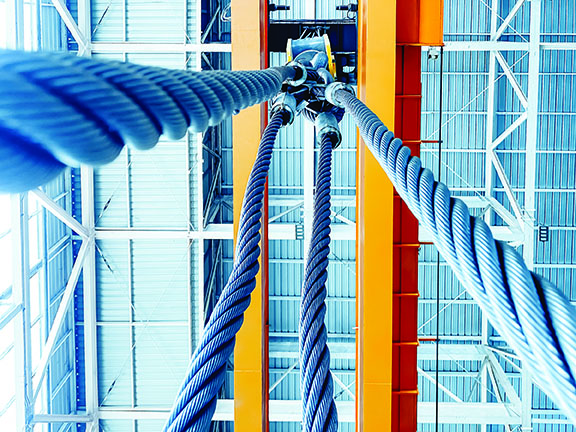 Harrington Hoists has two new lines of Mini Electric Chain Hoists designed for use in
medium- to heavy-duty industrial settings.
Companies are buying more load-lifting products - here's the skinny on heavy-duty helpers.
Good news for distributors selling hoist and lift equipment: End users are spending more money on products that improve ergonomics, load control, and load monitoring, according to Jennifer Ferguson, business development manager at Harrington Hoists Inc. She said some examples include:
Using a motorized trolley instead of a push trolley to provide the operator with more control rather than having to stop the load with his or her body.

Using a small, motorized hoist for light load applications that in the past, may have been done manually by one or two workers. For example, Harrington's new EM series mini hoist, offered in 250 – 1,000 pounds, is an excellent choice for these applications.

Purchasing a positive locking hook rather than a standard hook to prevent unintended rollout.

Purchasing hoists with variable frequency drives (VFDs) to have smoother motion and prevent load bounce/swing.

Purchasing hoists with overload limiting devices like Harrington's new EM series with electronic overload limiting capabilities and/or load cells such as Crosby Straightpoint to monitor live loads.
In addition, Ferguson said companies are spending more time and money training people and ensuring they have thorough procedures and documentation. Harrington frequently offers repair schools, which are in high-demand.

One question Harrington Hoists often receives is: Why does your hoist cost so much?

Ferguson replies, "We use special manufacturing processes such as special heat treatments, plating processes, and forgings that make the hoist more reliable and more durable which ultimately lowers the end users' total cost of ownership and improves safety."

Another note for distributors: Harrington Hoists said it has stock most of the time, "but with the recent supply chain interruptions, helping end users plan ahead and providing manufacturers with order forecasts well in advance helps smooth the process," said Ferguson.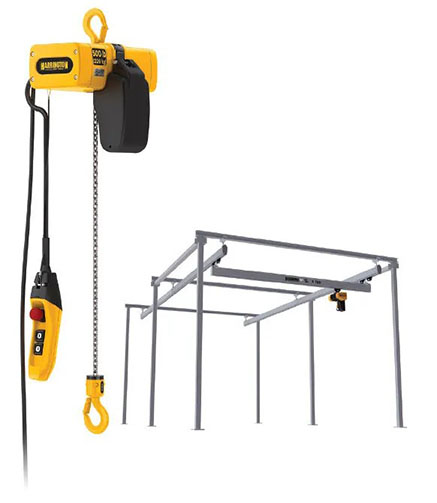 It's Tiger Track Freestanding Workstation Cranes are lightweight,
customizable, and powerful modular solutions that make operation
easier than using traditional bridge cranes.

She also encourages distributors to sell on product value and service, not price. The safety, durability and ease of maintenance are important product factors that create brand loyalty.

SELL ON PRODUCT, NOT PRICE. THE SAFETY, DURABILITY AND VALUE OF MAINTENANCE . . . CREATE BRAND LOYALTY.
– JENNIFER FERGUSON

"Also important is highlighting services provided such as trainings, inventory position, and before/after sale support," she added.

What's new in the Harrington product lineup?

Harrington's newest EM/SEM series includes Solid State Relay (SSR) technology with a microprocessor. This technology, says Ferguson, provides safety features such as overload limiting, protection from overcurrent, phase loss, phase reverse, and more. SSR technology also extends the life of electrical components significantly because there are no mechanical contacts like contactor-controlled hoists.

"In addition, our RY wire rope hoist includes VFDs as standard in all directions providing better load control, more safety features, and extending the life of brakes, motors, and electrical components."

LIFTEX CONTROLS PROCESSES IN U.S.
Supply chain disruptions and geopolitical concerns have led to a renewed interest in Made in the USA products, says Paul Keating, CEO of Liftex.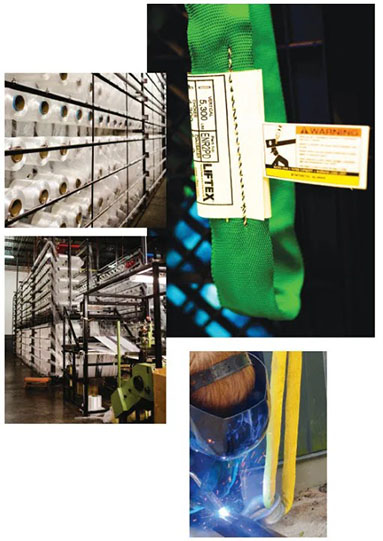 Liftex products are all manufactured in the U.S. Its new
Inferno high-temperature roundslings are used in
welding and stage rigging applications.
"Ocean freight costs have subsided from historical highs, but uncertainty over future pricing and potential union contract issues at West Coast ports have caused buyers of lifting equipment to strengthen relationships with U.S. manufacturers," he said. "Reshoring – bringing manufacturing back to the United States – is gaining significant momentum."

His company offers distributors an advantage on the supply chain front.

"Liftex is vertically-integrated," he said. "We control the manufacturing process from raw material through shipment of fabricated lifting slings. And it's all done in the USA. We're unique in this regard. We didn't experience the supply chain disruptions that affected so many lifting sling manufacturers and their customers. We are capable of competing with Chinese importers on price while providing leading product quality, service and lead-times."

The number one question Liftex fields in the industry is, "Do you sell directly to the end-user?" The answer is no, says Keating.

"Liftex sells exclusively through distribution. We've heard that many manufacturers of lifting slings, hoists and other lift equipment have begun bypassing their longtime distribution partners and are now selling directly to end-users, especially where significant sales volumes are involved."

He adds that a key differentiator for Liftex is having product on the shelf. He says manufacturers and their distributors need to get creative – in terms of consigned inventory, extended terms, forecasting/sharing real-time sales data, etc. – to make sure the distributor has quick access to the products their end-user customers need.

"We work hard with our distributors to make sure they have the right products at the right time and design programs to minimize the impact on their cash-flow," Keating said.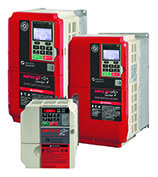 All Magnetek IMPULSE
AC variable frequency
drives from Columbus
McKinnon are built with
safety in mind and have
the "Load Check II"
feature that can prevent
overloading of a hoist.

COLUMBUS MCKINNON MEETS DEMAND FOR SMARTER EQUIPMENT
Safety is driving the industry toward smarter equipment, says Henry Brozyna, a trainer at Columbus McKinnon.

"Our Magnetek brand is leading the pack and continues to make cutting-edge controls to handle more precise lifting and moving loads," he said. "This ultimately will make the operations of hoisting and lifting equipment safer and more efficient for owners and operators. Smarter equipment can include features like precision lifting, sway control, and overload protection."

SMARTER EQUIPMENT CAN INCLUDE FEATURES LIKE PRECISION LIFTING, SWAY CONTROL, AND OVERLOAD PROTECTION.
– HENRY BROZYNA

For example:
Sway Control Technology allows the operator to focus on traversing a load while the system keeps the load steady. This helps the accuracy of load placement and reduces material damage caused by the incidental swinging loads. The Magnetek Sway Control System (SCS) is embedded in a variable frequency drive (VFD) and can be set up and programmed without the need for an external programmable logic controller (PLC).

All Magnetek IMPULSE AC variable frequency drives are built with safety in mind and have the "Load Check II" feature that can prevent overloading of a hoist. Load Check II continuously checks for hoist overload conditions and will halt upward motion, only allowing downward motion. It also monitors hook load during acceleration and constant speed, eliminating the need for load cells in most applications. Auto set up allows for defining the hoist's maximum hook load in seconds. This allows for increased productivity because the hoist does not pause for tests unless the rated capacity is approached.

These smart drives are also being incorporated into CM-brand hoists, such as the CM Lodestar VS with Intelli-Connect Mobile. This puts performance and status of the hoist at your fingertips. Other benefits include: precision load control with programmable hoist speeds and micro-positioning capabilities, user-friendly controls, and the ability to pair with the Intelli-Connect Mobile app for operators to easily adjust and monitor the hoist's performance on the spot.

Intelli-Connect Mobile: Wireless Drive
Monitoring, Analytics, and Configuration
Technology enables programming,
maintenance, monitoring, and troubleshooting
with data available on a smartphone or tablet.
Additionally, said Brozyna, the company offers drive support tools that assist with troubleshooting and maintaining the safe operation of the drives. Columbus McKinnon's Intelli-Crane Family of automated solutions includes Intelli-Connect Mobile, Intelli-Lift and Intelli-Protect.
Intelli-Connect Mobile Wireless Drive Monitoring, Analytics and Configuration Technology features enhanced performance, speed, and connectivity for an improved user experience. This solution enables simple and easy programming, maintenance, monitoring, and troubleshooting of variable frequency drives, right from the plant floor with data available directly on your smartphone or tablet.
Intelli-Protect No-Fly Zone Systems make it even easier to use and implement in an application to protect personnel and facility throughput with protected areas where normal crane operations are limited or restricted entirely.
Intelli-Lift Side-Pull and Off-Center Pick Systems can detect load misalignment or a snag condition and alert operators with a visible and audible warning before a dangerous situation occurs. This is currently ideal for hoists with wire ropes that remain perpendicular to the ground.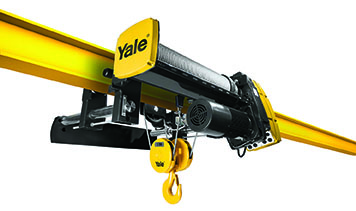 The Yale YK and Shawbox SK Wire Rope Hoists from
Columbus McKinnon provide industry-leading
technology, safety, and performance lifting applications.
Columbus McKinnon's Yale YK and Shawbox SK Wire Rope Hoists demonstrate how the company differentiates itself in the marketplace, said Brozyna, by providing "industry-leading technology, safety, and performance lifting applications, with compact and easy-to-maintain design. These products are now exclusively using Magnetek IMPULSE drives, making the YK and SK some of the most versatile, safe, and trusted hoists on the market."




This article originally appeared in the July/August 2023 issue of Industrial Supply magazine. Copyright 2023, Direct Business Media.
COMMENTS: 0
---