Touched by technology
Johnston Industrial Supply boosts profitability through wise investments in technology
by Rich Vurva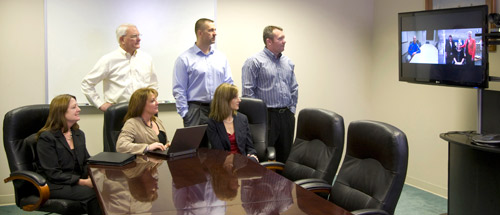 A high-definiton video conferencing system allows managers to keep in touch with outlying branches. Standing left to right: Jeff Poplis, Rick Coombes and Michael Smith. Sitting left to right: Christie
Johnston, Susie Johnston
and Michele Holt.
Very few companies want to be on the "bleeding edge" when it comes to trying new technologies. Adopting a technology before it has been thoroughly tested – or before customers or employees are ready to use it – can be a costly mistake.
But smart business owners understand that applying the right technology can make a major impact on bottom-line profitability. Johnston Industrial Supply has discovered that wise investments in technology make good business sense.
"Technology touches every department in our company. We've been able to utilize it and reduce our workforce, yet continue to grow sales," says company president Susie Johnston. "It has enabled us to be flexible enough to serve our customers and still give
them personalized service."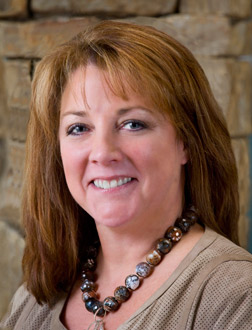 Humble beginnings
Founded in 1968 by Susie's parents, George and Patricia Johnston, the company's first location was in a small storefront in Springfield, Mo. As the company grew, first into additional storefronts in the original shopping strip and ultimately into five locations in Missouri, Oklahoma and Kansas, it managed to absorb the growth without losing the personal touch that customers desired.
When George was ready to retire in 2001 and Susie showed the willingness and leadership capabilities to take over, she recognized the need to invest in technology.
"How many companies have you seen that have great top-line growth, but go out of business? They didn't manage below the top line very well. For me, the best way to manage growth was through technology," she says.
By applying the appropriate technology to each department, she says Johnston Industrial has become a leaner organization. With annual sales of about $40 million and 73 employees, its sales-per-employee ratio of $548,000 far surpasses the $390,000 average for high-profit firms reported in the 2011 ISA Profit Report produced by the Profit Planning Group of Boulder, Colo.
Technologies that have helped Johnston Industrial achieve this result include a Voice Over IP (VoIP) telephone system, an electronic document retrieval system, customer relationship management (CRM) and demand planning software packages, and a variety of inventory management solutions such as onsite automated vending machines and radio frequency identification (RFID) systems.
The VoIP phone system has reduced the company's long-distance phone bill and enhanced customer service. With direct-dial capabilities, customers can dial or fax directly to their preferred customer service rep rather than being routed through an operator. Employees have easier access to voice messages and even e-mail messages when they're out of the office. Soon, the system will tie into the Infor A+ enterprise resource planning system. When a customer calls, the system will recognize the incoming telephone number and retrieve that customer's history so the person answering the call will have immediate access to customer-specific data.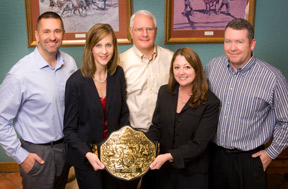 Johnston Industrial branches compete for a chance to earn this award each year. Springfield location managers Rick Coombes, Michele Holt, Jeff Poplis, Christie Johnston and Michael Smith proudly display the replica of a WWE wrestling championship belt.
24/7 connectivity
The company recently began equipping salespeople with iPhones and iPads that are easier to use and provide greater flexibility than laptops and BlackBerry phones.
"One of our more seasoned salespeople used to carry around a spiral bound notebook. He would typically carry three or four of those books with him so he'd have a history of projects. Now he's using an iPad," says Jeff Poplis, director of business development.
Salespeople can use the iPad to check e-mails, maintain their calendars, view reports and other documents and make customer presentations.
"Today, through You Tube there are so many things out there in terms of demos of products. The screen is large enough that you can do a demonstration for a customer," says Poplis.
A customer relationship management (CRM) bolt-on product that interfaces with Microsoft Outlook makes it faster for salespeople to look up contact information and speeds the reporting process. Salespeople previously had to access multiple software programs to obtain data and submit reports to managers. Today, the Tour de Force CRM provides the ability to retrieve contact information, sales and other project data and easily summarize it in management reports.
"We don't want salespeople taking a day off to complete their reports," says Poplis. "We wanted to streamline it as much as we can so they just have to report on the things that are most important to us."
An electronic document retrieval system has benefited the accounts receivable department. Instead of searching for a signed delivery slip in a filing cabinet in an outlying branch when a customer asks for proof-of-delivery before paying an invoice, accounts receivable employees in Springfield have immediate access to documents that are scanned in daily.
A centralized purchasing system and new demand planning software package have helped reduce obsolete and slow-moving inventory. In the old days, anyone who took an order from a customer could contact a supplier to place the order. With multiple inside
and outside salespeople across five branch locations, inventory levels could quickly grow unwieldy.
"Since we centralized purchasing, we only have two buyers for the entire company," says Johnston. "We have decreased our inventory by 50 percent. And we're keeping the customer satisfied because we have everything in inventory that we need."
A demand planning software called Overdrive allows the company to respond more quickly to downturns in usage. Because they typically look back at 30-day and 60-day trends, traditional purchasing software can be slow to recognize decreased demand.
"You want to make sure you have enough inventory but you don't want to have too much," says Michael Smith, director of operations. "The demand planning software provides more of a daily look. So, we have a lot quicker read on what's going on with our inventory across all of our locations."
Using a high-definition video conferencing system, Johnston has the ability to hold meetings between branches and with customers that have similar technology. With two 40-inch HD monitors in the conference room, managers can hold conferences with up to six different locations. Participants in each location appear on one monitor, and a PowerPoint presentation or video can be displayed on the other monitor. The video conferencing system will aid in management meetings between branches and also provide a way to host a supplier at one branch and hold a product demonstration at every location at one time.
"Conference calls are great, but there's something about being able to look into that high-def image and see a person's reactions and mannerisms that can't be beat," says Smith.
Custom solutions
Johnston Industrial relies on a variety of technologies to manage inventory at customer locations. The company has developed a niche serving aviation companies based in Tulsa, Okla., and Wichita, Kan., providing industry-specific tools and equipment. Its Johnston Integration Technology Aviation division develops custom solutions that include everything from free-issue bin filling programs, Kanban inventory control systems, to automated vending and RFID technology.
"The expertise that we bring is that it's not just us giving them a vending machine or a technology. It's taking the time to determine the best way to accomplish their goals," says Poplis.
Smith says many industrial distributors tend to be behind the power curve in adopting technology. He believes that Johnston Industrial has made intelligent decisions when it comes to making technology investments.
"Technology is not going away," adds Johnston. "You'd better invest in it or you're going to be left behind."
This article originally appeared in the Mar./Apr. 2012 issue of Industrial Supply magazine. Copyright 2012, Direct Business Media.
COMMENTS: 2
Posted from: , 3/19/12 at 10:10 AM CDT
Think of the number of suppliers who read this article and could re-title the article "What WE Aren't." Technology is the light and no different than being in a black hole are the companies who see it as a form of witchcraft. They have no idea where they are because they can't tell where they have been. How could you possibly see any future? It is a great article. I cannot tell you how many visions I had of our operation being an almost EXACT opposite. We are closer to the rotary telephone than anything that even resembles technology. It is like the TV commercial, "it is the elder, he who speaks of the floppy disc." Funny - funny sad
Love this!
Posted from: Ricki Weisberg Ndege, 3/15/12 at 7:56 AM CDT
So many companies are scared of technology - thinking it is going to waste time of employees. I love the way Johnston is thinking here. Why not use these new communications tools to do our jobs better. Back in the day it was impossible for companies to imagine that they needed an inside sales force, now it is hard to imagine a company without one. Times are changing... Love this!
---