Stop chasing purple squirrels
Are we being too picky in choosing employees?
by Mary Jawgiel
Do you spend too much time searching for the perfect candidate to fill your open positions? Or are you willing to take a chance on someone who is not the perfect fit, but has room to grow?
While many distributors acknowledge that more and more Baby Boomers are retiring, leaving unfilled positions behind, are you truly looking for new ways to find viable candidates within the Millennial generation? Or, are you trying to find the perfect candidate and letting jobs go unfilled?
The Bureau of Labor Statistics reports the unemployment rate for January 2013 remains basically unchanged at 7.9%. This does not include those individuals who have given up looking for a position. So, there are candidates out there. Are all of these individuals really unemployable? Definitely not.
Everyone in our industry is grappling with the skills gap (see our column on this challenge in the Sept./Oct. 2012 issue.) We may be contributing to this gap by overlooking candidates who may be lacking in one or two areas but otherwise fit the bill and are perfectly acceptable.
Of course, everyone wants to hire the perfect candidate, the person who has all the skills noted in the position description and then some. In human resources language, this perfect candidate is referred to as a "purple squirrel." Ever seen one of those?
A recent article posted to the Harvard Business Review blog network by blogger and former recruiter Lance Huan warns against hiring the perfect candidate. Huan notes the perfect candidate rarely exists and the time (and money) spent looking for perfection is not worth it. Huan suggests mandating that open positions be filled in 60 days or be lost forever. That scenario is sure to cause some changes in thinking.
If indeed you only had 60 days to fill your open positions, would you screen resumes any differently? Take a closer look at the non-work experiences—or unrelated work experiences— that many Millennials have and see if those experiences reveal skills that, when further developed, will fit the position description. What about a former waiter? Or Starbucks barista? They have customer service skills, they can adapt to situations, they're quick on their feet, they have exactly the skill sets you're looking for.
Industrial distribution is not as well-known to potential employees as, say, retail sales. Yet a really good retail salesperson, who might currently be working part-time at a big-box electronics/appliance store, knows how to ask the right questions to determine what the customer really needs. This type of person might be the perfect next outside salesperson for an industrial distributor. Take a look at an Apple Store genius. These young workers use skills similar to what your inside sales staff would need in an industrial setting. Their energy and enthusiasm can transfer from retail sales to business-to-business sales. Think about the skills behind the job the next time you get a resume from a Millennial who is currently in retail sales—and put it in your follow up pile rather than the circular file.
One way to see if someone from a retail environment would be a good fit for industrial is to provide your potential candidate with general information about industrial distribution. Send your candidate to the Industrial Careers Pathway (ICP) website, www.idcareers.org, with instructions to take some time to read about the field of industrial distribution—what it is, what happens in a typical day, what the jobs are like and how much they pay. The website has been totally redesigned to incorporate more graphics and video preferred by the Millennial generation, but it still has all the relevant content. Tell your candidate that after reviewing the website, if still interested in the position, to contact you to set up a phone interview.
On the phone interview, ask what was learned about industrial distribution and why industrial distribution might be a good field for them. You'll find out by the answer if this person could be your diamond in the rough—a good, but not perfect hire.
When looking to fill entry level positions, take a look at how you've worded the requirements for the position, especially years of experience. Many potential Millennial job candidates are looking for their first real job and don't have any true work experience, or they have been cobbling together part-time jobs that are not in our industry, in order to make ends meet. Plus, it is likely they have participated in sports, band and other extra-curricular activities during the years of their education. These experiences taught them how to get along with others and how to take direction. This can translate to "experience in taking orders and working in a team."
Many Millennials who are looking for jobs have no knowledge of how to relate their skill set to your current job opening. They don't know that their desire to help others, say
by volunteering at a retirement home where they teach the old folks how to use e-mail, can translate into strong customer service skills that are a necessity for a counter sales person.
As you look for the perfect candidate to fill open positions in the industrial distribution field, scout out the good candidate who may be more eager and willing to work for less money but is highly trainable.
If you look more closely at the resumes that come through, especially when looking for entry-level positions, you could find a close-to-perfect candidate who can develop into your purple squirrel with some additional training or mentoring (by the way, Millennials love having mentors!)
If you are still not convinced to take a second look at some of the resumes you have on your desk consider this: How will the position you are recruiting for change over the next few years? Will the perfect employee still be the perfect fit? Or, will a diamond in the rough, someone with similar skills and perhaps not as much experience, be a better fit in the long-term?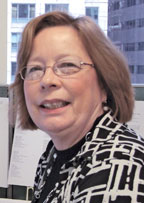 Mary Jawgiel is ICP program director for the PTDA Foundation and is managing the new ICP Job Board at www.industrialcareerspathway.org. Mary's life-long passion has been working with young people. Industrial Careers Pathway (ICP) is a cross-industry initiative supported by the ISA Foundation, NAHAD: The Association for Hose and Accessories Distribution and the PTDA Foundation. For more insights on recruiting, hiring and training Millennials in the distribution industry, subscribe to the ICP Talent Tipsheet at www.industrialcareerspathway.org/Subscribe.
This article originally appeared in the March/April 2013 issue of Industrial Supply magazine. Copyright 2013, Direct Business Media.
COMMENTS: 0
---