Dubious Times, Determined Actions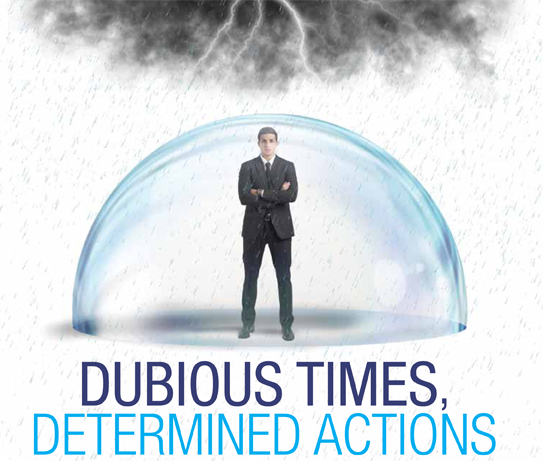 by Frank Hurtte
Is it just me or does it seem the headlines cast a cloud of doubt over our future? For the past several months, distributors reported an air of market uncertainty. Conversations with distributors around the country reported wild ups and downs. A stellar month of business, followed by a dismal month, a reasonably solid period darkened by yet another slow time were all the norm. A few pundits even coined the phrase "new reality" to discuss these ebbs and flows in business levels. But, lately, the reality could best be summed up as dismal.
Many of the publicly traded companies release quarterly summaries and those point to negative growth. Ranging from flat to down six or seven percent, the overall trend is negative. Conversations with many smaller wholesalers point to similar numbers with the negativity being tied to their proximity to oil and gas, mining and a few metals sectors. Regardless of geography, everyone is reporting tough sledding for the foreseeable future. Thankfully, it's not the old fashioned Great Recession kind of down, but driving good sales numbers is definitely getting harder.
All of this brings us to our topic. The dubious times require determined actions. We still have breathing room and making adjustments now is the right thing to do. With all this in mind, let's spend the next five minutes thinking about our course of action, the things we can do to provide ourselves with a competitive advantage, right now.
Understand and Track your Opportunities
In our business, selling can be broken into three basic categories: flow business, potential future flow, and projects. Since flow business revolves mostly around customer service, we'll save that one for later and instead talk about potential future flow and project business.
During tumultuous times, tracking new business opportunities is critical. First, it allows management to better understand the current environment. Ultimately, having a handle on known opportunities also provides the first step toward forecasting and allows for improved interaction with suppliers. Unfortunately, many distributors delegate any opportunity tracking to their sellers without inspecting the results. During tough times, this can be a strategic error. Here's why:
Opportunities provide metrics on the level of sales exploration in the field. A healthy sales effort should uncover potential customer needs in search of a solution even in a tepid business climate. Ideally, the sales team will uncover potential selling situations both small and large. Some of these will not be a "natural" fit for your organization, but the point is management can better understand the dynamics within the territory.
Salespeople often overlook smaller opportunities and those which are not easy to close. In this business climate, can you really allow any known opportunity to slip through the cracks? A seller will generally not allow a larger potential order to slip through their fingers, but sometimes the smaller ones get lost in the shuffle, especially those which have a longer sales cycle. Further, opportunities which lie in the gray area of the salesperson's expertise sometimes get overlooked because of lack of product knowledge or deep understanding of how these products are purchased.
Opportunity tracking allows for the insertion of product specialist and supply-partner resources. Once identified, a larger portion of the team can come to bear on the potential business. Product specialists can be mobilized to improve the chances of success. Customer concerns can be explored and, when needed, supply-partners can be brought into the equation. We have to understand our suppliers are hungry for business. Special pricing and unusually aggressive deals not available just a few months back are now there for the taking.
We need to identify more opportunities than required to meet our business objectives. Not every opportunity will fall to the home team. Competitors still play a role in the customer situation. Many opportunities will be a chance to convert competitors' customers. Some opportunities may be postponed or outright canceled. To meet any kind of growth objective, opportunities must be four to six times the ultimate sales goals.
Customer Retention
During downturns, retaining the customers you have already developed moves front and center. While no one strives for poor service, the past few good years may have created a touch of complacency.
Consider this your checklist:
Now is the time to broaden your contact list at important customers. If your business is dependent on a single point of contact, you may be more vulnerable than you think. During times of turmoil, companies often reassign, transfer, or downsize their staffs. If a favorite customer contact goes, your business is in real jeopardy. Evaluate each customer for alternative contacts to strengthen your position.
Most salespeople in our industry understand most purchasing departments are not the real drivers of specifications and business. A customer only linked to you through the procurement department is probably already on the endangered list. Knowing people at the customer who are involved in using your products on the plant floor is every bit as important as knowing the engineer who specifies them for the company. The same holds true for the person who controls the purse strings of the organization.
When our customers feel a financial pinch, they often take measures to reduce costs. National chains and integrated supply groups skip over our traditional contacts to deliver a financial message to customer management teams. At the same time, most independent knowledge-based distributor teams don't really know the guy who is compensated for plant/company financial results. These management types understand the business objectives of their company. They write our checks. Understanding the customer's real plans allows for better solutions and better customer service.
Distributors need to cultivate relationships at the highest level of the customer. When the customer is important to the distributor's very existence, the relationship needs be management to management, owner to owner.
Quote and order follow-up retains customers. Do you develop customer quotations, then simply toss them over the wall without following up on their reception? Research indicates that customers appreciate the effort and, what's more important, the same research shows distributors who inquire about quotations are often rewarded with additional business.
Inserting your company into customer processes builds retention. Distributors that take care of activities for their customers are harder to displace. These can range from incoming inspection, kitting, sub-assembly development, tool tracking, and inventory control, to outright replacement of purchasing or accounting functionality. We've discovered many distributors offer up these services; a few even get paid for the activity. Yet, few take full advantage by regularly presenting their efforts to customer top brass. Now is not the time to be shy about showing off what you do. Further, finding a way to formalize your activities via some letter of understanding strengthens your position as the "owner" of the customer.
Discussing your value with the customer strengthens retention. Assuming that customers
understand the value of your efforts can be a costly mistake. And, I'm not talking about the generic value spewed by everyone. Stuff like highly trained outside salespeople, quality inside sales groups and all that jazz are meaningless. Instead, we speak of specific value delivered to the customer. Examples might be how that late night delivery saved eight hours of downtime or the recommendation that eliminated a couple of thousand rejects. Real issues solved for the customer by your team mean something. If you can tie these to dollars, all the better.
When asked about the weaknesses of their technical teams, most plant managers (and other customer financial types) complain their engineers and maintenance people lack detailed financial understanding. Relying on our traditional contacts to spread the word creates a risk we can't take in this economy. As mentioned before, we need to use our knowledge of the financial advantage as a reason to make our value real to those who control the purse strings. sell backwards, too
Our supply partners are struggling to keep up with the economy, too. The pressure is on their sales organizations to make things happen. Sometimes local teams make dumb mistakes to alleviate the pressure. What do I mean? When sales are not meeting expectations, a few blame the distributor. Some fall into the "if having two distributors is good, three will be better" mindset. This phenomenon can cost business or gross margin at the worst conceivable time.
If you have not established a relationship with someone at the VP of sales level with your key suppliers, now is the time to start. Topics to discuss include market conditions, opportunities being explored, issues with mutual competitors, and thoughts on improving business. If you have a plan for attacking a new market, gather insight. Share your pain but don't ask for handouts in the form of "more margin."
Offer up new opportunities. If you have identified new opportunities which were too low priced to interest a supply partner in the past, don't just assume the situation is the same. Suppliers are faced with keeping their factories running. Unlike distributors where margin is critical, the manufacturing model is about factory utilization.
Use Special Pricing Agreements (SPAs) as both an offensive and defensive tool. For most manufacturers, assigning an SPA to a distributor is the same as assigning ownership. In markets where cross-distributor competition is present (i.e. two or more distributors selling the same brand), acquiring an SPA protects your work from margin pressure or outright poaching once you have created the sale.
A River Heights Consulting survey of manufacturers (done in 2013) indicated our supply partners have reached the point of judging the aggressiveness of distributor activities based on the number of SPA requests submitted. Many still wonder about how this affects distributors that sell value and only resort to price as a last ditch measure, but the perception is there. Being able to lock out competition while locking in margin is a good play in tough times.
Two final thoughts
This is a temporary cycle. Ups and downs are part of our industry. First, downs provide us with an opportunity to gracefully and humanely shed employees who aren't performing. Parting company now gives them the opportunity to locate another job while people are still hiring, as opposed to later if times grow worse. Secondly, slips in the economy offer the chance for managers to take back the reins and really direct their businesses forward. Neither of these thoughts are all sunshine and rainbows, but when the next uptick hits, you'll like the outcome.

Straight talk, common sense and powerful interactions all describe Frank Hurtte. Frank speaks and consults on the new reality facing distribution. Contact Frank at River Heights Consulting via email at frank@riverheightsconsulting.com or via phone at (563) 514-1104.

This article originally appeared in the March/April 2016 issue of Industrial Supply magazine. Copyright 2016. Direct Business Media.
COMMENTS: 1
Industrial Supply article
Posted from: Shane Kerska, 3/14/16 at 2:06 PM CDT
Aligns with us!
---