Fifteen and Counting
Catawba Industrial Rubber Company boasts an average 15 years of experience per employee
By Rich Vurva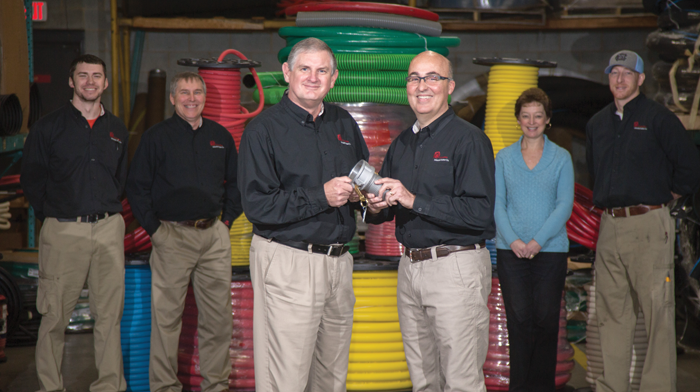 From left: Rob Harper, Bobby MacClary, Tom Walker, Skip Bruce, Pam Bruce and Tyler Anderson are part of the experienced team at Catawba Industrial Rubber.
Many companies like to talk about their experienced, knowledgeable staffs. Few can boast of having the kind of longevity found at Catawba Industrial Rubber Company.
Employees at this Charlotte, N.C.-based industrial hose distributor have an average of 15.2 years of experience. If not for some recently hired younger workers in the warehouse and shop, the number would be considerably higher. Some employees have spent decades at Catawba. One inside salesman, Mike Hagler, has been on the job for 37 years. Outside salesman Duard "Cooter" Hardman has been selling for 34 years. Catawba president Skip Bruce is in his 31st year with the company. Three employees have more than 20 years of experience. The newest salesman – a rookie by Catawba's standards – was hired 15 years ago.
Bruce was still in high school when he started a part-time job in the warehouse in the late 1970s. He remained involved during the summers while studying finance and accounting in college, and company co-founder George Carver urged him to return full-time when he finished his studies.
"The only job I haven't had here full-time is an outside sales person. I've been in inside sales. I've worked out in the warehouse, in the shop. I know the business, which has really been helpful for me," Bruce says.
He eventually became controller and then vice president, working alongside Carver's son-in-law, Fred Morrow, who was heir apparent to the family business after Carver's retirement.
Following Morrow's untimely death in 1998, Bruce was promoted to president. The Carver family, still reeling from Morrow's tragic passing, decided to sell the business. Carver entertained several offers before approaching Bruce about buying the company, believing that a sale to existing management would be in the best interest of the employees. Thanks to a strong credit rating and a good relationship with their local bank, Bruce and his wife Pam put together funding to acquire the company in March 1999. Pam also became an employee that year, working on the administrative team.
"I wanted her to form a good working relationship with the employees and to get an understanding of the business. After seeing what the Carver family had to go through dealing with the aftermath of Fred's passing, I knew that would be Pam if something happened to me," Bruce says.
Today, Catawba Industrial Rubber Company has annual sales of about $5.5 million, which includes a branch in Wilmington, N.C., operating as Coastal Hose and Rubber. The company has 20 employees.
Experience + knowledge = success
"The big reason we've been a success is the long-time dedication of these employees, and the experience our people have," Bruce says.
Hardman, the outside salesman who started selling for Catawba in 1981 and is still going strong at 73 years old, often drives his van to customer locations to make deliveries in person. He says it provides another opportunity to see customers face to face, talk about their concerns and help them solve problems.
"I'm working on a situation right now for a NASCAR pit crew that needs a special fitting for a regulator so they can increase the pressure to remove tires faster. I had to go out and find a supplier that has this particular fitting and take it to them. That's what I do. I'm a problem solver," Hardman says.
With a focus primarily on MRO, customers include manufacturing plants, chemical plants, the construction industry, rental houses, municipalities and – being in the heart of NASCAR country – race teams and companies that support them. Catawba supplies NASCAR customers with ducting hose, fuel fill hoses, high-temperature silicone gaskets and other sheet rubber products. NASCAR is one of Catawba's biggest customer segments, but no single customer represents more than 5 percent of sales, Bruce says.
About 70 percent of Catawba's sales are dedicated to industrial and hydraulic hose and couplings, with the remaining business from sheet rubber, sponge and conveyor belting.
"We stock a tremendous amount of inventory and often can get customers what they want the next day or even the same day if that's necessary," says purchasing manager Bobby MacClary, who has been on staff for 24 years.
Vice president Tom Walker has been with Catawba since 1995 and worked for another hose distributor prior to that. "We don't have a lot of turnover," he says in the understatement of the year. "The last time we hired a salesman was 15 years ago."
Expanded capabalities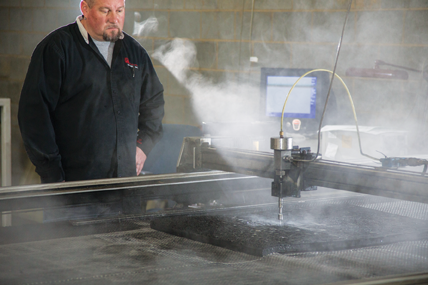 Chuck Wiley was hired just three years ago, but came with decades of industry experience. He also brought along a water jet cutter, which is capable of cutting a wide variety of materials using a high-pressure stream of water or a mixture of water and an abrasive substance. Wiley previously owned a company that was a long-time supplier of water jet services to Catawba.
Bringing the water jet in-house helped Catawba lessen its dependence on industrial hose and couplings and expand sales of sheet rubber products such as gaskets, O-rings, seals, and other small rubber parts. The water jet also opened up new opportunities for doing business with original equipment manufacturers.
"We're currently cutting one-inch thick neoprene for a shock absorber that goes into a vehicle," Wiley explains. "I've used this machine to cut seals for printing presses. I've even cut five-inch thick titanium and five-inch thick stainless steel with a water jet."
A newly purchased second water jet will provide additional growth opportunities and longer production runs. Jobs that were previously cut by hand can be finished in a fraction of the time, saving labor costs.
"The new machine has two cutting heads on it, so we'll be able to double the production output," Bruce explains. "We have one customer where we're cutting 10,000 parts per month. That machine will be a big help."
Wiley should be able to operate both machines simultaneously, but other shop employees with water jet experience can help out when needed.
"Some jobs run for an hour or more before you have to touch it. Others are so small that they require close watching all the time," Wiley says. "But I should be able to handle both machines."
Wiley commonly starts his day at 6 a.m. and stays until 5 p.m. or longer if required.
"Our employees are all dedicated to the customers. They'll do anything to take care of the customer," Bruce adds. "But my big thing is, we're very ethical. We don't over promise. If anything, we under promise and over perform."
He says competitors may make promises to customers in an effort to lure them away from Catawba.
"We're not like that. If we can't do something, we're going to tell you we can't do it. If we know of a solution somewhere else, we'll tell you about it. We've got a great reputation in this industry and I'm proud of it," Bruce says.
Bruce points to Catawba's membership in the Continental ContiTech STAR distributor network and in the NAHAD Hose Safety Institute program as evidence of the company's dedication to maintaining consistent high quality standards. A testing facility in the warehouse is used for testing, tagging and cleaning all critical industrial hose assemblies.
"With the STAR program, we have Underwriters Laboratories come in once a year to verify that we're following all of the proper procedures for making safe hose assemblies, which includes the NAHAD Hose Safety Institute hose assembly guidelines," Bruce says.
Catawba is one of the founding members of NAHAD, which annually gives out the George W. Carver Outstanding Commitment to Industrial Excellence Award to a current or former NAHAD member in recognition of their service to the industry. Named after Bruce's mentor and former boss, the trade association award links Catawba's present and future to its storied history. It's also another example of the longevity that defines Catawba.
This article originally appeared in the March/April 2016 issue of Industrial Supply magazine. Copyright 2016, Direct Business Media.
COMMENTS: 0
---