Survive the Attack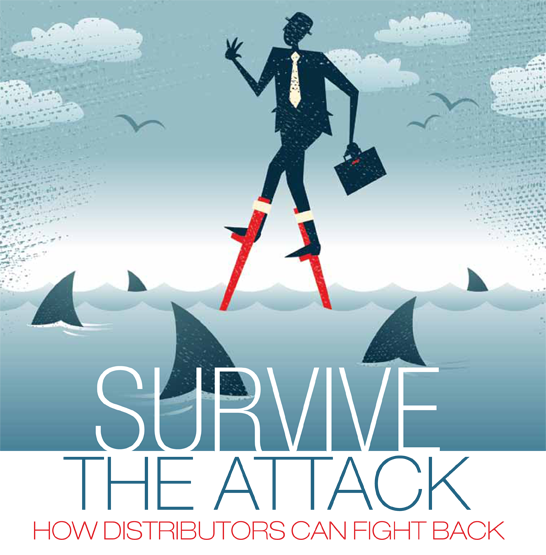 by Scott Benfield
In Part One of this two-part series (Jan-Feb. 2016), we introduced five new models of online competitors for the full-service distributor. To recap, four of the online competitors use e-commerce technology to cut redundancies in services and supporting infrastructure and go to market with a reduced price. They include the Auctioneer, Transactional Distribution, Mr. Yesterday, and Channel Slipstream. The Segment Master model uses technology to give well-defined customer segments a superior customer experience providing extensive, specific inventory with unique services and technical back-up.
Our research finds that the new models are growing, and we expect them to be found in many of the four dozen product markets of the $2.6 trillion B2B durable goods distribution sector. Full-service wholesalers will need to consider the competitive landscape and whether these firm(s) are a competitive threat. Additionally, wholesalers with solid e-commerce technology may choose to develop one or more of these models. We cover these competitive responses in the remainder of this article.
The Full-Value Approach
Traditional full-service wholesalers have been successful in moving further into the customer's value chain. Exhibit 1 shows merchant wholesaling's move to perform increasing services for the customer through the decades. Starting on the horizontal axis, in the 1980s, distribution was predominantly a buy-sell entity that supported industry-specific products with basic services. During the mid to late 1990s, wholesalers began adding services for their customers. Inventory management services and special delivery and storage services were common, with names of integrated supply, bin-stocking, and tool-crib management. By the early 2000s, distributors had added product assemblies to their services and, by 2010, repair services and on-site repair and maintenance were common. Our research and subsequent forecasts estimate that some two-thirds of distributors get revenue from non-product sources.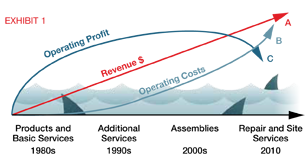 The problem with this full-value approach is that the complexity of managing and executing multiple product/service combinations by customer reaches a point where the incremental revenues (A) are less than the accompanying costs. The operating cost curve (B) scaled downward in the 1990s and early 2000s, as wholesalers leveraged fixed costs and maxed out excess capacity. As assemblies and field service added complexity by 2010, the cost curve rose faster than sales. The full-service firm literally devolves, where operating profit (C) decreases as sales increase. Additionally, it is difficult to extricate the firm from this "strategic quicksand," as moves to reduce service or improve quality either reduce sales or profits.
In recent years, activity costing and activity-based management have had a resurgence in mid-market distribution firms as they attempt to grapple with the increased complexity of the full-service firm. Activity management aligns the top operating margin customers and the activities that support them. The result, typically, is that 40% of the customers are negative profit producers. The promise of activity management is the ability to identify top net profit producing customers and activities. This allows management to target these opportunities and not waste operating capacity on profit draining accounts and services.
The problem with activity costing and activity-based management, as online technology and new models increase, is that it is a stop-gap effort. New technologies have two major advantages over activity management efforts: 1) They reduce the overall cost base by reducing redundant services, infrastructure, or parts of the channel and, 2) they offer the ability to scale the business across multiple geographies without additional infrastructure and service costs. In short, technology gives rise to new, more efficient business models where a range of customers can be served, with better prices, with limited complexity. Hence, the new models are poised for growth in the mostly mature markets of distribution; they offer a better price of often 10% to 20% or more while being less costly to operate, which ensures better profits.
The competitive options for full-service distribution are limited. Consolidation of the distribution base will allow larger full-service firms to achieve some scale on "fixed" assets of branch locations and management salaries while leveraging the vendor base; but this exists mostly for sizable firms in the $500 million-plus in sales range. Full-service firms that thrive will need to engage digital technology and reduce redundancies in their organizations or channels while exploring new models of going to market.
Planning for the New Models
It is possible for full-service distribution firms to acquire or emulate the new models of distribution. The work, however, is not done successfully as "another project." Management must carefully study the available models and the likelihood of success in their respective industry(ies). Sufficient and current technology must be deployed to compete with existing new offerings. Exhibit 2 outlines the technology of the e-commerce suite of transaction platform, product information management (PIM), faceted search, and punch-out. Our research finds that distributors that lead online sales have these software(s) bundled in "e-commerce suites."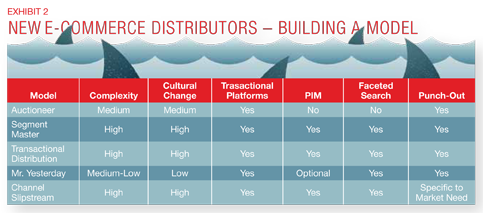 From the exhibit, the Auctioneer model, which acts as an auction house within a product/market sector, does not take title to inventory but connects buyers and sellers for unique products or large orders. The development of an Auctioneer model is deemed a medium level of difficulty and requires a current e-commerce transaction platform with an especially good RFQ function. Additionally, the use of procurement punch-out in the Auctioneer model aids the end customer in turning the order into a quote.
The Segment Master model is the targeting of a market segment with a broad inventory, special service, and application assistance. The model, because of the attentiveness paid to a defined customer group, needs the full e-commerce suite. We recommend best-in-class software, as the customer experience needs to be of the highest quality. The Segment Master model has a high level of difficulty. It takes very good marketing and technology to pull-off a successful Segment Master investment.
Transactional Distribution is a full-service distribution platform turned inside out. The transactional distributor uses a best-in-class e-commerce suite to severely reduce sales and branch outlets while targeting the Pareto inventory. The result is a stripped down model of distribution that goes to market at 10% to 20% or lower prices over standard full-service distribution. Transactional models are separate entities with a unique market M.O., e-commerce site, and organization structure. Trying to mix them with full-service distribution almost always doesn't work.
Mr. Yesterday is an online distributor of obsolete or slow-moving inventory. These efforts need most parts of a full e-commerce suite with the exception of a PIM, which is optional. The platform, compared to the other new e-business models, is relatively easy to implement but it takes time to drive repeat orders, as customers don't automatically source from obsolete inventory.
The Channel Slipstream model bypasses parts of the traditional channel for a price advantage. We give an example of the traditional three-step HVAC channel which has been challenged by a distributor that bypasses the dealer and sells directly to the end-user. Channel Slipstream models typically need the best-in-class e-commerce suite, as their customers are not repeat buyers but, often, one-time purchasers. The model requires a good understanding of channel economics and where there are significant channel redundancies. Hence, it is deemed as a difficult to implement model.
The Future of New E-Commerce Models
New e-commerce models in distribution markets are beginning to get noticed and have impact. Their sales growth is, mostly, at the expense of existing full-service distribution. Full-service distribution has had an enviable run but the model, today, is expensive and convoluted as it attempts to do many things for many customers and relies on the sales force as a defining function. New models use e-commerce technology to reduce redundant channel costs and lets customers self-serve while receiving a significantly better price. The models require technology investment and good marketing to succeed.
Many wholesalers will try to develop the models but will have a difficult time as their attitude is for incremental gain using established procedures. Sales-driven, full-service cultures and their attitudes toward business, are having a difficult time implementing basic e-commerce; developing new models of commerce which rework existing paths to market is risky unless the firm has good channel marketing and is willing to develop new, stand-alone business entities. Yet, wholesalers that want to grow in the e-space will have to do more than simply investing in technology and asking customers to place orders online. Hence, we expect wholesalers to increasingly attempt new online models of distribution as customers move away from the expensive and slow-moving full-service platform.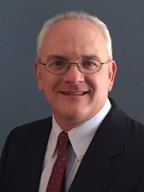 Scott Benfield is a B2B channels consultant for manufacturers and distributors. His research and opinions have been quoted in Forbes and The Financial Times. He can be reached at Scott@Benfieldconsulting.com or (630) 428-9311.
This article originally appeared in the March/April 2016 issue of Industrial Supply magazine. Copyright 2016, Direct Business Media.
COMMENTS: 0
---