Searching for results

by Rich Vurva
Maintenance issues or machine breakdowns on a manufacturing line or job site require immediate solutions. For the end user, response time matters more than ever. As a result, distributors are finding that their customers are demanding fast and easy ways to search for a solution that fits their particular application.
"This shift in consumer demand pushes manufacturers to explore new ways of creating and capturing value," explains Susanna Vandenberg, marketing manager for Flexaust, a manufacturer of flexible hose and ducting.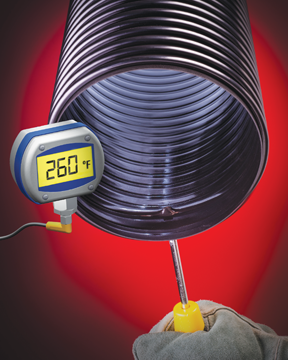 She said that Flexaust recently redesigned the home page of its website so visitors can quickly find the product they need even if they don't know the product name or part number. For example, a customer who needs a tear-resistant hose in a surface preparation application might not know to search for the Flex-Tube PU-XT hose, but they can find it by clicking on either "Surface Prep Dust Collection," "Abrasion Resistant Applications" or "High Temperature."
"Our mobile app cuts right to the chase matching application to hose. This is really what folks are demanding now from manufacturers. We definitely play a part in finding new business for distributors," she says.
She adds that customer engagement, getting closer to their needs, expanding opportunities to create new business outside their core areas and speed to market are
high priorities. She encourages distributors to educate customers with helpful industry information on a regular basis.
"Being active and visible on social media helps create an 'industry expert buzz' in your communities. Make information easy and accessible to find. Product information, product specs, application images help in the decision-making phase," Vandenberg concludes.
Continental ContiTech's Hose- Select program follows a slightly different approach to help distributors and end users select the hose they need. Users start by selecting an industry, size of hose, temperature requirements, maximum working pressure and whether vacuum pressure is required. Customers can search even if they don't know the answers to each question, but will then have to narrow down their results further.
For example, a search for "Industrial Machinery" results in 49 possible hoses. But narrowing the search by adding a 2-inch diameter, with a low temperature requirement of -10 F and a maximum working pressure of 150 psi narrows the results to 12 possible hoses to fit the application. From those findings, a user can see which hoses are intended for general purpose, chemical transfer, abrasives, steam or heavy duty applications and can select the right hose for the application or start a new search with more detailed parameters.
At Hi-Tech Duravent's website, users can search by either industry, application, temperature, diameter, length and feature (such as abrasion resistance, chemical resistance, hi-temp and more). An initial search selecting just "closed space fume removal" as the application results in six products. But adding the requirement that the hose must have a minimum temperature range of -40 F and a maximum temperature of 250 F generates four possible product solutions.
The product search function was part of a website redesign Hi-Tech Duravent introduced in 2016. As the company explains on its site, "This is more than just a face-lift, as we've beefed up the guts as well. In addition to enhanced product pages featuring part numbers and similar products and accessories, we've also simplified the filtering options on the product search, making products easier to find."
While Flexaust, ContiTech and Hi-Tech Duravant each take a slightly different approach, their objectives are the same: Helping users find fast answers to their questions about the right product for their application.
This article originally appeared in the March/April 2018 issue of Industrial Supply magazine. Copyright 2018, Direct Business Media.
COMMENTS: 0
---