Software Solutions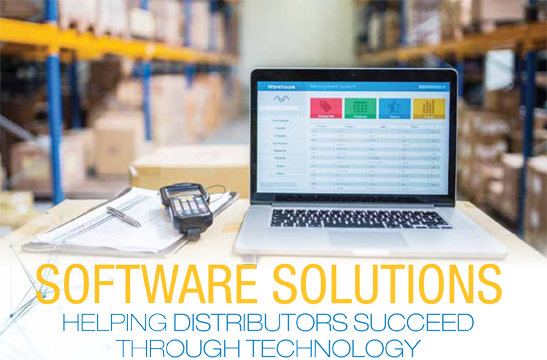 by Rich Vurva
Distributors continually look for ways to improve their processes for managing interaction with customers. They need software to help them compile and consolidate customer information in an easily accessible database that can provide, at a moment's notice, purchase history, buying preferences, special requirements and more.
Here's a look at how leading distribution software providers help distributors manage CRM.
Epicor

Tony Corley
Senior Manager Product Marketing
In CRM, the main trend is to bring the digital age to the outside sales staff. Even today, many sales reps are old school. For example, I was watching a college basketball game last week with an old friend who happens to be an outside sales rep. During the game, he used his laptop to enter his notes from the day into his company's CRM system. In his mind, CRM was an added data entry task that he had to complete at the end of each day. He had a folder for each customer he visited that day; inside the folder was a stack of printed emails (yes, printed emails!) with notes. Each night, he re-enters the day's notes into the CRM system and prints the most recent emails for his customer visits for tomorrow.
Think about that process. This company has perhaps its most highly paid staff printing emails and doing data entry. I'm not saying reps shouldn't enter their notes. The process should be redesigned so reps can get as much out of the CRM system as they put in. It has to be a give and take. To get the benefits of CRM, you have to embrace it. Enable your sales staff to work remotely on a phone or tablet or laptop. Provide the reps with tools and training so they can see relevant customer info remotely. Allow them to take notes as they meet with customers. Update information on the fly.
Think about how this employee must feel about the company he works for as he takes up personal time to do work because of an antiquated system. That attitude over time will not be positive and will impact the level of service he delivers to customers.
Relating to CRM, we've listened and worked with our customers to provide a fully embedded CRM in our Prophet 21 solution. CRM isn't just for the outside sales team. Many other employees interact with customers, and being able to provide those employees with CRM data and the ability to log their interaction is vitally important. In Prophet 21, CRM isn't a separate module or add-on. It is part of the core application, accessible from any place in Prophet 21 and gives users a complete 360-degree view of the customer. Additionally, we provide a mobile version that gives outside sales staff access to the information they need when they are remote.
Distributors continually expect more tools for the sales staff. Initially, distributors wanted the ability to track calls and notes with customers. But as those features started getting used, distributors wanted more: the ability to see all customer relevant info – orders, quotes, sales analysis, missed buys, etc. Then distributors wanted the ability to track opportunities – potential amounts, close dates, stages and the ability to project a sales pipeline.
As usual, we work with our customers to continually provide solutions to help them grow their business. As their needs have changed, Epicor has continued to provide the solutions they need.
The primary challenges are defining a goal or business outcome for the technology and putting a process in place to embrace change. You don't implement technology for technology sake. It's to accomplish something: enable your sales team, better manage your pipeline or reduce customer service calls, for example. Start by defining the goal or desired outcome. That gives everyone a vision of where this process is going. Once the vision is in place, you need a process to help overcome change and embrace it. Truth is, no one likes change. As my buddy was keying in his notes the other night he got more and more frustrated with my questions/comments on using CRM; he just wanted to get through his day's work. If you can help employees see and find the positive outcome of the change, you can get them to embrace the change.
Executives need to embrace and lead this process. The most effective and successful digital transformations come when executives within the company lead the change.
Infor

Kevin Draggoo
Product Manager, Infor Customer Experience
With the advent of eCommerce, distributors face the dual challenges of low margins and greater competition. This creates a tough dynamic. In the effort to grow margins, they're forced to make cuts that can hurt their competitiveness. Meanwhile, investing in the things that boost competitiveness can further erode margins.
One way that innovative distributors can thrive despite this dilemma is to focus more on the customer experience. This is driving their investment in front-office solutions like CRM. These systems help distributors engage customers more effectively from the outset – and create the rich, relevant and personalized experiences that boost ongoing loyalty, with higher revenue and greater profitability potential.
One way Infor helps distributors be more effective at customer engagement is through an end-to-end solution that addresses all facets of the customer experience. We partner with Marketo to provide capabilities that distributors can use to create compelling multi-channel campaigns. We also offer the integration into Infor ERP and other systems to ensure that the engagement process continues to run smoothly at each touchpoint. That integration is vitally important because it helps distributors make sure that nothing slips through the cracks as an order progresses from front office to back. Critical information on status, shipping and billing also flows back to front-office apps to give sales reps the visibility they need to address concerns and build intelligent relationships.
We've touched on how an environment of tighter margins is forcing distributors to do more with less – and the competing pressure to engage customers in the most effective way. We're also seeing how distributors are using CRM capabilities to build better, smarter relationships up and down their supply chains. Through GT Nexus, we offer better visibility into supply chain dynamics to help distributors see what was ordered, when it was built, where it is in transit and whether an order has changed. As a result, distributors and their supply chain partners can better collaborate to keep things moving and keep their shared customers happy.
Distributors are great at extracting the maximum value from their assets. They'll use equipment as long as they possibly can. In the short term, this mindset is good for the balance sheet, but it can be a barrier to embracing the next-generation systems and technologies that will help drive the digital transformations distributors need in today's customer-centric era. A new generation of purchasers is demanding that distributors give them the same online, omni-channel experiences they have in other areas. Many distributors must overcome the wait-and-see mindset that keeps them from being more innovative in customer engagement. Otherwise, they'll lose ground to competitors that deliver the rich, relevant and personalized experiences that more B2B customers now expect.
DDI System

Barbara Jagoe
Chief Operating Officer
Distributors are getting system savvy. As a generation of technology users moves into management levels, distributors are looking for greater efficiency out of their business software. They are quicker to adopt new workflows and are looking to reduce clicks. Of course as developers, we continue to look for innovative ways software can help the brick and mortar distributor combat competitive disruption. More customers are taking advantage of easy, convenient methods for ordering, such as branded mobile devices, online websites and quicker delivery options. B2C interactions are impacting the expectations of B2B relationships, encroaching on distributors in spaces they once easily commanded. Today, it is more important than ever to keep the customers you have coming back. As a result, we are seeing such a large focus on customer intelligence, advanced product knowledge and anytime, anywhere access for teams on the go. To create this higher level of customer engagement, companies are seeking an integrated CRM and ERP system.
One of the advantages to these connected systems is they collect and present operational intelligence in easy, visually appealing snapshots that can be used to enhance every customer interaction. Having this level of detail creates connectivity opportunities that result in higher engagement and reduce the risk of price sensitivity and flight. This year, DDI System introduced major enhancements to the contact and POS screens, providing more information to elevate customer engagement and speed up transaction time. The contact screen delivers customer notes, sales history and one-click launch to a sales order, quote or inquiry. Order entry is lightning fast with user-driven quantity first, product first or cut and paste from an email, PDF or spread sheets — speeding up transactions and streamlining operations.
Staff can search for customer specific part numbers, keywords, vendor part numbers or by an unlimited length product description. Staff members can quickly see multiple warehouse inventory levels in the same order screen, then immediately print signed delivery documents or simple POS register receipts, all at the counter with minimal clicks.
Of course, all of these continuous advancements in technology and usability is strengthened by a growing customer base. Clients that utilize the software are great at asking for enhancements and features they need to keep up with the ever-changing distribution businesses today. At DDI, we value that type of feedback and harness that insight and put teams in place to get those advancements rolled out quickly so our entire community of users can continuously grow. It's a real advantage for a software company to be able to respond to feedback, evaluate the advantages for the broader user base and then quickly deploy upgrades and tools with that type of insight. It truly sets DDI apart from the competition because users are not waiting years for upgrades and changes. The software doesn't stay stagnant. And, it's why DDI has been recognized as an industry-leader in the ERP space for over 20 years. At DDI, we envision an innovative path forward that continues to tap into the relationships we have to proactively develop technology for tomorrow's user community.
eCommerce is challenging distributors in a big way. Distributors that never imagined it, are realizing they can't grow without it. And the ones who have it, are looking for ways to continuously enhance it as a value-add to their customers. A distributor's eCommerce presence needs to be mobile responsive, customizable, content-rich and fully integrated with their ERP software.
In addition, distributors need the flexibility to be able to control their eCommerce site without requiring professional HTML coding skills. This flexibility allows distributors to quickly update and change their customer-facing website to promote sales or rebates/offerings and deliver content relevant to each customer.
Distributors that offer their customers an online customer portal are standing out among competition. Plus, eCommerce is not only servicing the existing customer base but also exposing them to new opportunities. The future of eCommerce product development is focused on strengthening the value of the service, making it easier for customers to adopt and complete transactions.
NetSuite

ERP Product Marketing Lead
Today's distributors are stuck in the middle of the world's most complex, global supply chains. For most of them it's all about collaboration and communication. Fortunately, the third C – Cloud – makes it easier than ever to work with all of your business partners and, more importantly, easier for them to work with you. Maintaining close relationships with trading partners will become increasingly important over the next year, and recognizing that it takes a company-wide commitment to ensure this happens will be key. It's no longer the sole domain of your sales and customer service people, so having a solid relationship management solution in place that is easily accessible by your entire organization will be critical. Lastly, it's become clear that one of the main challenges for all businesses continues to be finding, training and keeping a talented and motivated workforce. As we move into a time where many newer employees may either be seniors or millennials, it will be important to recognize what these two key groups of people want from an employer. One key component will be to have a modern, flexible and easy-to-use business system that's accessible from a variety of devices, 24/7.
NetSuite was uniquely designed to run the entirety of our customers' businesses, having been built on three main pillars: CRM, eCommerce and Financials. Over the last 20 years, we have continued to evolve the overall solution to meet the changing needs of our customer base by releasing not one, but two major updates each year. Recently, we adopted a customer-driven design methodology to round out our global supply chain functionality which has resulted in a number of key enhancements (Supply Chain Control Tower, Container Management, Landed Cost Management, NetSuite WMS and Cross-Subsidiary Fulfillment).
Most modern distributors have either already started selling direct to consumers or have realized the inevitability of that big step in the evolution of their business. NetSuite was built from the ground up to enable our customers to sell direct online as well as through regular channels. In fact, every NetSuite customer gets a free eCommerce solution built right into the application. Making the move to selling online is as easy as enabling your website, applying a design template and choosing which items you want to sell.
Most distributors have relied on multiple point solutions that are badly integrated with each other, difficult to use, customized beyond repair and unable to be upgraded. As a result of this, as the business grows and matures, they are forced to deploy additional solutions that might be good for a specific purpose but do nothing when it comes to driving toward the business goals. This typically begins when distributors make an initial investment in a financials-focused system instead of investing in an ERP system designed to meet the needs of the entire business. Saving a little bit of money up front might seem like a good idea at the time, but will inevitably cost the company many times more over the long haul.
MITS

Brian Friedle
Vice President of Sales
Millennial recruitment is a primary focus of many distribution companies. Unwilling to wait around for a full quarter to find out how they performed over the prior three months — or work an entire year before getting an annual review, only to learn that they weren't performing up to snuff — millennials love instant feedback. They don't mind being measured, and they like to see how they're doing in relation to their peers. As digital natives, they know analytic data is available and have an expectation to be able to use it.
Companies can use software platforms like MITS Distributor Analytics to entice millennials with instant access to data on tablets or phones, and get them to give industrial distribution a second look when reviewing their career opportunities.
Another related issue to distributors is the need to stay relevant in a fast-changing environment. It has become significantly easier for manufacturers to sell directly to consumers. It is more critical than ever that distributors use their P2P (person-to-person) relationships as a competitive edge. Armed with analytics, distributors can create more meaningful conversations with their customers that can uncover deeper needs and drive new sales.
For example, leveraging MITS Distributor Analytics, a distributor can know that customers who buy Product A will also buy Product B and C, and can then offer all three products together, saving the customer the time and hassle of approaching multiple manufacturers.
As the next generation moves into positions of power in the workplace, there is an expectation of being able to transact digitally and quickly. It is no longer acceptable to say to a customer, "I don't know, but I'll find out and call you back."
With MITS Distributor Analytics, distributors can create both customer- and vendor-facing dashboards, providing instant access to a single source of information for meaningful conversations and better decisions.
MITS Distributor Analytics helps hundreds of distributors leverage the data in their business systems to make better decisions, every day and at every level of the organization. Established in 1996, MITS' interactive reporting and business intelligence software combines industry best practices with the flexibility to meet the unique needs of every customer. With pre-built and customizable reports, dashboards and scorecards, MITS drives sales growth, profitability and operational efficiency for competitive advantage.
Many distributors will be faced with introducing powerful analytics to a mature workforce that does not always have a reputation for embracing data and new technologies. With a low net margin, many distributors might also be reluctant to invest in what might turn out to be transient technology.
Lastly, there is a wide range of customer and vendor technology, and it can be difficult to know which choices to make and how to best align with all.
VAI

Kevin Beasley
CIO
We see an increased prevalence of mobile technology from any device, anytime, anywhere and analytics data access via CRM. Sales teams require access to accurate information. Companies require real-time inventory management, sophisticated purchasing, automated warehousing and ease of doing business. Customers need the ability to place orders, track orders, check stock, pay AR, online or via mobile apps.
VAI solutions that help distributors manage their business more effectively include:
S2K Mobile offers applications specifically designed for smaller handheld displays and a touch-screen interface that can easily access the native functions of the mobile device. S2K Customer Relationship Management (CRM) allows users to operate existing technology while providing an enterprise-wide view of all interactions with customers and prospects. S2K Analytics allows users to create powerful dashboards and reports that help them identify and analyze opportunities and trends, anomalies that could turn into significant business issues, communicate goals consistently with employees and monitor performance against targets. In addition, VAI S2K Enterprise helps customers achieve real-time inventory management, perform sophisticated purchasing, automate the warehouse and enjoy ease of doing business.
Distribution company requirements have shifted to require B2B offerings such as customer and vendor self-service tools on the web, and also via mobile web applications. Our S2K Portal and S2K Mobile technologies allow for role-based environments to serve B2B.
Introducing new technologies and tools to an industry not used to needing them can set them behind the competition and they will therefore struggle to compete. We also see a shift in generations as baby boomers retire and are rapidly being replaced by millennials, who are more accustomed to technology such as social, mobile and analytics as well as cloud computing.
Conexiom

Brent Halverson
CEO
Distributors are looking to streamline processes and achieve overall efficiency while retaining customer loyalty and repeat purchases. Today's distribution marketplace is growing more competitive with margin pressure and entrants like Amazon Business. Subsequently, we see software innovation growth in two main areas, where manual routine tasks can be automated to reduce operational costs, and where customer experience can be elevated through digital transformations using software innovation.
Most sales orders come to distributors from their customers via email. This means these orders must be manually keyed in. Conexiom offers document automation solutions to process sales orders, RFQs and AP Invoices. Specifically, Conexiom automates the manual entry of these documents and delivers them into a company's ERP system in minutes with 100 percent accuracy. With Conexiom, this frees up hours of time for customer service reps to focus on profit-building tasks and also reduces order cycle times while ensuring the order is 100 percent accurate. Operationally this reduces the cost to serve and increases customer satisfaction and loyalty.
We have noticed two key trends that have presented themselves as challenges for some distributors while others we've worked with are responding by taking advantage. The first pain point distributors are facing is the threat from Amazon Business. There are transaction aspects of distribution that Amazon Business will simply not be able to overcome, such as one-on-one customer service and product knowledge dialogue. Some of our customers have chosen to empower their customer service reps to focus on customer relationships while simultaneously using Amazon Business as another sales channel where they can anonymously sell excess inventory. They use Conexiom to free up time for their CSRs, and use Conexiom Sales Order Automation to process orders coming in through Amazon. Conexiom automatically processes orders coming in from Amazon in minutes.
The second need becoming more imperative is understanding customer purchasing behavior and buying patterns. Conexiom Sales Order Analytics analyzes the unstructured data coming in from emailed purchase orders and delivers actionable business insight. With most customer orders arriving by email, it gives distributors a true view of order volume by customer, branch, time of day, CSR and more. Distributors can then make operational changes to their business that can maximize staff and warehouse shipping and logistics.
The biggest challenge distributors face in both leveraging and implementing new technology is the internal status quo. People are naturally resistant to change. Moreover, technology and digital transformations are imperatives beyond just the IT teams at any given company. As a result, executive decision makers incorrectly presume that technology innovations may be costly, onerous and require extensive changes to infrastructure. Many of today's innovative software technology, like Conexiom, are cloud-based and require no upgrades or changes to existing systems.
Distribution One

Larry Ward
President
Cloud connectivity continues to be a hot topic for ERP. Cloud deployment provides a faster ROI option for distributors implementing ERP. Operating via an internet connection, it also removes the expenses of on-site ERP servers and related IT maintenance services.
Distributors also want to maximize the value of their ERP investment through increased mobile connectivity. Having the ability to view real-time business data through tools like Mobile CRM supports better decision-making at any meeting location.
Beyond mobility, distributors are looking to expand the scope of their sales reach through integrations with leading online stores. Through this connectivity, the sales process can be automated, eliminating errors and manual entry.
Taking automation a step further, distributors are increasingly requesting forecasting insights through dashboards and data analytics. Accurately utilizing historical sales data goes a long way to avoiding dead stock and inventory shortfalls.
To broaden our software deployment options, we offer cloud-enhanced ERP-ONE+ and have partnered with a leading cloud service provider to deliver fast, secure, worry-free cloud management solutions with a very fast ROI compared to on-premise deployment.
Beyond cloud connectivity, our recent development decisions have centered around this question: How will this enhancement expand mobility, broaden sales or improve forecasting for our customers?
For instance, our latest Mobile CRM app provides on-demand ERP-ONE+ customer data for conducting sales meetings in the field. By viewing current and historical data via handheld devices, sales people can quickly provide real-time sales charts and item trends to help close a deal.
To broaden selling opportunities, we recently announced a supplemental integration to Amazon through our ERP-ONE+ software platform. This integration opens distributors to Amazon's vast customer network and automates order processing and inventory management. We are working to add integrations into other major online marketplaces.
We have also delivered enhancements to fulfill our customers' needs for upgraded forecasting. Incorporated into ERP-ONE+, our Dashboard+ data analytics report current business health and display trending assets, liabilities, sales and costs to help management make informed decisions more quickly.
The biggest challenges are keeping up with new technologies and managing the associated investments. We see it all the time with software updates on mobile devices and computers. For On-Premise ERP, operating system upgrades sometimes force the purchase of new hardware (like servers). Companies must work closely with their ERP provider to avoid any potential disruption in operations.
It's also important not to feel overwhelmed by new technology. While ERP technology exists to improve processes and lower costs, confusion sometimes leads to delayed decisions that hamper current and future profitability.
This article originally appeared in the March/April 2018 issue of Industrial Supply magazine. Copyright 2018, Direct Business Media.
COMMENTS: 0
---