In support of independents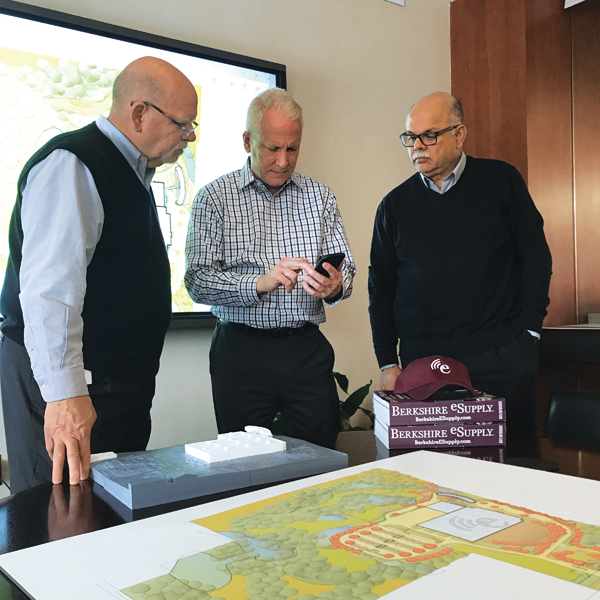 L to R: Alan Cobb, president/CEO of Albert Kahn Associates, Berkshire eSupply CEO John Beaudoin and senior project architect Pankaj Patel review plans for Berkshire eSupply's headquarters location
Berkshire eSupply is adding scale and services to help distributors compete more effectively
by Rich Vurva
Since acquiring Warren, Michigan-based Production Tool Supply in August 2017, Berkshire Hathaway has made significant investments to position the company for growth. One of its first moves was to rebrand the wholesale arm of the business as Berkshire eSupply. The company provides a variety of services to thousands of active independent distributor customers, from serving as a master distributor of metalworking and industrial tools and supplies and other products, to offering catalog and direct marketing support, website and e-commerce solutions and private-label vending programs.
"The goal for North American independent distributors is to create a system to level the playing field with national distributors," explains John Beaudoin, CEO. "We're building a logistics network across North America to support just that."
While he wouldn't reveal financial results, Beaudoin says sales have been brisk since the Omaha-based multinational conglomerate holding company acquired PTS and began making infrastructure investments.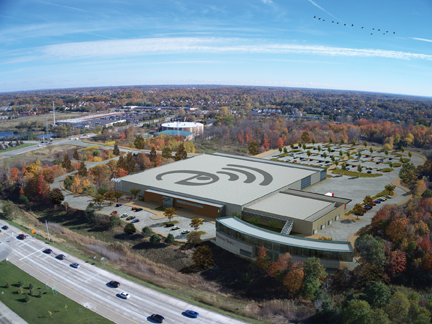 A new multi-million dollar fulfillment center and headquarters location under construction in nearby Novi, Michigan, is scheduled to open in the first quarter of 2020. Designed by award-winning, Detroit-based architecture and engineering firm Albert Kahn Associates, it will include a 193,230-square foot warehouse with mezzanines and a two-story, 18,380-square-foot office building. The state-of-the-art facility will include an automated warehouse for handling orders from Berkshire eSupply's nearly two million SKUs.
A distribution center in Houston went online in early 2019, and the company plans to develop another distribution center in the western United States sometime in 2020, which will enable one- and two-day delivery throughout North America.
Services offered to distributors include WebXpress, a cloud-based, private-label website that has been in development for more than seven years. "The number of distributors on the platform is growing across North America right now. If you were an end-customer going to an independent distributor's website, you would think that the website is presented by that independent distributor," Beaudoin says.
He said that distributors using the private-label web platform are capturing more of their customers' MRO total spend. "We've created a very content-rich environment," he says. "As we build this product portfolio, with millions of SKUs, we push it up to the Cloud. The Cloud then looks and says these are the product categories and product information that need to be disseminated to these hundreds of independent sites, and it pushes it out automatically so the independent distributor does not need to be bothered with managing content."
The company has signed non-disclosure agreements with distributors, so Berkshire eSupply has no access to transactional data about end-customer purchase prices or buying habits. "All orders go to the independent distributor, and all of the information on pricing is managed in the independent distributor's ERP system," he says.
Distributors can choose to procure all of the items in an order from the Berkshire eSupply warehouse, which are shipped in a private label box to appear as if it is coming from the independent distributor, or fulfill any portion of an order from the distributor's own inventory.
Distributors also have the option to load their own product content, videos and other data on the website platform. "This system has been stress-tested to handle tens of millions of SKUs without impeding the speed whatsoever, so each independent distributor can also load their own content if they choose," he says.
As Berkshire eSupply adds new product categories and additional SKUs in the future — including power transmission, electrical, HVAC, plumbing and welding — distributors will have the option to add those products to their offering as well. "We've pre-designed every vertical silo, every taxonomy point and data point for all of those categories that we may not have today but will definitely have tomorrow."
The best of both worlds
Beaudoin says Berkshire eSupply can help independent distributors create the omni-channel experience that customers are demanding today. Distributors can offer the value-added services that they've always offered customers, along with their technical expertise, plus an e-commerce ability to deploy millions of products cost-effectively.
"The customer gets the ease of doing business online when they want to, and the ability to call the distributor in for technical advice and to answer application questions when they want to," he says.
Private-label punch-out e-catalog capability enables distributors to build a customized offering for specific customers. The punch-out e-catalog allows an independent distributor to customize their offering based on each customer's requirements. "The end-customer is punching out of their ERP system to a web interface," Beaudoin explains. "It could have the end-customer's manufacturer part numbers, so when they place an order, instead of calling the distributor or going to a website, the customer's ERP adds a purchase order number to it and sends the order electronically to the distributor."
Vending solutions
Berkshire eSupply also offers several options to meet the growing demand for onsite vending machine programs and other vendor managed inventory solutions. "We have a tiered approach so the cost is significantly less than any of the offerings from the large, big name vending companies," he says.
In addition to having the ability to purchase a product housed in the vending machine, the kiosk acts as a gateway to the distributor's website. A maintenance person who needs shop rags or safety glasses or some other product not stored in the vending cabinet, for example, can view the entire database of SKUs in the system and place an order.
The vending solutions include more than 100 custom report options, the distributor's logo featured prominently on the equipment, and top-level security features.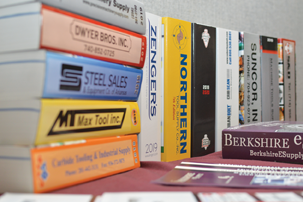 Beaudoin says all of the tools that Berkshire eSupply has developed — from powerful web applications, punch-out catalogs, automated vending systems and traditional print catalogs and marketing materials such as promotional flyers — allow independent distributors to compete with larger national competitors and new digital competitors.
"The distributors can focus on doing what they're good at, which is technical selling in the marketplace," he says.
This article originally appeared in the March/April 2019 issue of Industrial Supply magazine. Copyright 2019, Direct Business Media.
COMMENTS: 0
---