Leading The Channel Forward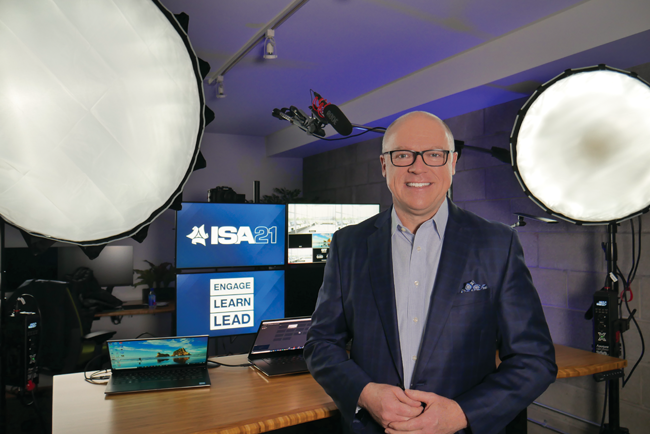 Ed Gerber is shown in the fully equipped ISA studio with digital, virtual and broadcast production capabilities. The studio is located in an industrial loft in York, Pennsylvania.
ISA evolves to provide strategies, tools and education for members

by Rich Vurva
The leaders of the Industrial Supply Association are on a mission.
"We believe ISA has a responsibility to lead the industrial channel forward," says Ed Gerber, ISA president and CEO. "We're on a mission to deliver the strategies, tools and education to help member companies stay relevant throughout industry change and by doing that we ultimately strengthen the industry as a whole."
When Gerber became president in 2016, he says the association was known primarily as a distributor association that relied on one annual event to provide value to its members.
"The journey we've been on for the last four years is repositioning ISA as a channel association looking at distributors, manufacturers and independent manufacturer reps as the stakeholders of our channel with a focus on the end user's changing needs. That's a big differentiation from where we were," he says.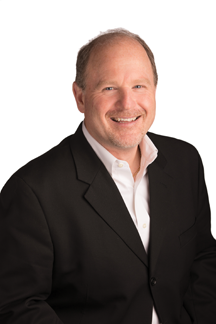 Jeff Bigelow
Hubbard Supply Co.
Jeff Bigelow, president of Hubbard Supply Co. and ISA chair, compares what's happening at ISA to a major house remodeling project.
"Upon Ed's arrival he quickly realized that modernizing the house required a comprehensive review of the building's foundation," Bigelow says. "Together with Ed, we did a thorough evaluation of ISA's rich history and future potential and from there we set out to build a high-powered ISA management team capable of meeting the association's commitment to the channel. I am extremely proud of the work the ISA management team and leadership group has accomplished in such a short amount of time."
In addition to the management team, Bigelow says a key success factor in ISA's transformation is having engaged, recognized and respected industry leaders on the ISA board and committees. "Leading the channel forward requires complete alignment between ISA management, the board and committees in identifying the right initiatives and the resources to deliver the expected value," he says.
The transformation revolves around what ISA calls Channel 2.0. It serves as a strategic framework for ISA members that defines a new standard of expectations, helping all stakeholders create better strategic value for each other while satisfying the end user's evolving needs. (View this link to learn more about Channel 2.0: https://www.isapartners.org/channel-2-0).
"To make sure everything we do is aligned with our members' strategic needs, we created what we call the drivers of success," explains Gerber. Keeping focused on the
drivers – Go-to-Market Strategy, Talent Recruitment & Retention, Employee Development, Technology, Channel Connections, Lean Processes and Analytics – helps ISA maintain its focus on delivering the right programs and services to its members. "If it doesn't fit within one of the success drivers, we do not invest in bringing it to market," says Gerber.
Jim Fall
3M
David Ruggles
Martin Supply
Jim Fall, vice president, ISMC 3M Safety & Industrial Business Group, says the association has made great strides in the past few years. "As a manufacturer, I have been involved with ISA for about 20 years. During the last four years I have been more engaged and I have seen significant transformation and change as it relates to what ISA is all about. I truly believe that ISA is on the right track. From the manufacturer point of view, it's been a really good investment for us," Fall says.
David Ruggles, president of Martin Industrial & Safety and ISA treasurer, says Gerber's leadership and the talented team he brought with him helped drive that transformational change. "I think ISA, for the first time in a long time, understands who we are. Now we are driving toward a common goal and common purpose that we, quite frankly, didn't have in the past," Ruggles says.
Skills Gap – The Talent and Recruitment Challenge
"The number one challenge that remains consistent when speaking with our members is the ability to attract and retain the next-gen and top talent to their companies and to our industry," says Gerber. In an industry that has not been known for its diversity, Gerber says, "There is a great opportunity to change the way ISA and our member companies think about diversity and how it can help them address their talent and recruitment challenges."
He adds that ISA looks at diversity to be inclusive of race, gender, diversity of thought, experience and member company demographics. "We're leading by starting with our volunteer leadership both at the board of directors and committee level. As volunteer leaders rotate through their terms, we are intentional on filling spots with the very best and brightest while keeping diversity front and center," he says.
Gerber is proud of the progress made in having more women represented on ISA's board of directors. "They're all rock stars. We have a way to go but I can tell you that the quality of the strategic discussions and initiatives on the table are a direct reflection of the diverse perspectives we have on our board," he says. "We now have an influx of talented individuals wanting to serve. Not only is diversity and inclusion the right thing to do, it's good for business."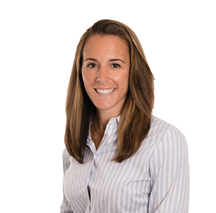 Maria Ford
Stanley Black & Decker
Board member Maria Ford, president of Commercial Sales and Marketing for Stanley Black & Decker and ISA vice chair, says she became interested in serving in a leadership capacity at ISA because of its stance on diversity.
"ISA's commitment to D&I and taking a leading role in helping the channel through this journey is one of the things that inspired me to become part of ISA. They're looking forward and purpose driven. I'm proud to be part of this organization and leadership team," she says.
Recognizing its responsibility to help member companies on this journey, ISA created its first diversity and inclusion advisory task force.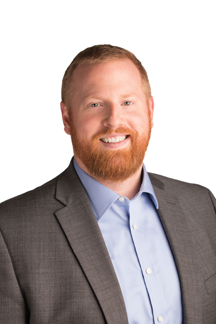 Brendan Breen
ISA
"To make sure we get this right, we put together an incredible group of diverse leaders and subject matter experts to help us define the right initiatives that will help our member companies get better traction when recruiting," says Brendan Breen, ISA vice president of Strategic Initiatives. "We're just getting started, but we know by doing this right we can help attract top talent
to our industry as a place where they can have a rewarding career."
Embracing Digital – Turning Challenge into Opportunity
Even though the coronavirus pandemic brought challenges to ISA, it also helped the association achieve its strategic goal of reaching deeper and broader into member organizations. When states and local communities began issuing stay-at-home orders in March of last year, ISA was putting the final touches on its annual convention when forced to announce the cancellation of ISA Atlanta 2020. Like the companies it serves, the association scrambled to adapt to new ways of doing business.
"We knew right away that the only way to succeed through this was to embrace and commit to whatever it would take to become both digitally and virtually competent," says Gerber. "This wasn't easy; it meant that our entire team had to quickly develop and learn new skills as we moved toward virtual. But we also knew that if we did it right, we could be a leader in both in-person and virtual education and drive engagement at scale."
In 2020, ISA created a new video series called The Channel designed to provide easy-to-watch and digest content relevant to ISA member companies. It also created the podcast Hi-Po meant for high-potential next-gen leaders as well as The Point, a blog that "simplifies the complicated" in a quick-read format. It transitioned its in-person education and networking events to virtual formats, holding an Emerging Leaders Virtual Summit in September, a Women in Industry event in October and SalesWerks 2020 in November, with content geared toward independent manufacturer reps and manufacturers. Each successive virtual event expanded its reach and attendance, with SalesWerks being the largest attended event outside of the annual in-person convention.
ISA launched seven virtual events in the last eight months of 2020, five of which were never offered in the past. In total, over 2,500 virtual attendees participated. Gerber says the popularity of the virtual events is a result of better content, a more affordable price and higher productivity for member companies since no travel is required.
"The price point also creates the opportunity for company principals to engage their entire team and get them up to speed all at once on the latest and most relevant education," he says.
Adds Bigelow, "The success of the virtual events delivered by ISA in 2020, and the positive reviews by participating member companies, proves that ISA is listening, proactively adapting, and doing a better job than ever before in meeting the evolving needs of its members."
ISA 21 – A New Way to Convention
ISA has broken down its 100-year-old convention format and rebuilt it with a fresh perspective for 2021. "ISA 21, in the first time in our history, will be virtual April 20-22. It's going to feel very different, it's going to look very different but the overall program and value add is significantly more than what would have been possible in person," explains Gerber.
A new pricing model will enable company principals to engage their entire organization for less than it would cost to send one person to an in-person event. "From a principal's point of view, imagine the power of being able to tap into everyone's potential across their organization by giving them access to ISA 21 without the cost barrier. Live or on-demand eliminates the time constraints as well," explains Gerber.
At ISA 21, each person and principal will be able to tailor their ISA 21 experience based on their individual and company needs.
"ISA is setting a new standard with its innovative approach to ISA 21 and the industry needs to pay attention. It's inspiring to be part of such a forward-thinking, game-changing organization. For me and my company, I can send my entire team for what I would have spent to send one individual to an in-person event. It makes the decision to give ISA 21 access to everyone a no brainer," says Ford.
Bigelow adds that the education and networking provided will connect all job functions within a company, driving value deeper and wider into the member company's organization. "There have never been more opportunities to experience ISA. The association is continuing to evolve into a proactive organization that's partnering with its constituents to deliver value-add more than at any other time in my experience with ISA."
For more information go to: https://www.isapartners.org/isa-2021/.
This article originally appeared in the March/April 2021 issue of Industrial Supply magazine. Copyright 2021, Direct Business Media.
COMMENTS: 0
---