Built to last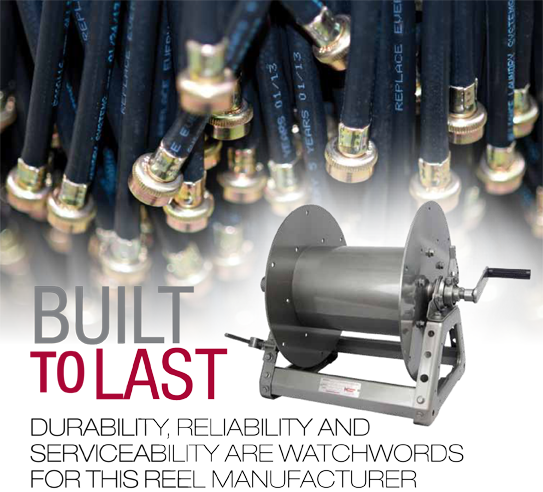 by Jennifer Wing
There is a healthy demand for hose and cable reels that are durable, reliable and easy to
service. At Hannay, our focus has been to emphasize durable construction through improved material selection and assembly methods, while also keeping serviceability in mind. If there is a part on the reel that is a wear item, it will eventually need to be replaced. We design our parts so that replacement is easy, minimizing downtime and associated labor costs.
Many good ideas come from our customers. Sometimes, the resulting product improvements are "under the hood" or hard to see without close examination. For example, over the past 12 months, we have focused on improving the reel components directly involved in providing smooth rotational movement. All of our self-aligning bearing assemblies were upgraded to precision-grade with a 250 percent higher load capacity. The center axle hub we make for each reel is now machined on CNC lathes with much tighter tolerances. Along with some other related improvements, the overall result is a reel that rotates smoother with optimal concentricity and less drag, which improves the user experience and durability of the reel.
Another example is the introduction of a split (two-piece) bearing on nearly all of our larger reels. With this split design, bearing replacement time has been reduced to just five minutes. Without a split bearing it could take users 30 to 45 minutes to replace this part, especially if it is located on the plumbed side of the reel. This is because of the necessity of evacuating the hose reel fluid path of product and removing the swivel joint to access the worn bearing.
The marketplace is also increasingly demanding better corrosion protection, and for that reason, we have continued to increase our usage of e-coated subcomponents so that Hannay reels leave our factory with a 2-coat paint system. For the most demanding
applications, we continue to offer aluminum and 304-grade stainless steel construction.
We have adopted the industry's latest riveting technology that has allowed us to reduce some of our welded connections without sacrificing strength. This allows us to use more e-coated and powder-coated subcomponents on our assemblies, because you
cannot weld to painted steel.
We also have recently added several CNC machine tools to our factory floor and are starting to use robotics and 3D printing for some of our production needs. These are improving our productivity and the consistency of our reels that we put out the door each day. It's an exciting time to be in manufacturing with all the new technology available.
We have several projects underway as we move through the new year, many of which are focused on continuing to increase the longevity and serviceability of our reels and major components.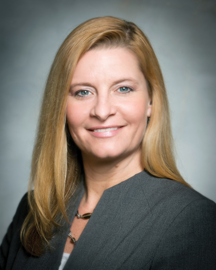 Jennifer Wing is marketing manager for Hannay Reels. Learn more at www.hannay.com.
This article originally appeared in the March/April 2021 issue of Industrial Supply magazine. Copyright 2021, Direct Business Media.
COMMENTS: 0
---