Error-free Delivery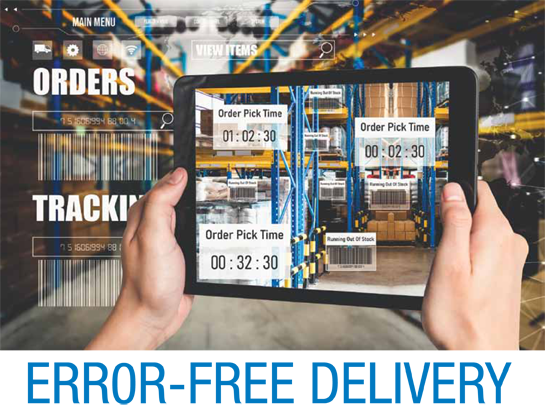 by Rich Vurva
The goal of every distribution warehouse manager is to eliminate errors. Every mistake made while picking products and readying them for shipping adds unnecessary cost and aggravation. While error-free delivery may be impossible to achieve 100 percent of the time, distributors keep striving toward that objective. Efficient processes and automation are two keys to success, according to companies that provide warehouse management systems.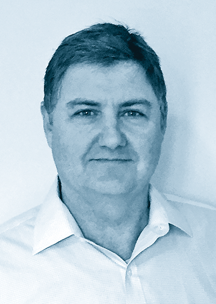 Mark Jordan
Wholesale Distribution Solutions Manager
SAP
The warehouse acts as the heart of a wholesale distributor's business.
While focus has historically been placed on efficiency and automation, the COVID-19 pandemic has forced distributors to look at warehouses through the lens of supply chain resiliency.
The two trends driving this major shift of warehouse priorities, and corresponding WMS development, include supply chain disruption and the geographical migration of warehouses.
During the brink of the pandemic, geographic dependency, regulatory restrictions and manufacturer slowdowns forced wholesale distributors to quickly monitor and respond to sourcing risks while balancing a shift in demand pattern. This has left a lasting impression on distributors, as they have realized what a prominent role warehouses can play to support the flexibility of operations. For example, resiliency can be supported by the warehouse through improved upstream planning of product sourcing and downstream visibility into customer needs.
Warehouses of the past deployed traditional automation that serves a single-use or function, such as automated storage and retrieval systems. Today, warehouse automation must be flexible. For example, robots are being quickly onboarded into the warehouse, using artificial intelligence to quickly learn and takeover manual, repetitive tasks from humans. These robots are extremely versatile and can change with the distributor's needs based upon the products, services or warehouse set-up. This basic example of repurposing tools and technology to meet the evolving needs of a warehouse is just the beginning, as distributors often juggle new warehouse spacing and changes of goods produced or distributed.
SAP offers the technology and expertise that distributors need to efficiently manage goods and labor across warehousing, fulfillment and distribution needs.
For WMS specifically, SAP Extended Warehouse Management allows distributors to take control of warehouse operations to keep up with changing demand while lowering costs. This includes the management of inbound and outbound logistics, along with storage and operations.
To help distributors meet new challenges brought on by the recent unprecedented swings in demand, SAP offers a rapid deployment of this solution in the form of a pop-up warehouse. This solution has a set scope and implementation time of just 90 days, greatly decreasing the time to value a distributor will benefit from.
This technology can be complemented by SAP Warehouse Insights which offers distributors a real-time look at warehouse orders and layout, assigning work to the right employees cost-effectively and efficiently.
Based upon recent disruption and market dynamics, distributors are challenged with increasing competition, complex supply chains, social changes and complex regulatory requirements. Simply buying in bulk and selling to a finite list of customers will no longer suffice.
Distributors must become active participants in the market and become proactive, insight-driven organizations. This includes better supplier management to ensure there is no shortage of products, increased visibility downstream of customer needs, higher requirements around delivery time and returns management. It is also becoming increasingly important for distributors to solidify their spot in the value chain, offering value-added services that help differentiate their business and retain customers in ways that Amazon cannot.
SAP has designed solutions for wholesale distributors that can help by giving you the tools, process support and insight you need to drive superior business performance. Leveraging industry best practices, our solutions can help you streamline operations in ways that improve service levels and increase operational efficiency – all while enabling greater digital collaboration with customers and vendors.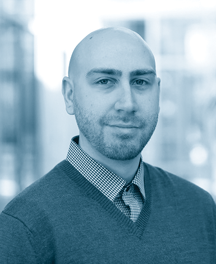 Jim Messina
Warehouse Management Solutions Product Director
DDI System
The one major challenge we see distributors facing when leveraging new WMS technologies is the displacing of highly customized, legacy solutions.
Because the warehouse is mission-critical for a distributor, many fail to recognize the opportunity cost of not adopting a modern WMS solution. Too often, organizations pour resources into maintaining a highly customized solution rather than implementing next-generation solutions that offer the capabilities required to maintain an agile warehouse.
At the same time, distributors with legacy systems are also often struggling to keep up with regulatory requirements, thereby further consuming resources and taking away precious resources from more innovative, future-looking projects. Sometimes, the cost of
doing nothing is more expensive than you'd think.
The rapid adoption of online ordering has driven a push towards streamlined fulfillment workflows. Having the ability for your WMS to integrate with your ERP system allows for smart picking, where notifications are sent the moment a customer places an order, allowing for item picking to begin immediately, without the need for paper tickets.
Inform WMS was built to maximize warehouse efficiency. Fine-tuning your warehouse functions with optimized put-away, customer labeling, performance analytics and paperless operations eliminates bottlenecks and errors that drag down operations with structured workflows and task management. One of the keys to an effective warehouse is inventory accuracy and knowing exactly what's in stock and where to find it. DDI System's Inform WMS offers a cycle count scheduler, which helps keep your inventory in check by automatically assigning products to count regularly, and recommends daily counts delivered directly to the barcode scanners with no further intervention. In addition, bin location minimums can be established for automated replenishment tasks, keeping showrooms fully stocked and looking their best.
Distributors today need to make more deliveries than ever before and can't afford costly delays. Error-free deliveries are crucial for distributors, as mistakes can hurt credibility, cause project setbacks and frustrate customers. Barcode scanning ensures the right product is picked every time. Inform WMS takes it one step further with a real-time picker progress dashboard that identifies what items still need to be picked, ensuring nothing gets left behind. Every transaction is audited to allow for full accountability from pick, to pack, to ship.
So much focus is placed on preparing a warehouse for WMS, that it's easy to lose sight of how to best utilize the technology once it's up and running. DDI System favors a phased roll-out approach that focuses on specific milestones. This allows new workflows to be implemented and field-tested over time, rather than all at once. Performance metrics are integral to the process, as they help identify areas of improvement, ensuring optimal warehouse operations at every level.
DDI System's Inform Warehouse Management System (WMS) eliminates time-consuming errors, product losses, and re-ships with well-defined warehouse processes that deliver unprecedented ROI within weeks. Fine-tune your warehouse functions with optimized putaway, customer labeling, performance analytics and paperless operations. Inform WMS taps into the expansive knowledge of more than 1,000 distributors we serve to continuously improve logistics and operations.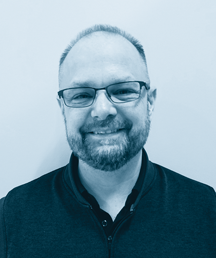 Rusty Compton
Business Analyst
Distribution One
Amazon continues to lead in this space by providing accurate deliveries and zero tolerance for shipping errors. Suppliers need to have proper checks and balances on their warehouse levels to assure accurate movement of product. Customers want their product immediately when ordering online, so they expect it to be in stock and delivered quickly.
Distribution One's wireless Warehouse+ offers the ability to establish specific requirements for product verifications. This includes options for UPC, item ID, locations, serialization, lot control, expiration management and wave picking of product with the ease of scanning. We like to call this "a plan for every part" which allows our customers to utilize preferred methods based on the type of product they are supplying.
WMS is a tool to verify what is being touched when it applies to inventory quantity and requirements. Any WMS system is only as good as the data and the procedures that are put into place to run it. Having a knowledgeable staff who have worked within these environments, Distribution One is able to assist and understand what distributors and wholesalers are experiencing. This familiarity allows us to establish a quick yet solid roll-out for each customer's WMS system requirements.
Companies are still working on establishing standard checks and balances when it comes to the warehouse. Considering that the WMS revolves around the scanning of barcodes, this either needs to be cross-referenced or applied at the time of receiving. A majority of suppliers are not barcoded nor have the data to support this, which is the most crucial part of any WMS system. Once this has been established, the WMS systems can be implemented in areas that need to verify proper inventory movement with a simple scan.
This article originally appeared in the March/April 2021 issue of Industrial Supply magazine. Copyright 2021, Direct Business Media.
COMMENTS: 0
---