A Better V-Belt Storage Solution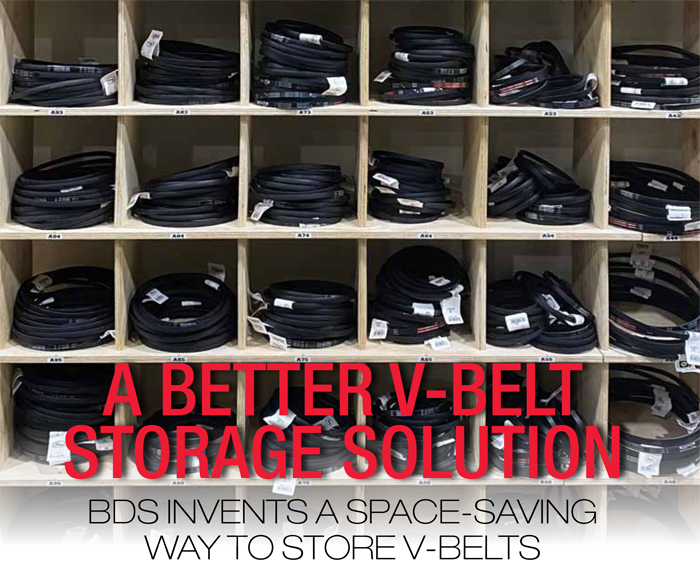 by Rich Vurva
Visit the warehouse of any distributor that sells V-belts and you'll see belts of various sizes hanging from pegs protruding from the walls. It's an age-old storage system that has served companies well for decades.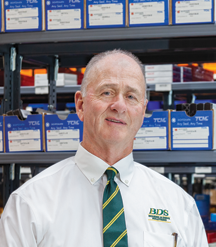 When Bearings & Drive Solutions (BDS) owner Mark Stevens realized that one of his warehouses was running out of wall space to hang belts, he knew there must be a better way. After pondering over a variety of storage system solutions, an idea hit Stevens while talking with an employee who works as a buyer for BDS.
"What if we were to build them like hen boxes?" Stevens asked.
"What's a hen box?" the employee asked.
"You know, where chickens lay their eggs!"
The employee was skeptical, but Stevens pursued the idea. He sketched out a plan and presented it to his company's woodworking shop and a local contractor. Made from plywood, the cubicle system stands 10 feet tall and features more than 500 individual cubicles in three different sizes (Small: 11 in. wide x 11 in. tall x 18 in. deep; Medium: 17 in. wide x 11 in. tall x 18 in. deep; and Large: 17 in. wide x 11 in. tall x 23 in. deep).
Stevens says the new system takes up a fraction of the space needed compared to the traditional way belts were stored.
| | |
| --- | --- |
| | |
| Before | After |
Now, belts are coiled and placed inside individual cubicles, arranged by size. Each cubicle has a pressure-sensitive label, so warehouse crews can quickly identify where to place or retrieve individual belts. Most shelves can be reached from the floor, but rolling ladders are required to retrieve product from the top shelves.
In addition to improving their normal picking and packing routine, employees find the new system better suited for doing annual inventory counts. It's easier to count belts stacked in cubicles than to use a "belt pole" to pull belts, count them, and then return them to a peg on the wall.
Distributors that purchase belts in box quantities often leave them in the boxes in which they were shipped, which takes a great deal of shelving space. Despite the high cost of lumber used to build the cubicle system, Stevens says this solution is more cost-effective – and takes up less space – than assembling metal shelving units.
Stevens tried out the solution first at the company's Stroudsburg, Pennsylvania, location and has since installed it at four other facilities, fine-tuning the system along the way (the first attempt used only one size cubicle and more expensive labels).
Each system is built in the woodshop and assembled on site. "It's sort of like a big jigsaw puzzle," Stevens says. "After finishing it I stood back and looked at it and said, 'This idea needs to be shared.'"
This article originally appeared in the March/April 2022 issue of Industrial Supply magazine. Copyright 2022, Direct Business Media.
COMMENTS: 0
---