Finding talent in the 'Great Resignation'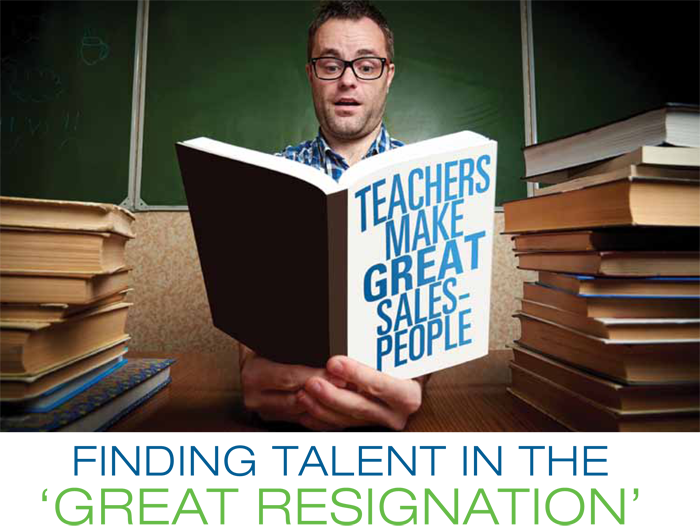 by Troy Harrison
Are you finding it hard to hire good salespeople? If you are, you're not alone. Nearly everyone I talk to when I speak at conferences asks me about the sales hiring outlook in 2022. Too many companies are running short-staffed, losing sales coverage and bandwidth and losing opportunities. The truth is that if you have a fully staffed and skilled sales team right now, you're probably doing a number on your competition – and you're the exception, not the rule.
So, what if you are having difficulty staffing your sales team? Some will attribute this to the effects of the COVID-19 pandemic and the various governmental interventions that have surrounded it – but as I've been saying since the start, COVID-19 has merely accelerated the trends in the sales profession that were already happening. A declining pool of sales talent is one of those trends. So, let's look beyond the existing pool of sales talent.
In my opinion and experience, teachers are a great source of potential sales talent. And the time is right. In 2021, a Rand Corporation survey showed that 25 percent of all current teachers were considering leaving the profession. In January 2022, an NEA survey upped that to 51 percent. While education is absolutely an important profession to our country and society, we're talking about sales and our businesses here – so let's see if we can make lemons out of lemonade. First, why would teachers make great salespeople? There are several reasons.
They are great communicators. This should be obvious. Sales is about communication, and teachers by nature are terrific communicators. Furthermore, they are typically skilled at adapting their communication to different levels of recipients. If that sounds like a good trait for a salesperson, it's because it is.
They are patient. Sure, in sales, we like to think that we act quickly – but do we, really? Even the best salespeople spend a lot of time being patient, nurturing relationships and finding ways to move processes along. Teachers must also exercise patience. Don't believe me? Think back to how you acted when you were in school. A closely related trait is the ability to deal with difficult personalities. We sometimes say that our customers act like 13 year olds – but they really don't. Get someone who has made a living dealing with 13 year olds, and you have someone who can usually deal with your most difficult customers.
They understand structure and rules, but balance it with independent activity. Structure and rules are important in most sales positions; you want a salesperson who understands activity standards, CRM and reporting structures. At the same time, teachers like to create and use their own lesson plans, so they understand independence.
Sales is usually a large leap forward in terms of income. Even the most entry-level sales positions pay better than most teaching jobs, so accepting a sales job is a big career advance for a former teacher. This will incent the type of work ethic that successful salespeople need, as well as help create loyalty.
So, you're sold on trying to recruit burned-out teachers now? Good. Hold your horses, though; there are a few things you must do in order to succeed at this.
Use a quality third-party assessment. Not all teachers are "trait fit" for the job. Yes, their basic characteristics above lend themselves strongly toward sales success – but you should use a good third-party assessment (my go-to is the Profiles Sales Assessment, from Wiley) to determine if their underlying traits are a good match for the trait pattern that succeeds in your sales environment. Since you don't have a track record to rely on, this must be a part of your screening process.
Use behavioral interviewing techniques. Behavioral interviewing – a science of interviewing that centers around questions that ask candidates to tell stories about situations they have encountered – is essential. For most sales interviews, they can be
about situations that the candidate has encountered in their career. For interviewing non-salespeople, the questions should be based on situations they have likely encountered in life as well as in their career path.
Onboard correctly. Onboarding is essential for any sales job, but for career-changers, it is even more critical. I look at onboarding as the first 90 days and I separate it into three phases. The first 30 days should be strictly for acquiring knowledge about your company and the job. There should be no expectations for that period for sales calls – just an expectation that the new salesperson should be a sponge. Sales training should be a part of this, as well as company and product training. The second 30 days should be for activity – start getting into the field, making sales calls and building a sales funnel. The third 30 days should be when you start to measure achievement and results. Remember, new salespeople (whether experienced or not) will need time to ramp up.
Coach, train and develop. The manager's job is never finished, because salespeople should never stop learning and developing. Again, this is critical to keep new salespeople engaged in their jobs. We'll talk more about engagement and retention next issue in this space.
Two of the best salespeople that ever worked for me came directly from the teaching profession. I used the four techniques above to help them get into their new jobs and be productive, and they put up big numbers. In fact, within a year, each one was among my top people. You can do it too, if you put your mind to it. There's a world of talent out there just waiting to be brought into our great profession.

Troy Harrison is the author of "Sell Like You Mean It!" and his new book, "The Pocket Sales Manager." He is a speaker, consultant and sales navigator. He helps companies build more profitable and productive sales forces with his cutting-edge sales training and methodologies. For information on booking speaking/training engagements, consulting, or to sign up for his weekly E-zine, call (913) 645-3603, e-mail Troy@TroyHarrison.com, or visit www.TroyHarrison.com.
This article originally appeared in the March/April 2022 issue of Industrial Supply magazine. Copyright 2022, Direct Business Media.
COMMENTS: 0
---