AI Helps Grow Sales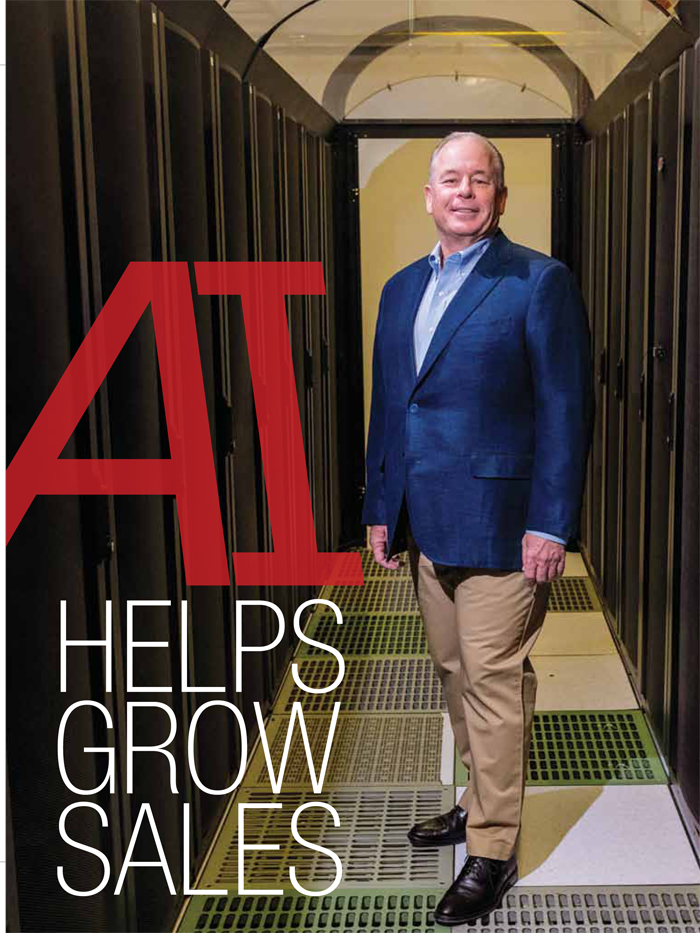 R. S. Hughes learns how artificial intelligence softare can produce dramatic results
by Rich Vurva
What began as an effort to improve product recommendations to online customers of R. S. Hughes ended up making a dramatic change in the company's entire sales process. Headquartered in Sunnyvale, California, R. S. Hughes is a North American distributor of industrial supplies with 50 locations throughout the United States and Mexico.
In the summer of 2020, Mike Page, chief marketing officer and chief technology officer, was working on a project to get the company's website to deliver better results when customers searched for products online.
"We needed relevant recommendations. As we learn about you and your behavior on the website as a regular customer we now understand your order pattern and your reorder behavior," Page says.
But simple behavioral recommendations alone don't provide much value in the B2B world. It can be difficult to come up with meaningful product recommendations when you have 60,000 customers and sell more than 900,000 SKUs.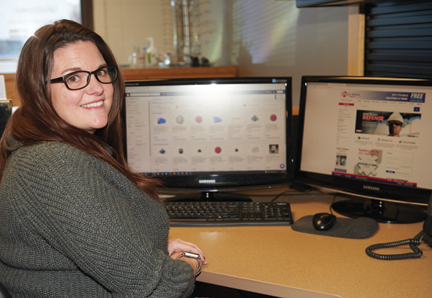 Jade Smith is part of the inside sales team.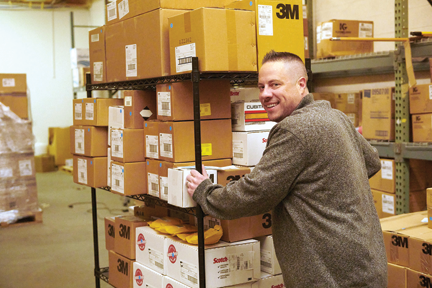 Chad Thomas, MIS manager, at work in the R. S. Hughes Salt Lake City location.
For example, if one customer visiting the site searched for double coated tape, epoxy, and an electrical connector, that information may not be relevant to the search behavior of the next customer. The second customer might be interested in tape and epoxy, but would be confused by a recommendation to also look at electrical connectors.
So Page never pulled the trigger on installing a new e-commerce recommendation engine. Then he learned about Proton.ai, a company that has developed algorithm-driven software that suggests products that customers may want to buy.
The artificial intelligence (AI)-based sales software is the brainchild of Benjamin Cohen, who studied data science at Harvard University. He also grew up in a family that owned a dental supply business, which gave him a deep understanding of the needs of distributors. Cohen describes his solution as "built for distributors by distributors."
Other potential software solutions Page investigated were driven by a customer's browsing behavior.
"The Proton.ai solution uses AI to digest a massive amount of data and make sense of it. The products are just one component. The data also looks at the type of customer, the location of the customer, what we know about similar customers. It considers many different data points that would be difficult to analyze without machine learning," Page says.
After hearing about the AI-driven solution, Page agreed to send data from the Infor SX.e ERP system used by R. S. Hughes into the Proton.ai engine. Then, for a 90-day test period, the company would put the system to the test.
The 12 business development team members, proactive inside salespeople that place calls to customers every day, were told to use the Proton dashboard, which was tied to each sales rep's account base. They were instructed to follow the recommendations the system provided.
Some salespeople in the test period were seasoned veterans and others were rookies. The test was overwhelmingly successful.
"We got so much more out of it than we expected, because it helped the new salespeople get up to speed much faster," Page says.
Plus, experienced salespeople could move quicker, and act on relevant data with their most important clients. Most importantly, sellers don't have to spend time trying to develop history and behavior and determine their next steps.
"The data tells you, here's who you need to talk to today. Here's the content you need to talk to them about," Page explains.
After the 90-day trial, the AI engine became an integral step in the business development team's standard operating procedure. When talking to customers, salespeople refer to the ERP system on one screen and the Proton dashboard on another.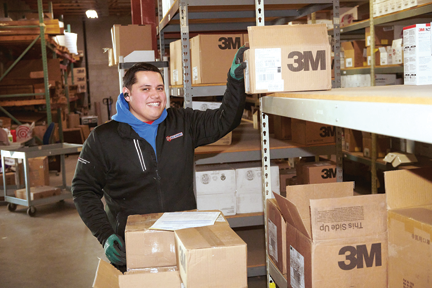 Henry Gomez from the purchasing and supply solutions team readies an order.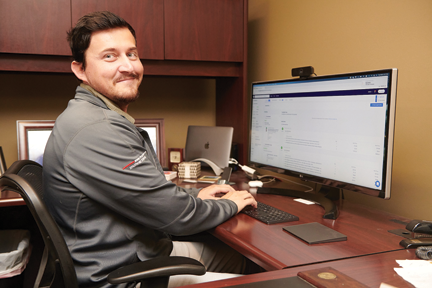 Mersed Brodlic is on the talent acquisition team.
More data, better output
Before beginning the test, Proton.ai told Page to "give us as much data as you can," believing that more data points entered into the system would generate more relevant recommendations.
"So we gave them millions and millions of lines of transactional data, customer data," Page says. "I think we might have plugged in 10 years of history, including customers who buy from us and those who have stopped buying. It's a very powerful system."
The dashboard provides guidance to salespeople, helping them prioritize activity and deliver clues as to what to discuss with specific customers. For example, if a customer regularly purchases safety glasses but hasn't placed an order in a while, the system will suggest that it's time to contact that customer to ask if they want to reorder today.
"Additionally, because we've learned about that particular customer, we can learn about the purchasing history of similar customers and the engine will provide some relevant guidance," Page says.
He says the system helps salespeople focus on the action steps of engagement with clients versus trying to build their sales plan and model. "It's the stuff we historically built from our own database, but now we're moving right into relevant action steps and doing so much quicker."
Immediate ROI
Page says he's never been involved in a project where the return on investment was so easy to obtain and so quickly realized.
"The ROI on the e-commerce piece alone was immediate. We've seen well over seven figures in attributed revenue and hundreds of thousands of clicks for attribution to engage on those recommendations," Page says. "This was a tech project that was implemented on time and on budget, with the fastest return on investment I've ever been engaged with."
E-commerce sales have grown to about 25 percent of the company's annual sales of more than $460 million since launching its website in 2014. Adding Proton.ai to the site has added to this growth.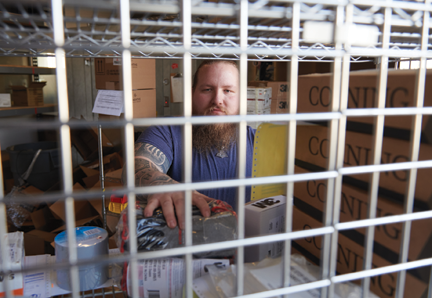 Mitch Murray, warehouse associate
In a typical month, 175 inside salespeople make product recommendations to about 10,000 customers. The Proton software enables the inside salespeople who tended to be only reactive in their sales efforts to become more proactive.
"The relationship with Proton has turned into a significant part of our growth engine in the company, and not just in e-commerce. We've expanded into our inside sales group, and we're just about now ready to turn it all over to our outside sales group," Page says.
For outside sellers, the AI engine will work alongside the customer relationship management (CRM) module. It will be accessible whether salespeople engage with the system from a desktop, laptop, tablet or mobile device.
"The Proton.ai engine is now going to be the heart and soul of our client engagement on a reactive sense, in a recommendation sense, and affect our customer relationship management behavior," Page says.
Page has been impressed by the quality of the results that the Proton.ai software has produced. "They understand the needs of distribution. They've seen millions of lines of data from hundreds of thousands of different kinds of customers. They have a clear understanding of their behaviors and the output keeps telling us that it's working."
Distributors already have the data in their ERP systems that they need. The difficult part is mining that data and turning it into relevant action steps.
"It's easy to determine who your largest customers are, where they're located and what they buy from you," Page says. "But what else could they buy? How many other companies are out there that I don't know about? You can ask all of these questions but they're all just stopping points that take you away from going into action."
The AI engine has also proved useful in driving promotional efforts. If you're working with a vendor to promote a specific product line, the data will help sellers determine the best customers to contact to promote that type of product.
"We're taking many data points about customers and behaviors and product purchasing patterns, and correlating those together with the AI engine to provide the due-to-reorder product recommendations that go together, and then we have an opportunity to add campaign or promotional direction into that too.
"Over time, the engine continues to digest data and learn and grow, so it keeps getting better all the time," Page concludes.
This article originally appeared in the March/April 2022 issue of Industrial Supply magazine. Copyright 2022, Direct Business Media.
COMMENTS: 0
---