Coated abrasive solutions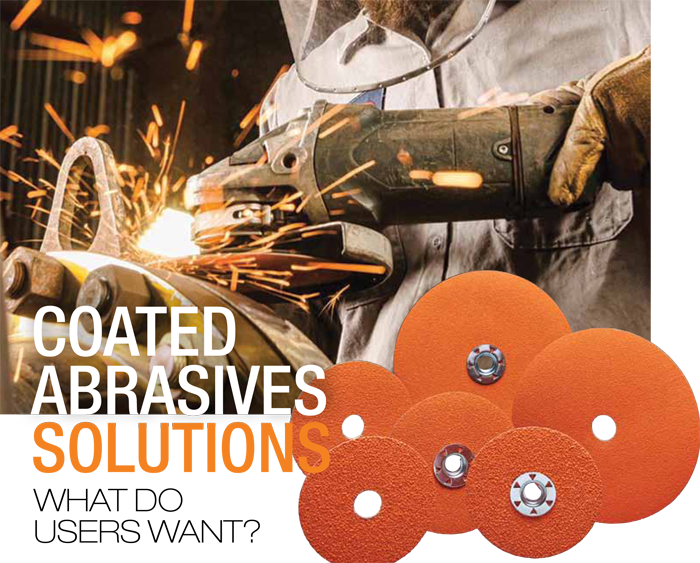 by Rich Vurva
Users of coated abrasive products need long-lasting solutions that help them improve productivity, at an affordable cost.
"Customers are requesting coarser coated products that remove metal faster – also known as cut-rate – and last longer," says Jeremy Spencer, senior application engineer for Norton | Saint-Gobain Abrasives. "With fewer employees, longer backlogs and higher wages, companies do not want all their operators' time spent grinding each day because this results in increasing the overall abrasive cost in a product." Also, customers who require more refined finishes are requesting methods to reduce steps, and complete tasks faster with fewer operators.
"With all coated abrasives, customers want products that are easy to use because employee turnover and the necessity to train new employees is often higher than in previous years," he adds.
He outlined a variety of solutions that Norton | Saint-Gobain Abrasives offers customers to meet their needs. For example, Norton BlazeX F970 satisfies the need for faster cut-rate at an affordable price. F970 is a non-supersized product that has been over-graded to have a faster cut without the cost associated with supersized products for customers grinding carbon steel.
Norton BlazeX F980 was created for customers working with hard-to-grind materials such as stainless steel, Inconel, titanium and aluminum. "Improved grain, together with our Norton COOL-FRICTION Technology resin system, reduces heat and prevents capping of the grain. These improvements increase the product's life, and allow operators to increase production rates," he says.
Spencer says flexibility is another concern often voiced by customers. Norton RapidPrep XHD discs combine two steps into one. The discs have a higher cut-rate than traditional non-woven products, allowing operators to remove lines or welds without the coarse grit scratches left behind from products such as fiber discs or grinding wheels. RapidPrep XHD discs also feature the Norton Clean Bond resin system for smear-free finish and controlled wear rate. XHD produces the cuts and finishes that customers need.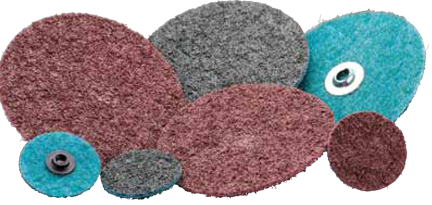 Durability is another concern of customers. Norton Vortex Rapid Prep XF was created to increase the life of non-woven products without sacrificing flexibility or finish. Vortex Rapid Prep XF belts and discs offer flexibility to adapt to different applications, and the finish that customers are looking for from a non-woven product. "Because of the durable resin system and improved grain, Vortex Rapid Prep XF can last twice as long as most A/O non-woven belts," Spencer says.
Spencer adds that in order to be a leader in abrasives, Norton continually invests in capital projects to improve product consistency and durability. "These improvements help create products that last longer and provide box-to-box consistency in cut-rate and finish.
Abrasive products are safer because of high manufacturing quality. Investments such as these will create a more automated process and remove more of the human error factor out of our products."
He says that current and future products can and will outperform products used 20 years ago 10 to 1. Creating products with consistency and extended life/performance will reduce the number of products in landfills, water and electricity consumption and saving labor usage.
What kind of product changes and improvements should customers expect in the future?
"Coarser coated abrasives products will cut faster and last longer because of advancements in grain, resin systems and cloth backings. There will be coarser grits on lighter backings so that customers will have greater flexibility for tackling a variety of applications," Spencer says.
In addition, he says that in order to reduce process steps and achieve more refined finishes, finer coated abrasives products will need to remove coarser scratch patterns while leaving a finer scratch pattern.
Supply chain concerns
Because of uncertainty linked to current trade issues and the concern over how they may affect our economy, North American manufacturing is seeking to find quality abrasive products at economical prices.
"Large corporations do not want to commit to large inventories of high-priced abrasive products which may tie up funds that can be used in other critical manufacturing segments," says Frank Prenda, vice president of sales and marketing for Gemtex Abrasives. "When abrasives are needed, cutting, grinding and finishing are the major components in the manufacturing process requiring large sums of allocated funds."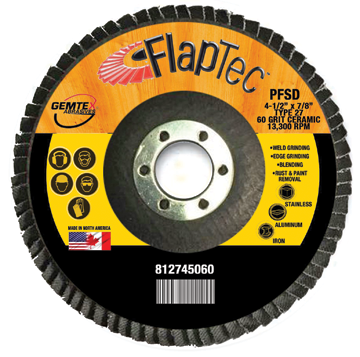 Prenda says Gemtex Abrasives has addressed these issues with its economy line of "CutFlex" cut off wheels, grinding wheels and a full line of Flaptec and Gemflex flap discs. The cut off and grinding wheels are made with a combination of aluminum oxide and ceramic blend, which offers excellent performance at very competitive prices and are available in 2-inch to 6-inch diameters and thicknesses from .045- 1/4 inches.
"The flap disc offering, manufactured in our Toronto, Canada factory, is comprised of two brands designated by quality and price. The Flaptec line is manufactured with premium zirconia and ceramic cloth available in fiberglass or plastic trimmable backing. These discs represent excellent quality at competitive prices. The line also includes a ceramic/zirconia alternating flap design which provides a quality level that fits between our 100 percent zirconia and 100 percent ceramic flap disc," he says.
The Gemflex line is a general-purpose, economy zirconia offering which meets the needs of the price-conscious customer while providing high levels of productivity and various mounting options. "Like Flaptec, the Gemflex line is available with fiberglass or plastic trimmable backing which includes a 5/8"-11 built in thread. The trimmable plastic backing allows users to realize longer disc life which further enhances their cost savings," Prenda says.
Other potential changes that may be factors in the future is the ergonomic effects caused in grinding wheel applications. OSHA has been monitoring these applications closely, concerned with the long range effect that vibration and noise may have on operators.
"To address this, Gemtex has developed the CZ45 grinding disc," Prenda says. The product is manufactured with a unique formula fused to a polymer backing that provides no vibration, is as quiet as a sanding disc and provides fast stock removal on welds. The 4 1/2-inch x 7/8-inch type 27 does not require a back up pad and mounts on all standard right-angle grinders. As an added bonus, the product minimizes emissions during the grinding process.
"At Gemtex, it is our mission to meet market demands which are currently requiring quality products at economical prices," Prenda concludes.
Ceramic abrasives
Ceramic abrasive grains are the newest material developed for the coated abrasives market, according to Leo Lavigne, director of product management for United Abrasives/SAIT. Ceramic abrasives are high-performance, synthetic abrasive materials that feature a very uniform, high-density grain structure and are extremely durable and self-sharpening for a longer life and cooler cut.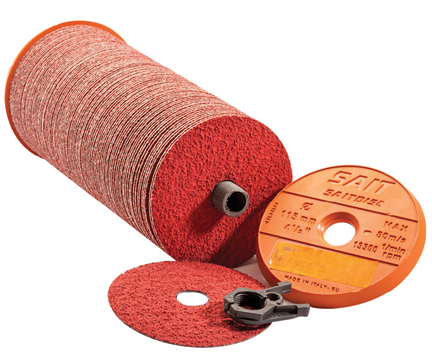 "They excel on tough to grind materials. In order to fully utilize this grain design, the coated abrasive manufacturer needs to produce this product in a way to hold this high-performing grain to the backing as long as possible. This is something United Abrasives/SAIT has mastered," Lavigne says.
United Abrasives has many coated ceramic abrasives products including flap discs, fiber discs, belts and paper discs. United Abrasives offers a variety of ceramic flap discs: Encore Ceramic Plus, Ovation Ceramic Plus, Encore Ceramic, Ovation Ceramic, TrimBack Ceramic. "For ceramic fiber discs we offer: 7S, 9S, 7-II and the new 9.3 Power Max Ceramic," he says.
"The new United Abrasives 9.3 Power Max Ceramic is our highest performing disc for stainless and high alloyed steels," he says. These fiber discs feature a high ratio of ceramic abrasives grain for exceptional grinding performance, have a special grinding aid for reduced heat and loading and allows for cool cutting under the most demanding applications.
"Since 1970, United Abrasives/SAIT has been synonymous with quality, reliability, innovation and value. We have navigated the uncertainty of the pandemic with resilience by continuing to develop and manufacture superior products, while maintaining high stock levels of our products. All of our products (including our ceramics) are made to perform to the highest standards, supported by superior service and support," Lavigne says.
This article originally appeared in the March/April 2022 issue of Industrial Supply magazine. Copyright 2022, Direct Business Media.
COMMENTS: 0
---