Buying spree
2011 M&A activity likely to increase

by Curt Tatham, Lincoln International
As the table below shows, public market valuation multiples for industrial supply companies have held stable at the very healthy levels achieved last fall. Meanwhile, private M&A valuation multiples also remain strong amidst a continuing stream of transaction announcements. Many transactions that were targeting to close by year-end 2010 due to the fear of the expiration of the Bush tax cuts ended up spilling over into the first quarter of 2011 after the tax cuts were extended. With many industry participants focused on getting those transactions closed, it may have delayed new transactions coming to market at the beginning of this year. As a result, while the first quarter has seen a number of announcements, it is likely the pace of industrial distribution M&A activity will increase as we move forward through 2011.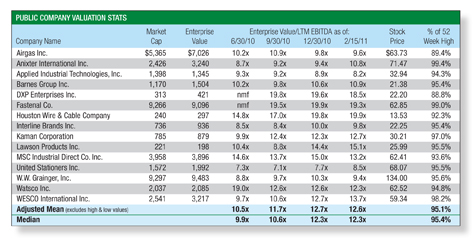 Thus far, 2011 has seen numerous transactions completed by strategic acquirers that seek to augment growth and strategically enhance their existing platform through acquisitions that expand their geographic footprint, extend their product offering or perhaps diversify their served end-markets. Recent transactions include:
Motion Industries (a subsidiary of Genuine Parts Inc.) acquired Dayton Supply & Tool Company, Dayton, Ohio, and D.P. Brown of Detroit Inc. Dayton Supply distributes machine tools, abrasives and industrial supplies to manufacturers and contractors in central and southwestern Ohio and northern Kentucky. D.P. Brown distributes conveyor belting, idlers, bearings, pulleys and power transmission products in Michigan, Illinois, Indiana and Ohio.
Sonepar Canada agreed to acquire Toronto-based SESCO/QUESCO, a division of HD Supply Canada. SESCO/QUESCO provides business customers a complete line of electrical products. SESCO/QUESCO operates out of five branches in the greater Toronto area.
BDl (Bearing Distributors Inc.) acquired St. Paul, Minn.-based Gopher Bearing Company. Gopher Bearing has locations in St. Paul and Winona, Minn.
Interline Brands Inc., a distributor and direct marketer of maintenance, repair and operations products, has acquired Northern Colorado Paper Inc., a distributor of janitorial and sanitation supplies.
Rexel acquired three companies: Nortel Suprimentos Industriais, which allows Rexel to enter the Brazilian market; Yantra Automation, allowing Rexel to enter the Indian market; and Beijing Lucky Well Zhineng, strengthening Rexel's footprint in China. Through these acquisitions, Rexel has grown its sales in emerging countries by €140 million annually, an increase of 25 percent from Rexel's 2010 consolidated revenue in these markets.
FCX Performance Inc. has completed two acquisitions that will expand its product and service offering as well its geographic reach. The two transactions include the acquisition of the Solares Controls Division of Solares Florida Corp. and Stafford, Texas-based Baro Companies, which include the operations of Baro Controls Inc. and Baro Process Products.
OneSource Distributors LLC, Oceanside, Calif., has agreed to acquire D&D Tool and Supply of Vista, Calif. D&D is a distributor of industrial, safety and tooling supplies with locations in Southern California and Tijuana, Mexico. D&D has locations in Vista, Otay and Brea, Calif., plus Tijuana, Mexico.
Wm. F. Hurst Co. Inc., Wichita, Kansas, a family-owned distributor of power tool products, tool crib products and integration systems, acquired CRC Inc., Grand Prairie, Texas, a distributor of power tools, fabrication solutions and fluid handling systems
The Hillman Companies (owned by Oak Hill Capital Partners) has acquired Servalite. The acquired company distributes residential fasteners and related products.
As strategic acquirers assess the quality of a target and refine their view on valuation they consider several areas of potential synergies that can enhance the acquired company's profitability. These elements include:
Additional vendor rebates from purchasing economies of larger combined entity
Improved sourcing of products from vendors
Improved transportation expenses
Distribution center productivity gains/cost takeouts in cases where geographic overlap exists
Reduction of costs related to purchased services, supplies and insurance
Incremental revenues from cross-selling product offerings and/or entering new geographic markets
In working with our clients, we proactively attempt to quantify the potential upside from the opportunities above to ensure potential strategic acquirers consider the highest possible value for our clients.

Curt Tatham, managing director at Lincoln International, leads the firm's Distribution Group. Reach him at (312) 580-8329 or ctatham@lincolninternational.com.
This article originally appeared in the March//April 2011 issue of Industrial Supply magazine. Copyright 2011, Direct Business Media.
COMMENTS: 0
---