Investing in the future
McGill Hose & Coupling takes a contrarian approach

by Rich Vurva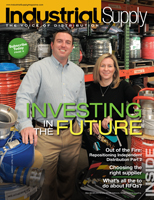 For most distributors, 2009 could be dubbed the year of the cutback. To trim costs when business slowed, they cut back on inventory, investments and employees.
McGill Hose & Coupling, a family-owned distributor of flexible hose, fittings and fluid handling components based in East Longmeadow, Mass., took a contrarian approach. Despite sales being down nearly 25% last year, McGill increased its inventory, invested in equipment and computer software upgrades and hired a new director of operations, an inside salesperson and a second welder in its fabrication department. Company management believes the investments will pay dividends in future growth, but also helped get them through the recent recession.
"When I look at my competition, typically the first thing they do is cut back on inventory, and the second thing they do is cut back on people," says company president Harry McGill. "We need inventory to service our customers and we've never had to lay off anybody and never wanted to. We always seem to weather these storms."
As a supplier to chemical plants, food processers, pharmaceutical, biotech and plastics industries, McGill's business cycles ebb and flow with the major OEMs it serves.
"Last year we felt a downturn with some of our OEMs. But we maintained our inventory levels," says Alex McGill, Harry's son and company vice president. "I noticed that people were driving past our competition just to get here because we had the parts. It's our job to have inventory for customers. We gained some new business because of it."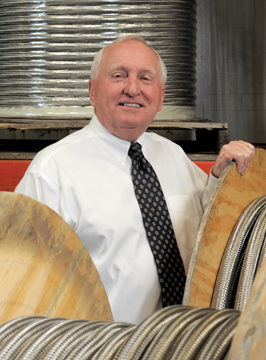 Third-generation expertise
When the company was founded in 1962, it focused primarily on fabricating Teflon and metal hose assemblies. Over the years, product lines and capabilities grew to include industrial rubber, hydraulic and composite hoses and assemblies, tube bending, pressure testing, tagging and identification programs.
"We can fabricate all of these things under one roof. We look for customers that appreciate our value-added services and expertise," says Harry McGill.
In 2005, McGill acquired Industrial Equipment Supply in Woburn, Mass., which operates as a separate division. Within the next few years, McGill hopes to expand either through acquisitions or by opening additional branches.
The company has a reputation for fabricating difficult-to-find parts and custom assemblies. For example, a recent project for aircraft engine manufacturer Pratt & Whitney involved fashioning a custom handle on a quick disconnect coupler for controlling air flow while testing jet engines. The longer handle will give workers easier access to the coupler without redesigning scaffolding used to position workers alongside the massive engines.
Another project solved quality problems for a metal fabricator that bends tubes into vacuum cleaner handles. The fabricator builds the parts for Butler Corporation, a manufacturer of cube vans and trucks for commercial carpet cleaning and restoration professionals. McGill designed a jig that enables fabricators to maintain a consistent shape and size.
In a project for American Saw & Mfg. Co., maker of Lenox band saw blades, McGill designed Teflon hose assemblies used to transfer coolant during the manufacturing process. The assemblies transport liquid that cools metal hole saws while they're being manufactured.
In each example, customers valued McGill's ability to analyze their processes and devise a customized solution. "We like to solve problems. We're not just pushing commodities," says Harry McGill.
Alex McGill says a key to solving problems is learning to ask questions of the customer.
"We ask a lot of questions when talking to customers. If they call to place an order for green hose, we ask, 'What are you trying to do with the green hose? Why do you need to replace it?' If I could get you something you'd never need to replace, how would you like that?' By asking questions, we can often suggest a better option," he says.
An eye on quality
McGill recently turned its analytical skills inward when it recognized opportunities to grow the business by investing in new equipment and hiring additional staff. Realizing that no other distributor in the northeast had the capability to fabricate large-bore hose assemblies, McGill purchased a 10-inch crimper to fabricate crimped assemblies. The crimper makes finished assemblies in less than half the time compared to a manual operation, and produces more consistent assemblies that withstand higher pressures than band clamps.
Adding a second welder in the fabrication department moves McGill closer to its goal of fabricating most metal hose assemblies in one day. Both welders are certified to fabricate pipe that meets the American Society of Mechanical Engineers (ASME) B31.1 pressure piping code.
Energy efficient lighting installed throughout the 30,000-sq. ft. facility reduced costs. Motion detecting sensors in select warehouse aisles turn on the lights when someone enters the aisle and turn them off after 10 minutes. The lights improved visibility, boosting productivity and safety, and saved $500 per month in electricity costs. A rebate from the local power company paid for their installation.
Newly hired director of operations and quality, Larry Vincent, recently completed a quality manual based on ISO standards. Before being hired by McGill, Vincent owned a textile manufacturing company that produced fabric for automotive airbags. As a supplier to Tier 1 automotive suppliers, he developed expertise in ISO certification, QS9000 quality standards, lean manufacturing and similar processes. He has devised standardized operating procedures for everything from receiving, shipping and order input, to fabrication and assembly.
"One of the first things we looked at was quality. We developed a quality system based on the ISO standards. When we complete this, we'll be able to be ISO certified if we desire to go in that direction," Vincent says.
The company also adheres to the Hose Assembly Guidelines established by NAHAD – The Association for Hose and Accessories Distribution. Alex McGill previously served as training coordinator for the Guidelines program. He is currently captain of the association's metal hose guidelines team and will become the next NAHAD president. He has been successful in convincing multiple customers to require that all hose assemblies they purchase must be assembled by NAHAD Listed Distributors.
"People are asking more from their suppliers today than ever before in terms of quality," he says. "Once you start seeing more of that kind of pull through from the customer, and the Guidelines program gets more national exposure, it's going to pay off in the long run."
Harry McGill says it's important to have quality processes in place when dealing with critical applications. "We always have to be very concerned because we're dealing with high pressures, chemicals and high temperatures. We can't make mistakes," he says.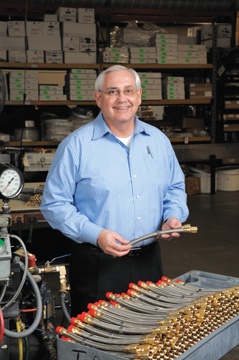 Continuous improvement
Operations manager Ainsley McGill-Gaboury, Harry's daughter, explains that one new procedure – requiring salespeople to obtain a written purchase order from the customer before entering the order in the computer system – reduced the number of credits the company issued for tax and freight charges.
"We were issuing a lot of credits for tax and freight just because we didn't have a purchase order or we weren't looking at it closely enough," she says. "Since putting this practice into place, less than .5 percent of our credits are due to mistakes from a purchase order."
Another new process requires sales reps to double-check orders before promising delivery to customers. For example, they have to verify that inventory is on hand or that the shop can devote the necessary time to fabricate an assembly before entering an order.
"We can't promise a customer same-day shipment if we don't know what our shop floor has on their plate. It's the responsibility of inside sales to stop and think what needs to be done to make the customer happy before proceeding," she says.
Upgrading to a new Prophet 21 software version provided the ability to more accurately track secondary processes, such as plating and rework. Designed for distributors that process material after it is received from the vendor but before it is sent to the customer, the
software tracks multistage, secondary processes. For example, if McGill sends a hose assembly to an outside supplier for plating, Prophet 21 will track purchase orders, costing and quantities, as well as the period of time the inventory is off premises, allowing for better inventory control.
A salesperson can easily check the status of an order for a customer, whether it's being fabricated onsite or by an outside vendor. The system also helps keeps track of the cost of materials and labor for secondary processes, so McGill can more accurately price finished products.
McGill-Gaboury believes the investments the company is making in inventory, equipment and personnel will position McGill Hose & Coupling for growth. But they've also helped develop a stronger company culture.
"We're working more as a team now," she says. "It's no longer an attitude of this is your job and this is my job, we realize that it's everyone's job to satisfy the customer."
This article originally appeared in the March/April 2010 edition of Industrial Supply magazine. Copyright 2010, Direct Business Media, LLC.
COMMENTS: 2
Industrial Equipment
Posted from: Lifting Equipment, 7/21/10 at 1:19 AM CDT
Hi Rich Vurva
Your post is very nice.
Helpful about the industrial equipment...
Great job
Posted from: Eric Pinola, 5/20/10 at 2:07 PM CDT
CANI (Constant And Never-ending Improvement)

This is a very well written article with great information, and it was interesting.

Bravo, McGill Hose & Coupling A rising tide will raise all ships.

If you ever need brass fittings, give us a call, we would love to work with a company like yours!

Eric Pinola
Champion Energy
www.ChampionBrass.com
972-228-4341 | P
972-228-4407 | F
---