Hand tool trends
by Rich Vurva
Improving safety and saving time are two major trends that hand tool manufacturers are focusing on in the marketplace.
"We're getting a lot of traction in the industrial market for products that are designed for improved safety. A case in point is our Wiss Auto-Retracting Utility Knife, which has been very successful," says Bill Bliss, manager of marketing communications for Apex Tool Group.
The blade automatically retracts the moment it loses contact with the material being cut, even if the user is still holding the blade slider forward in the open position.
Apex Tool Group also offers a new hand tool safety program focused on industrial users. It's called Safety Matters and consists of modules covering various topics that can be tailored to individual user needs. Modules include Basic Hand Tool Safety; Industrial Knife Safety; Sockets, Ratchets and Wrench Safety, Lifting Clamp Safety; Striking, Struck and Prying Tool Safety.
"The safety program is a win-win-win: It's obviously beneficial to the industrial customer; it's value added to the customer from the distributor; and it gives Apex Tool Group some quality face-time with industrial customers," Bliss says.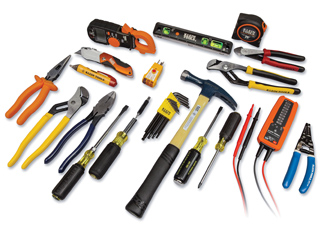 Any design improvements that improve safety are valued in the marketplace, adds Kurt Owen, director of product development for Klein Tools.
"Last year, Klein introduced a demolition driver that could take and deliver a beating. We noticed during field research that screwdrivers were being used for purposes beyond the scope of the tool. This causes a major safety hazard for the user and the job site as well as the tool itself. Through these observations, we designed and engineered a screwdriver specifically for prying and chiseling," Owen says.
Klein also introduced a new Non-Conductive Fiberglass Fish Tape to prevent shorts and faults while fishing. "The non-conductive tape and tip reduce the risk of injury and damage on the job site. Also, the round diameter fiberglass protects existing wires from damage when fishing," he says.
In addition to making job sites safer, another area of focus is on saving time. One way tool manufacturers are doing that is by introducing multi-function tools. "We believe the trend for multi-purpose tools will continue because professionals want to reduce the amount of tools they carry, thus making versatility a key. Fewer tools with more uses saves both time and money in the long run," adds Owen.
Klein's line of multi-function screwdriver/nut drivers include multi-bits, from slotted and Phillips bits, to nut and hex driver functions. For example, its heavy duty multi-bit 10-in-1 screwdriver features six universal tips and converts to three nut driver sizes and one hex driver. Another example of a multi-function tool is Klein's all-in-one wall jack maintenance tool to remove the faceplate, remove the jack, punchdown the wire and replace the faceplate.
Klein also introduced a conduit reaming drill head that fits into power drill chucks and quick release adapters. It helps install conduit runs quicker and with less effort, which saves time and ultimately money, Owen says.
John Ficcadenti, Snap-on Industrial product manager/hand tools, says that safety and ergonomics continue to be at the forefront of hand tool design and development.
"When used properly, the tools that Snap-on Industrial manufactures are safe for the technician and comfortable to use. Snap-on Industrial is constantly working with our customers to identify their needs and tooling requirements. The last thing we want is for a customer to modify an existing tool for a specific use, as any modifications can affect the integrity of that tool, creating a safety concern," he says.
Asset management and tool control are also hot topics as of late, as companies try to operate more efficiently while reducing costs.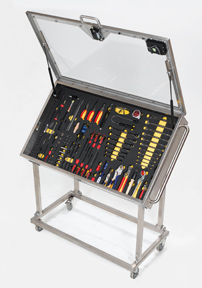 Snap-on Industrial's VTC (Visual Tool Control) system tool box is a clear-view tool box that allows technicians to see their hand tools in an organized manner for quick identification. The VTC is a single-layer, glass-covered tool box that's mobile and designed to be used for specific maintenance functions.
Snap-on Industrial also recently launched two new ratchets: a FOD (foreign object damage) Compliant Ratchet and the Williams Scaffolding Ratchet. The FOD Ratchet is intended for aviation and other critical applications where FOD and FME (foreign material exclusion) prevention is critical. Having a component separate from the tool and finding its way into an aircraft engine, or any other type of sensitive machinery, can cause great damage. To prevent that from occurring, the ratchet's coverplate and reverse lever are permanently affixed to the ratchet head with rivets to eliminate the chance of small parts separating from the tool.
The Williams Scaffolding Ratchet is designed for when the job calls for erecting scaffolding to work at an elevated level. The Scaffolding Ratchet is three tools in one – tools that are needed to easily and quickly engage the posts, fasteners and clamps on scaffolding. Opposite of the socket is a bronze hammer head, which comes in handy to pound out quick-release levers. Lastly, a pry bar is located on the other end of the ratchet to aid in scaffolding disassembly.
This article originally appeared in the May/June 2013 issue of Industrial Supply magazine. Copyright 2013, Direct Business Media.
COMMENTS: 1
Posted from: , 5/22/17 at 8:54 PM CDT
SY INTERNATIONAL TRADE CO.,LTD are specialized in wide range of hardware products Lower cost better quality Fast delivery Perfect service Hope to be your best business partner, if you need to buy hand tools and hardware tools in China, please send us an inquiry.thank you!www.shsytools.comwechat/whatsapp:+8613248040528email:amy@shsytools.com
---