Flexible solutions
This Central Illinois industrial distributor will soon celebrate 100 years of serving customers
by Rich Vurva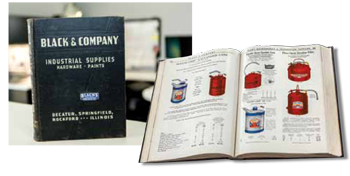 This early Black & Co. catalog dates to the 1930s, when the company sold hardware, paints, coatings, varnishes and industrial supplies. The company was founded in 1920 when Roy M. Black, great-grandfather to current managing director Tommy Black, made a handshake deal to purchase Gebhart Hardware in Decatur, Illinois.
If the best testament to business success is longevity, Black & Company is a true winner. In business for nearly 100 years, the Central Illinois industrial distributor prides itself on providing top-notch customer service. This fourth-generation, family-owned company has navigated through the myriad changes that have taken place in the economic landscape over the years and is poised for continued growth.
Company founder Roy M. Black, great-grandfather to current managing director Tommy Black, started the business when he made a handshake deal to purchase Gebhart Hardware in Decatur, Illinois, in 1920. The 25-year-old former railroad employee who grew up on a farm in London, Kentucky, knew that hardware was in great demand by farmers, so he took a chance on buying the business.
Located in the industrialized city of Decatur, Black quickly realized his company's products were needed in the nearby factories also, so he expanded into selling industrial supplies.
"Over that first generation with Roy at the helm, he grew the business from a single branch in Decatur to five branches throughout the state of Illinois," Tommy Black says. "I always give my great-grandfather the credit with being the true entrepreneur of the family. We have been fortunate to have a solid company throughout the generations. Our values haven't really changed over the course of our history."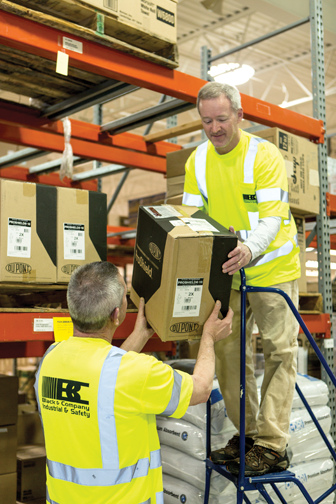 Warehouse employee Don Matejowsky hands a product for an order to Terry Clennon.
Now marketing itself as Black & Company Industrial & Safety, it operates seven locations in Illinois and Indiana, serving customers in a broad range of industries. They include general industry and manufacturing, agriculture, food processing, commercial construction, heavy equipment manufacturing and assembly, pharmaceuticals, mining, automotive, government and defense, healthcare and municipalities.
Decatur is still considered the headquarters because that's where the business began, but much of the management functions are now based in Champaign, Illinois.
The company is divided into three business units. The largest and oldest focuses on maintenance, repair, operations and production (MROP), followed by units dedicated to metalworking and safety.
"The expertise we have in those three verticals is invaluable to our customers. It gives them the ability to reduce their number of supply chain partners, streamline procurement processes and increase their through-put, ultimately driving procurement and operational efficiencies, ending in cost savings," Black says.
The current service offering has expanded over the years to meet evolving customer requirements. Programs include on-site integrated supply services, vendor-managed inventory, industrial vending solutions, comprehensive in-plant risk and safety assessments, inspections, calibrations and repairs of a wide variety of gas instrumentation, tool repair programs and fall protection inspections and servicing of equipment.
"Each branch tends to customize product mix and services depending upon the local customers they serve," explains Steven Galetti, industrial sales manager. "The Indianapolis market has a much more diverse customer base compared to the Champaign branch, which is more focused on manufacturing."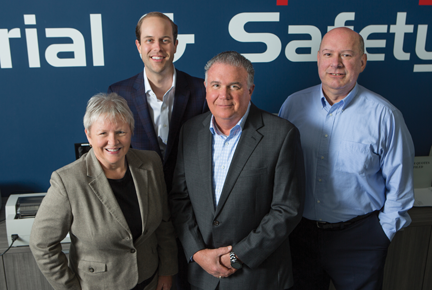 Black & Company's management team includes (left to right) Val Roberts, branch manager of the Springfield location; Tommy Black, managing director; Tom McCoy, head of the safety business unit; and Steven Galetti, industrial sales manager.
Serving the customer often requires asking a series of questions in order to tailor a solution to fit their needs. Where are your problems? What process are you trying to improve? Where are your bottlenecks?
"Part of our value proposition is to be flexible with each customer," says Galetti. "If you really want to help a customer, you must understand what they're trying to accomplish in order to bring in the appropriate manufacturers and solutions."
While he prefers not to divulge sales figures for the family-owned business, Black says the company had its best year ever in 2017. One reason for the success is a team of longstanding employees, with an average tenure of 20 years.
"Our team is experienced in unconditionally making the customer's interest our best interest. In many ways that is what differentiates us from some of our competitors. Unparalleled customer satisfaction has always been the key to our success and, like any longstanding organization, the ultimate differentiating factor that we possess is our team," he says.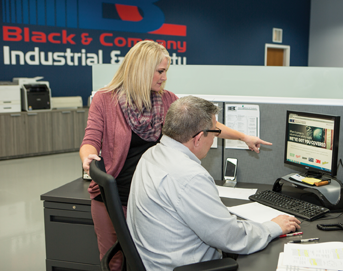 Team members Stacey Guthrie and Randy Jones are among the staff at Black & Company's Champaign location.
Documented cost savings
In 2017, through a variety of efforts including vending and other vendor-managed inventory programs, plant surveys and process improvement programs, Black & Company documented more than $500,000 in cost savings for customers.
"Where customers have multiple sites throughout our region, we've been able to standardize the product mix, further adding to the cost savings component. So, product standardization has been another driver of our value to customers," Black says.
Customers who request vending options in a variety of configurations such as lockers or who want more tracking capabilities may opt for CribMaster's ToolCrib solution. Those who just want a simple, cost-effective way to dispense products where all an employee needs to do is punch in a code to select a pair of gloves, for example, may choose the SnapVend coil machine.
"We try to sit down with the customer to understand what they're hoping to accomplish and then outline options available to fit that need," explains Tom McCoy, who heads up the company's safety business unit.
The vending solutions reduce waste and standardize product availability. In the case of personal protective equipment, it also ensures that workers are using the correct product to provide the protection needed on the job.
"Instead of a lot of people throughout the plant purchasing what they want, the safety department has the ability to drive what product is best for the employees for protection, fit and function," says McCoy.
A recently launched initiative called Zero in on Safety 2018 was developed to assist customers with zero lost time incidents in 2018. This should raise awareness among staff and customers about the importance of equipping end users with proper PPE and the practice of sound incident prevention and safety habits in the industrial workplace.
Plant surveys, such as ladder inspections or fall protection surveys, are another way to uncover opportunities to benefit customers. The services are provided at no charge with the understanding that the customer will order products from Black & Company if the survey reveals problem areas.
Sometimes, customers may ask for help in analyzing a production process.
"They may come to us and say, 'Are we using the proper sanders? Is there something better that we can be doing to speed up our production process? We're spending 15 seconds on this process. Can we cut it to seven?'" explains Galetti.
Galetti describes one instance where an automotive industry account needed help cleaning paint splatter from a part coming out of a painting operation. Overspray left excess paint on the part and operators used an abrasive to remove the paint, slowing production.
"We brought in a chemist from a chemical manufacturer to look at the process. It took us several months of testing before we finally formulated a cleaner that they could spray on the part, wait about five seconds, and then wipe off the paint. We were able to change a process that used to take about a minute to a minute and a half and cut it down to about 20 seconds," Galetti says.
Mobile Tool Crib
Virtually every manufacturing facility schedules planned downtime at least once or twice a year for re-tooling or to perform routine maintenance and repairs on production lines. To ensure that one customer would never run out of the supplies it needed for an upcoming shutdown, Black & Company recently created a mobile tool crib. A box truck fitted with shelving, inventory and a point-of-sale area will remain on site for the duration of the planned shutdown so plant employees and contractors will have easy access to the supplies needed for the project. When required, another delivery vehicle will travel to the site to replenish the mobile tool crib.
"It's really a consignment program because we're taking the inventory to them but they don't pay for it until they pull it out of the truck," explains Black.
The first mobile tool crib launched in April was a pilot program, but it's likely that it will be expanded to other customers.
"Our plan is that this will save them downtime from running six miles down the road to pick up a piece of safety equipment or something else they may need," says Val Roberts, branch manager at the Springfield branch.
An added benefit for Black & Company is that the vehicle sits in a prominent spot on the customer's property for weeks at a time, providing valuable advertising visibility.
Odds for success of the mobile tool crib, like other programs the company offers, greatly improve when Black & Company works closely with customers to make sure the effort meets their unique needs. Nearly 100 years of history has proved that the more flexible the solution, the better chance for success.
This article originally appeared in the May/June 2018 issue of Industrial Supply magazine. Copyright 2017, Direct Business Media.
COMMENTS: 0
---