Increasing through-put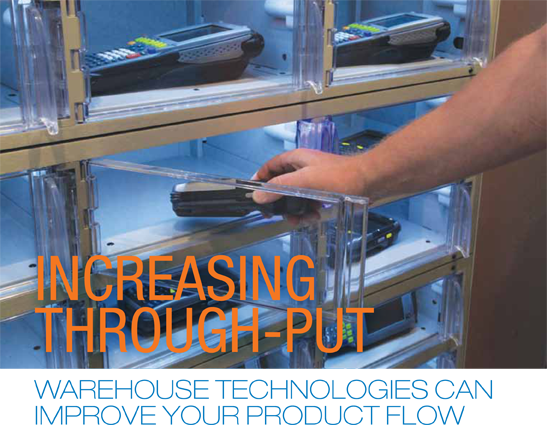 By Rich Vurva
The name of the game today is increasing through-put to boost profitability. The key is to move product as efficiently as possible through your warehouse without hiring more employees.
Here are some ideas to think about from some of the companies that provide best-in-class solutions.
Apex Supply Chain Technologies
Industrial digitalization and service commoditization are two trends driving the development of our technology. These trends mean distributors need a clear point of difference to stand out. That's what AXCESS self-serve, automated
lockers provide them.AXCESS lockers offer a straightforward process for managing high-value mobile devices, like handheld scanners, voice-picking headsets, printers and tablets.
Facilities can come to a complete standstill without these mission-critical devices and
equipment, but most companies do not manage it. This creates a variety of issues, including device hoarding and loss. This results in low employee productivity, wasted time and frequent repairs and device replacement.
By automating this process, companies eliminate the waste and inefficiency hiding in their supply chains. In fact, customers see a 40 percent reduction in mobile device replacement costs using our lockers.
The AXCESS self-serve, automated locker solution from Apex provides a secure environment to protect a company's significant investment in mobile devices and other technology.
AXCESS lockers establish accountability for these valuable devices and protect them from loss and damage to ensure employees can begin their shift immediately. This helps deliver companies a variety of benefits that contribute to a return on investment (ROI) in an average of one to three months.
Decrease costs: Costs decrease with a more productive workforce and less-frequent asset replacement. In fact, companies see as much as a 40 percent reduction in device replacement costs.
Increase employee productivity: Automating the device check-out and return process increases productivity, as assets can be deployed at the point of work throughout a facility. This also reduces "walk-and-wait" time.
Make devices available 24/7: Employees check out assets using personalized ID cards or codes. This ensures they have access to the tools needed to do their job, and these tools are ready when they need them.
Managers work smarter:
Managers can focus on more important tasks because they do not have to help locate missing assets. If devices are not returned at the end of a shift, or if a device needs service, managers automatically receive alerts.
All Apex devices are connected to the Trajectory Cloud platform. Trajectory Cloud collects and manages data from each solution in real-time, automatically creating reports, monitoring status and alerting managers as warranted. Management can easily access the platform through a secure web portal or mobile app.We continue to enhance our lockers based on customer feedback, including shallow depth and outdoor lockers. We'll continue to enhance the AXCESS solution to make it even more flexible in meeting customer needs.
Newcastle Systems
The growth of e-commerce, which is projected to hit $600 billion by 2021 in the United States, has put immense pressure on everyone involved in the distribution industry, from the largest distribution centers (DCs) to small family-run businesses. Consumer demand and buying patterns require faster order cycles, smaller order sizes, increased SKU counts, maximized capacity and a more efficient use of labor.
The increased demand and need for speed has come at a time where warehouse labor is scarce, and often carries high turnover rates. To make matters even more difficult, DCs receive very little budget for improvements like automation. The distribution industry needs to respond to the customer's growing demands despite the limitations, and in most cases the brunt of problems falls on the operations staff to solve.
Newcastle Systems offers DCs labor and capacity improvement solutions by mobilizing their workforce and improving utilization rates. In today's competitive market you simply can't afford to have people only working 40 to 50 percent of the day. In many common warehouse processes I observe, such as receiving, walking is 50 percent of the process, which destroys productivity, fatigues workers, and can be a safety issue with dock traffic. Mobilizing a workforce has immediate and quantifiable results. There is a pretty good ratio between motion and productivity; if you cut wasted motion in half you often double productivity. We see it all the time and operations appreciate our product because it requires minimal investment and IT resources, plus it has a fantastic ROI.
Newcastle Systems carries a full line of mobile workstations and mobile power solutions that lead to process improvements and reduced motion on the warehouse floor.
Different types of battery chemistries and cart configurations are used in receiving, picking, shipping, cycle counting, quality assurance and supervisor use. All departments that implement our solutions gain productivity, velocity and accuracy by adding mobility to static devices such as printers, computers and scanners. The improvements impact many metrics in which operations are measured including dock-to-stock times, lines received per hour, picking rates and shipping accuracy.
We see a big push to dimensioning as more and more companies ship smaller order profiles and want to ship at the best parcel rate using the correct box size. We've seen companies save thousands of dollars on freight just by selecting the optimal carrier and package size. Plus, dimensioning plays a big role in warehouse capacity and maximizing storage locations. Accurate dimensioning cannot be done by the eye test. For proper measurements, warehouse managers should implement dimensioning software and workstations.
We're also seeing more companies require their supervisors spend more time on the floor engaging with workers and solving problems. I recently attended a Lean seminar where organizers detailed a statistic – 86 percent of workers are satisfied in their jobs, but only 30 percent feel engaged by their employers. The amount of ideas that can flow from the supervisors to the staff provides great benefits to the functionality of the warehouse floor. The lack of communication equates to billions of dollars a year in lost opportunity. Laborers look to their supervisors for support, growth objectives and guidance on an hourly basis; it's not productive when the supervisors are not present.
Recently, a Newcastle client, a top 20 3PL, gained 15 percent in productivity just by making supervisors mobile. Plus, we offer products that let people stand or sit at different times of the day allowing them the flexibility to work anywhere and any way they want.
ID Label Inc.
E-commerce sales and omni-channel fulfillment operations have led to a huge increase in SKUs and inventory volumes in warehouses and distribution centers across North America. Yesterday's processes for managing inventory and through-put are under pressure as warehouse managers try to keep pace with rising expectations for rapid order fulfillment. It can be a real challenge if your systems and processes aren't up to par.
One trend in today's environment is that warehouse storage racking is more likely to need new barcode identification labels as items are shifted to accommodate changes in product velocity, promotions and seasonality. We're seeing growing demand for barcode labeling solutions that can accommodate our customers' needs for inventory location flexibility.
Today's modern warehouses are smart, automated and efficient, employing sophisticated warehouse management software. Barcoding technology, labels and signage are a key part of making all that work.
We offer a wide range of warehouse labeling, signage and installation services to end users and distributor/reseller partners.
You have expertise in running your distribution business, not necessarily in printing and installing barcode location labels and signs needed to facilitate your operations. As we say: when we do the barcodes, you can do more.
ID Label's solutions are used by thousands of global organizations to keep their businesses moving with efficiency, speed and accuracy. We have an experienced team of sales consultants who are passionate about working with our customers to provide smart ideas and innovative products.
Warehouse operators want more leeway to slot their products in a way that maximizes use of space and improves picking efficiencies whenever they can. We've introduced two new solutions that provide a great deal of labeling flexibility to accomplish this.
Clean Release is a removable warehouse label designed with today's modern warehouse in mind, where speed, efficiency and inventory location flexibility are top priorities. It features an advanced adhesive that adheres tightly to virtually any surface, yet allows easy removal of barcode labels on warehouse beams, shelves, bins and totes – even after years of use.
Another solution is Beam Renew, a warehouse rack cover-up solution that applies directly over old warehouse beams and barcode labels without the time and expense of cleaning, scraping or painting. Beam Renew also features an easy-release top coating that makes it a breeze to apply, remove and relabel beams to accommodate shifts in product inventory, pick-location changes and seasonality.
AML
We're seeing many distribution centers retooling themselves to become hybrid facilities in that they are still acting as a distribution center, getting products to customers, but reconfiguring their facilities and resources in such a way that they can also handle direct-to-consumer fulfillment. This is a major change for facilities that are used to moving product on pallets with forklifts, and are now being asked to pick, pack and ship by the piece. This is causing a change in the way we think about technology in the warehouse. Not everything has to go on a forklift or needs to scan a barcode from 20 feet away. In fulfillment activities, things are much more "close order."
At AML, we manufacture barcode data collection products that are specifically engineered for the supply chain, starting with manufacturing running straight through to the retail store front. With so much emphasis being placed on e-commerce strategies and their related fulfillment activities, we have an array of products to meet today's challenges. We offer mobile computers specifically designed for forklift applications, as well as barcode scanning mobile computers designed for handheld applications requiring a high degree of reliability and multi-shift use. To address the fulfillment aspect, we offer a line of rugged stationary computers with integrated barcode scanning, that make "hands-free" packing of singular items much easier. A great deal of effort goes into the design elements of our products to ensure maximum uptime in challenging environments.
We'll continue to focus not only product enhancements, but entirely new products that will be tailored specifically to these hybrid distribution facilities. The emphasis on e-commerce fulfillment capabilities is still on the rise and has nowhere near peaked. Opportunities to provide more efficient tools for moving products to the consumer will continue to surface and, as a hardware manufacturer, it is incumbent on us to develop them.
This article originally appeared in the May/June 2018 issue of Industrial Supply magazine. Copyright 2018, Direct Business Media.
COMMENTS: 0
---