Relentless Service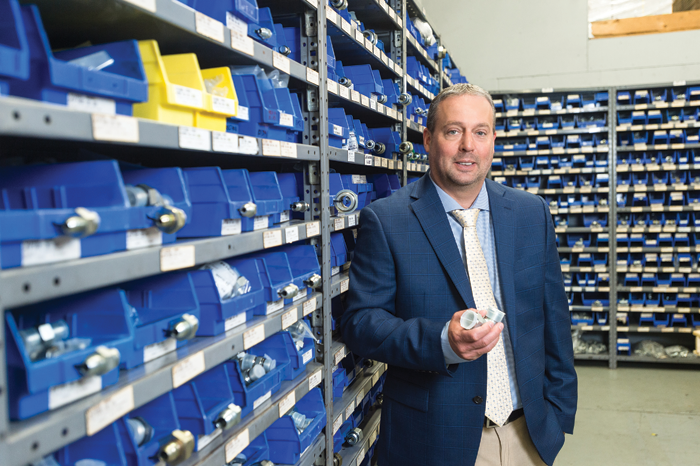 Jason Westad, chief sales officer for FORCE America, stands in front of the company's visually aided inventory management system.
This employee-owned business is dedicated to relentlessly serving customer needs
by Rich Vurva
"If it moves and does work, we want to be part of it." That's how Jason Westad, chief sales officer for FORCE America, describes the markets that the Burnsville, Minnesota-based
company serves.
FORCE America is a mobile fluid power distributor and manufacturer that serves on- and off-highway mobile markets. It provides systems and components to original equipment manufacturers (OEMs) in a wide range of industries including agriculture, utility, refuse, recycling, snow and ice removal, construction and more.
The company is a distributor of fluid power products such as pumps, valves, controllers, hydraulic hose, couplings and accessories. In addition, with manufacturing facilities in Alexandria, Minnesota, and Milwaukee, Wisconsin, FORCE America also manufactures hydraulic valves and integrated mobile hydraulic valve systems designed to control cylinders and motors on mobile truck applications. It also designs and produces electronic controls including joystick controls, wireless controls, sensors and spreader controls that help winter maintenance professionals spread salt with precision and simplicity.
With 15 locations nationwide and 400 associate-owners, this 100 percent employee owned company's goal is to "relentlessly serve" the needs of customers.
"In order to do that, we strategically place distribution centers so that we're within one-day UPS service from any given customer," Westad says.
Each facility includes inside and outside salespeople, inventory, light machining, assembly and testing capabilities.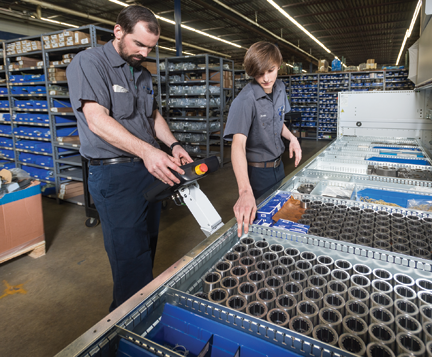 Terry Schwartz and Brady Lustila operate the new Modula vertical storage carousel at the company's Burnsville, Minnesota location.
The Wisconsin manufacturing site builds electronic controls and GPS tracking hardware, while the Minnesota factory focuses on integrated manifold circuits, integrated hydraulic circuits, plus liquid application and manufacturing equipment.
"We manufacture salt brine manufacturing units that create the salt brine put on roads before snow storms hit," Westad explains. "The application units go on the back of trucks and apply the product automatically, based on speed of the vehicle and temperature."
For an ideal customer, FORCE America provides all of the hydraulic components required on the equipment that OEMs make. That could include the pump, valves, controllers, motors, cylinders and hoses. "It's a complete hydraulic system solution. With all of the rubber hydraulic hose that we supply, we're one of Weatherhead's largest distributors of hose," Westad says.
Considering the broad range of vehicles and equipment that use hydraulic systems, from logging trucks, farm tractors, waste haulers, cranes, utility vehicles and more, FORCE America serves a highly diversified customer base.
"We weather recessions different from most distributors. For example, if crop prices are down and agricultural equipment is not being made to the degree that it had been, some other sector, like refuse or utility, may be doing well. That diversity in the types of places where we can apply fluid power helps us," Westad says.
Sales remained strong even during the pandemic when other companies struggled. If not for the global supply chain issues that have hurt virtually every business, sales would be exceeding the record-setting pace the company is on.
"We expect revenue to grow 10 percent this year, over last year, but our open orders would indicate we should be double or triple that if we could get products," Westad says.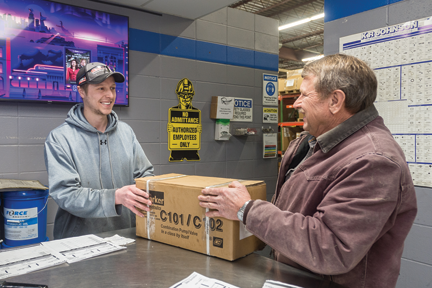 Jordan Simon consults with a customer at the company's Burnsville location.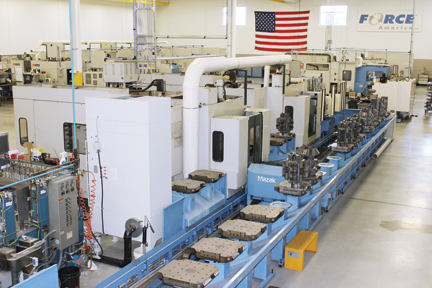 FORCE America's Valve Division includes 14 horizontal machining centers in Alexandria, Minnesota.
In the beginning
The company traces its origins to 1953, when the Pederson-Sells distributorship in Fort Dodge, Iowa, was founded. In 1997, Pederson-Sells merged with another employee-owned company, Mid-America Power Drives, to form FORCE America. Over the next two decades, through a combination of opening new divisions and making strategic acquisitions, FORCE America began to expand its capabilities. In addition to the FORCE America brand, the company continues to promote acquired brands VariTech Industries (liquid management solutions), PreCise MRM (GPS-based automatic vehicle locators) and Mobile Equipment Systems (distributor of mobile hydraulic components and services).
In 2021, PreCise MRM acquired MarshallGIS, a Platform as a Service (PaaS) provider focusing on connecting managers to information about their mobile operations.
The acquisitions have enabled FORCE America to expand its reach in the mobile equipment market. In addition to providing complete hydraulic systems used on equipment fleets, FORCE America can also equip those vehicles with devices that allow fleet managers to track vehicle locations and dispense product from that equipment."
We're always focused on what's next. We're looking for growth opportunities through additional products, additional geography, additional people and expertise or through acquisition," says Westad.
Supply chain and labor issues
Westad serves as first vice president of NAHAD, The Association for Hose and Accessories Distribution, and has attended NAHAD events for most of the 21 years he's worked at FORCE America. When asked to join the NAHAD board, he jumped at the opportunity.
"I value the relationships that I have developed and friendships I've built through NAHAD. Serving on the board has exposed me to people whose knowledge and experience I value. It has helped me personally and professionally."
He'll sometimes reach out to other board members to discuss common issues they face. During the early days of the pandemic, board members shared ideas to help them get through the issues they were dealing with. Today, they might talk about current supply chain delays and labor shortages.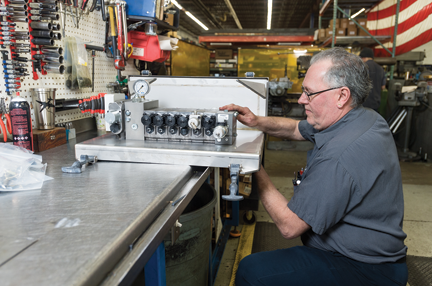 Warren Almann assembles an Add-A-Stack 4020 valve and enclosure at FORCE America's Burnsville facility.
Supply chain problems plaguing the industry have created an all-hands-on-deck mindset at FORCE America. "We're putting a lot more planners in place so that we're matching up receipts with shipments and production schedules with shipments, and working closely with suppliers and customers and their planners," he says. "Scheduling and planning and expediting is on steroids right now."
Labor shortages facing FORCE America, suppliers and customers – whether the result of the so-called Great Resignation or the pace at which Baby Boomers are retiring – creates additional headaches. "We're a growing company. We're constantly looking to add people, and it's just so hard to find people these days," he says.
One way that FORCE America has met business challenges has been by investing in solutions that automate processes and add efficiency. For example, at its facility where manifold valves are manufactured on horizontal machining centers, the process tends to get bogged down during deburring, which is traditionally performed by hand. FORCE America recently invested nearly $1 million in thermal deburring technology that removes burrs with minimal human intervention required. Products are placed into a pressurized chamber, where a spark ignition system creates the heat needed to ignite compressed gases, which burns off the burrs.
Another recent investment in a Modula vertical storage carousel has improved warehouse efficiency. Standing nearly three stories high, the storage carousel speeds the picking process because products are brought to pickers with the push of a button, eliminating the need for employees to walk through the warehouse to fill orders.
An assembly tech builds a hose assembly at FORCE America's high-speed hose production facility in Fort Dodge, Iowa.
E-commerce and technology
To meet the growing demand from customers for electronic ordering, FORCE America has plans to expand its e-commerce.
"Much of our revenue is driven by systems that are highly-engineered. It's a consultative sale. So, I think there's a place for e-commerce but I also think that for a long time there will remain a place for the traditional sales channel," Westad says.
Following a ransomware attack in 2018, FORCE America boosted its investment in cyber security. Working closely with external technology specialists and internal IT staff, FORCE America avoided paying the ransom demanded by hackers. But the attack meant orders had to be written by hand for two days until the problem was solved.
A plan is now in place to address potential vulnerabilities. The company also trains associate-owners in how to avoid mistakes that may lead to cyberattacks. "We occasionally send fake phishing emails to our employees. If they accidentally click on a link, we send them through additional training," Westad says.
Westad says being an employee-owned business gives associate-owners an added incentive to work through business ups and downs.
"We're proud of how our associate-owners are navigating these challenges, and we think it's because of the culture of being a well-run ESOP, that everyone's rowing the ship in the same direction in serving our valued customer and supplier partners," he says.
This article originally appeared in the May/June 2022 issue of Industrial Supply magazine. Copyright 2022, Direct Business Media.
COMMENTS: 0
---