Have we forgotten STAMPED?

by Chad Peter
In today's highly evolving digital space of product crossover tools that guarantee the right hose or fitting at the click of a search request, have we ultimately lost our way on what's important? Have all those years of training and being beaten over the head with the proverbial STAMPED acronym hammer been for nothing? It's hard to think all of that knowledge could be forgotten with the click of the mouse or swipe of a finger.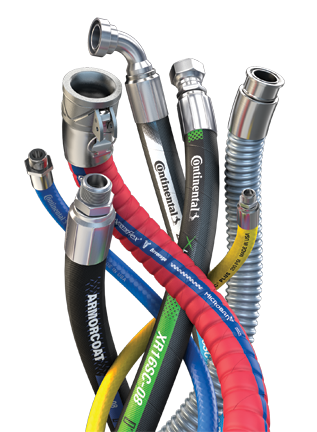 Early in my hose assembly career, STAMPED was the gospel. Whatever mystery surrounded a hose, fitting or assembly replacement was easily solved with asking the basic questions that revolved around that simple acronym. Fast forward to 2022, 14 years after my industrial product journey began and it's rarely used in its entirety. With the power of the internet at our fingertips one simply searches for what they have, and a corresponding replacement is sent back at light speed. It's almost like autotune for that aging pop star trying to cut that 15th album; results are good until performed live. The in-field application has many more variables beyond our control, and whatever is in that application will face some adversity. At face value we can cross-reference something but once you get into the weeds more problems arise, and you're back to square one.
This once simple process that proved successful has been replaced by digital databases and easy-to-use interfaces that quickly offer a solution. Now you're probably saying, "Wait isn't this a good thing?" Perhaps. But what if that digital reference doesn't have all the info? What if the item we're trying to find needs us to do more homework? Maybe the hose the customer is using continues to fail. Why? A simple replacement probably isn't the answer. Does the customer really know the application?
We're the technical experts in our field of expertise, not Google. However, there are some good tools that can help beyond just asking for a part number. Continental's "HoseSelect" does an excellent job of prodding you for more STAMPED information to help make the best selection decision.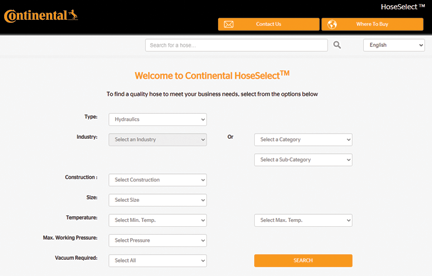 So where does all this info and vast array of choices leave us? I often make the analogy of "know your roots." A more relatable way to connect with today's digital age could be something like the gaming industry. Those highly coveted new consoles, the Xbox series "X" or PS5 (whichever side you prefer, Xbox is still better) came to fruition with the groundwork laid by the Atari and Nintendo Entertainment System (NES). What started as a simple gaming system, changed the world we live in today. Without that firm foundation of 8-bit fun that captivated us as kids and fostered the love of that industry, we'd never be anywhere close to what we have today.
The same is true for STAMPED. When you dig down to the roots, do our recommendations genuinely solve customer needs and problems? Are we still relying on the foundation that was set so many years ago? Are we asking the simple questions about Size, Temperature, Application, Media, Pressure, Ends and Delivery? Most of the time, the answer is probably no. We're heavily dependent on the information that we've cross-referenced and said, yes, that's an apples to apples comparison. We check the box and move on to the next email in our daily queue. While this practice is common, it can come back to bite us. We've all received the response, "the hose/fitting combination you recommended failed" or "what you recommended didn't do as well as your competition." Uh oh! Upset customer, strained relationships, financial impacts, lost confidence, someone injured, the list can go on and on.
Each part of STAMPED is critical to ensure the above doesn't happen. It's our version of a "fail-safe." While not perfect, it narrows the window for failure to a more acceptable margin of error. The implications of hose/fittings errors are nothing to overlook. You could have the correct hose rated at the proper working PSI, but overlook the fact it also needs to be rated for 300 F not 212 F. Or have the right hose that can handle the media at the correct temperature while operating at 5,000 PSI, but your female JIC fittings are only rated to 3,000 PSI. Is that application dynamic or static? Oh geez, it's exposed to sunlight 24/7 X 365; that's a game changer. It's like a game of chess on a hard day when so many things exist due to the environment around our products or a customer's application. We must remain mentally sharp and engaged for the challenge!
The old saying goes "the devil is in the details." If you miss something small, that hose or assembly could be a ticking time bomb. Take some additional time to validate that quick cross-check from your flavor of search tool in your bookmark bar, whether it's the Google machine or an industry related crossover. Remember, when things go south, the customer will call you for answers, not ask the internet why his or her stuff failed. We're the experts who should be asking more questions rather than avoiding them.
The products we deal with move the world and demand respect for what they can do if something goes wrong. While hydraulics might be a commodity type product to most, getting it right for the customer still goes a long way. Don't undersell the value of picking up the phone and speaking to someone. Or making that visit to the jobsite where the problem is occurring. Get back out there, get your hands dirty and find out why! Let your customers know that STAMPED isn't forgotten and neither is their most valuable asset, you.
Managing through supply chain issues
by Susanna Vandenberg, Flexaust
Supply chain delays have seriously affected product development. The cost of materials, obtaining materials, increased lead times and production time are top of mind. Our focus at Flexaust has been on how to manage these issues and still manufacture and deliver product.
We've continued to enhance Flexaust's digital marketing program with informative and educational topics, ultimately driving more traffic to the Flexaust site, along with very qualified leads. We've also expanded many of our locations including manufacturing lines
and invested in additional inside technical sales folks and training.
For example, we opened a new 58,000 square foot facility in Burlington, North Carolina, with nine production lines. Our Amesbury, Massachusetts, facility has grown by 20,000 square feet. Currently at 54,000 square feet of space, the site has added three new production line. Plus, we added 26,000 square feet and two production lines to our Las Vegas manufacturing facility, which now total 50,000 square feet. Our Warsaw, Indiana, facility has grown by 27,000 square feet to 271,000 total square feet with the addition of four production lines.
In addition, we continue to invest in technology. Flexaust is in the final stages of developing a Product Information Platform (PIM) that will allow Flexaust to distribute critical product information to distributors, especially to those with an on-line presence.
We also plan to offer customized accessories to accommodate Flexaust's all plastic vacuum hoses branded as Flex-Tube.
This article originally appeared in the May/June 2022 issue of Industrial Supply magazine. Copyright 2022, Direct Business Media.
COMMENTS: 0
---