Warehouse Solutions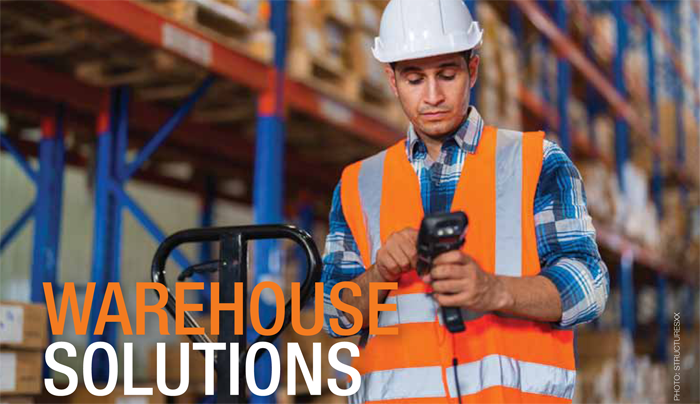 by Rich Vurva
The supply chain issues that arose during the coronavirus pandemic are easing in some areas, but continue to cause delays and frustration for many distributors. The additional challenges caused by labor shortages means that companies are constantly looking for ways to operate as efficiently as possible in order to speed the flow of orders to customers once products become available.
We recently reached out to a handful of companies to learn what solutions they offer to distributors to help warehouse facilities and distribution centers operate more efficiently. Here's what they had to say:
Kenny Ferguson
General Sales Manager
AML
The strain that has been placed on the supply chain over the last two years has heightened the need for the operational insights and real-time reporting that mobile computers offer. Now more than ever companies are relying on and upgrading their WMS and ERP systems to perform vital transactions throughout their operation. We developed several onboard applications to give our customers a seamless experience and limit the time needed to deploy mobile devices in their environment.
Our enterprise browser, AppLync, offers organizations running web-based software to restrict user access, set easy navigation and screen parameters, and a secure way to run those programs. Similarly, our AML Lockdown application can restrict user access to only the programs that the administrators want the users to have access to. This makes it easier for workers to navigate within the device to the programs that are necessary for their workflow.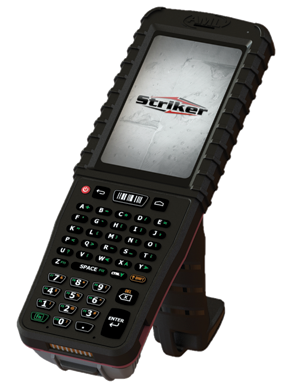 AML's Striker is a small, lightweight, Android-based mobile computer. It comes with DC Suite software and
accommodates multiple scan engines.
We also developed AML Setup, an easy-to-use software that allows users to configure devices remotely (a common need these days) and generate a simple barcode that downloads all of the settings needed to deploy the device in minutes.
We manufacture Android-based mobile computers right here in the U.S. that are rugged, cost effective, and can integrate with any customer environment. Our support is second to none to make the integration process seamless, and we currently have the best lead times in the industry. Our devices cover large organizations that are integrating directly with their ERP or WMS, and also has a built-in data-collection software for companies that may be moving from pen and paper.
We are currently upgrading device architecture for our mobile devices to continue to increase their speed/performance while also keeping Android versions up to date and supported for years to come. We are also working on a new product to offer a hands-free picking solution to increase worker productivity. As a U.S. manufacturer we are constantly listening to the needs of our customers and basing our new products and product enhancements on those needs.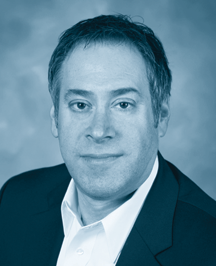 Robert Finn
Vice President
Labelmaster
The continued growth of e-commerce, demand for faster shipping, labor shortages and ongoing supply chain disruptions have pushed organizations to reevaluate their operations and look for ways to automate and streamline their processes as well as mitigate risk. This can be especially challenging for distributors shipping and handling dangerous goods (DG), which can be complicated and time-consuming.
With the dozens of tasks required to put a DG item compliantly into transport (including labels, packaging, documentation, etc.), significant inefficiencies, errors and delays can happen across each supply chain partner. DG shipping regulations can be complex and vary by country and transportation mode, making it challenging for distributors to ensure all shipments are compliant, especially for organizations with multiple locations or business units.
Due to growing shipping volumes and more e-commerce companies entering the market, distributors are often taking on new clients, many of which may be shipping hazmat – whether it's perfume or devices containing lithium batteries. However, distributors may not be aware that they're moving DG or have the knowledge, data or processes to handle shipping those goods. They may also lack understanding of the different shipping components and how they'll impact their operations, such as required UN numbers or how shipping routes, modes or carriers may have to change.
To stay competitive and compliant, distributors must have adequate DG compliance technology and training and processes. Otherwise, they put their operational performance, competitive agility, reputation and bottom line at risk. As the leading provider of products, services and technology for the safe and compliant transport of DG, Labelmaster gives business the technology, training, products and services they need to efficiently and cost-effectively manage all DG shipping and remain compliant with all DG regulations, mitigate risk and maintain smooth, safe operations. Labelmaster's team of regulatory experts provide added support by helping distributors assess their operations and implement efficient and repeatable processes to ensure compliance for every shipment
Labelmaster offers a fully integrated suite of technology, regulatory training and materials, and consulting services to help companies efficiently and cost-effectively manage all dangerous goods shipping and ensure compliance with the latest regulations. From hazmat labels and UN-certified packaging to hazmat placards and regulatory publications to advanced technology and regulatory training, Labelmaster's comprehensive offering of industry-leading technology, products and services helps customers effectively manage the DG shipping process.
The solutions help distributors safely, compliantly and efficiently ship DG by establishing reliable and repeatable processes, eliminating bottlenecks and reducing the chances of delay or stopped shipments. Key solutions include:
DG Shipping Software:
Labelmaster's Dangerous Goods Information System (DGIS) helps automate and streamline the DG shipping process by providing instant, accurate and compliant shipping documentation while validating shipments against the latest regulations. DGIS can integrate with a TMS, WMS or ERP so organizations can have the compliance functionality they need in a familiar interface within their regular workflow.
By more effectively managing and communicating DG product and shipping information, distributors can reduce the time it takes to process a shipment as well as significantly reduce rejected shipments. Additionally, automating highly manual processes enables businesses to maximize and better utilize its staff and navigate the labor shortages that many face.
On-demand Hazmat Training:
Labelmaster's on-demand, interactive training programs prepare supply chain personnel to compliantly ship and handle DG – and do so remotely. Many of Labelmaster's training courses feature an engaging 3D experience that can strengthen employees' understanding of DG shipping regulations by providing more interactive, real-life training.
Lithium Battery Packaging: A leader in lithium battery shipping solutions, Labelmaster provides companies of all sizes with the expertise, packaging, technology and process improvements they need to ship large and small format lithium batteries safely and compliantly.
Consulting Services: Labelmaster's team of DG experts help simplify the DG shipping process and ensure smooth, safe and compliant operations by assisting with regulatory questions, site assessments, customized training, parts classification and process improvements across multiple operating locations and supply chain partners.
As the number of dangerous goods being shipped continues to rise, organizations will be forced to navigate today's complex DG shipping landscape. Companies that distribute these items must have adequate processes and solutions in place to ensure compliance with complex, ever-changing regulations, and to maintain safe and smooth operations across locations.
Labelmaster continues to update its DGIS software to reflect the latest DG shipping regulations as well as integrate it with the other TMS, WMS and ERP systems. The company also continues to introduce new and updated online training courses to provide employees involved in shipping, handling, loading and transporting hazmat with engaging and interactive training that effectively prepares them to comply with the latest regulations.
Labelmaster also continues to expand its line of packaging solutions designed to safely and compliantly ship flammable liquids and other dangerous goods.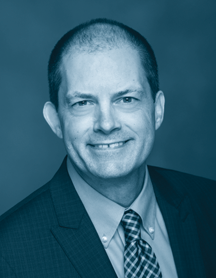 Neal Lulofs
Chief Marketing Officer
ID Label
New technologies go hand in hand with advances in warehouse labeling products. Today's mobile barcode imagers, for instance, are more sophisticated, which means they can scan from longer ranges at increased scan read rates. That allows manufacturers like ID Label to develop products that take advantage of these capabilities.
As an example, we manufacture our overhead signs with retroreflective graphics. These materials enable optimal scan accuracy from long distances—typically 50 feet or more. This is due to the intensity of the light reflecting off the barcode as it's returned to the mobile scanning device. We also use this material in newer facilities that feature high bay racking intended to accommodate more units and SKUs. Retro rack bay labeling on the higher levels accommodates accurate scanning from the ground.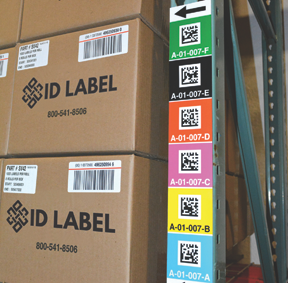 2D barcodes can store thousands of characters of information. They can contain information like product name, serial number, lot number, date of arrival, date to be shipped and more.
Newer imaging technology can also read two-dimensional barcodes. Unlike typical linear barcodes, 2D barcodes can store thousands of characters of information. That's because they encode data vertically and horizontally. They can contain information like product name, serial number, lot number, date of arrival, date to be shipped and more. A single scan captures all the pertinent information, which is then easily accessible in the facility's inventory management software.
ID Label offers a broad range of barcode labeling solutions for distribution operations. This includes rack location labels, pallet labels, aisle and overhead signage, floor markings and
related installation services.
Barcoding is a key part of a successful distribution operation. Labels and signs pair with mobile scanning technology, warehouse management software and a well-planned layout and numbering scheme. Each part is reliant on the others to maximize operational efficiency. At the end of the day, the role of barcoding is to allow data capture within inventory management software. That software needs our labeling products and vice versa.
The result is better inventory management, traceability of parts and finished goods, faster picking and fulfillment, speed, velocity, improved worker movement and productivity—all the above.
We're seeing increased demand from our customers in the cold storage space. Finding effective labeling solutions for cold storage facilities can be a real challenge. We've recently introduced several products to serve this segment.
For example, our new Arctic Xtreme cold storage labels perform extremely well in cold, wet and subzero conditions—at temperatures as low as -65 F, and can be installed in temperatures as low as -20 F.
We also offer high-performing pallet/LPN labels with freezer-grade adhesives to track and manage pallets, cartons and other moveable units in these distribution facilities.
All of our products are available in custom sizes, designs and colors.
This article originally appeared in the May/June 2022 issue of Industrial Supply magazine. Copyright 2022, Direct Business Media.
COMMENTS: 0
---