Promise and deliver
Machinery & Factory Industrial Supply satisfies customers by delivering measurable results
by Rich Vurva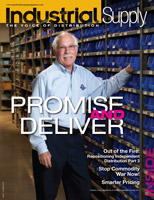 Every industrial distribution salesperson struggles with the problem of demonstrating how their company is different from other distributors. When customers can buy the same products from multiple sources – including competing local distributors, branches of national distribution companies, and catalog houses – justifying why you're not always the lowest price can be a hard sell.
That's the dilemma that Machinery & Factory Industrial Supply (M&F) in Racine, Wis., also faced.
The company was founded in 1946 to serve local industrial facilities. For more than 50 years, about 80 percent of M&F's customers were located in Racine and Kenosha counties in southeastern Wisconsin. M&F was viewed as a reliable supplier of abrasives, adhesives, cutting tools, hand and power tools, machinery and welding supplies.
But being perceived as just another reliable supplier wasn'tgood enough.
In 2001, the management team decided to try a new approach to differentiate M&F from competitors and to expand the company's geographic reach. To avoid being viewed as just another cutting tools supplier, M&F became more application oriented. Walking into a customer's facility and saying, "How's it going? Need anything today?" was no longer an acceptable approach.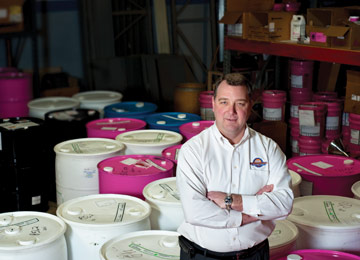 Salespeople needed the ability to review a blueprint and have an intelligent conversation with a manufacturing engineer about how to adjust cutting tool feeds and speeds or make tool change recommendations that would help the customer make a better or more cost-effective part.
M&F started hiring salespeople with manufacturing knowledge and applications expertise.
This new breed of salesperson required a better understanding of the day-to-day problems faced by manufacturers. It wasn't even necessary to have previous sales experience. Some formerly worked on the shop floor of customers, while others earned their stripes by working for cutting tool vendors.
After changing the look of its sales force, M&F introduced a new slogan to emphasize the company's dedication to "people, products, processes and positive results." The approach paid off. Over the next several years, M&F put together a string of double-digit yearly sales growth. Today, customers range from one to 1,000 employee-companies and geographically cover the entire eastern half of Wisconsin and northern Illinois.
Long-time local customers include Case New Holland (CNH), a global agricultural and construction equipment manufacturer, and Twin Disc, a manufacturer of power transmission products for agricultural, off-road and
marine applications. In addition to heavy-duty equipment manufacturers, M&F's customers include job shops, mechanical contractors, tool and die makers and the medical industry.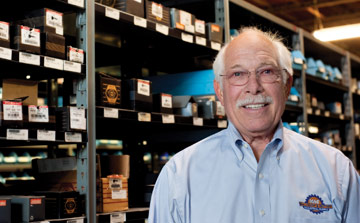 Today, rather than being perceived as run-of-the-mill product peddlers, salespeople are valued for their ability to fulfill on the promise of delivering measurable results.
"We probably don't rely on our vendors as much as a conventional distributor does. We want to make sure that we're more self-sufficient and not relying on someone else for our success," says CEO Charles Gray.
Sales manager Dan Theisen says the focus is on supplying value to the customer.
"We feel our role as an industrial distributor is not only to supply product, but also to help them apply that same product. A lot of people can supply products. We can do both," he says.
With a more applications-oriented sales team, M&F is less reliant on vendors for product application expertise. "We have the ability to evaluate more than one vendor's product depending upon what we feel is best for that application," says Theisen.
Demonstrated value
M&F's mission is to "work with process engineers and operators to introduce and apply products that enhance production to a level that is cost effective to the customer." Lowering a manufacturer's perishable tooling costs by 5 percent barely impacts the company's bottom line, Theisen explains. Making recommendations that shorten the cycle time for machining a part from 15 minutes to 10 minutes per part can result in
major savings.
At Twin Disc, for example, M&F recommended swapping out 10 taps in a machining operation with a single thread mill that produces cleaner, more accurate threads. The change also lowered Twin Disc's cutting tool coolant costs, because the previous operation used a higher coolant concentration, which had to be replaced more frequently.
Theisen recently recommended switching from an oil-based coolant to a water-based coolant on a vertical broach that cuts grooves and splines into power transmission gears. These types of changes help generate $40,000 in annual cost savings on Twin Disc's metalworking fluid spend. It also reduced cleanup time and hazardous waste disposal costs.
"Their support is terrific. If we have problems, Dan has come in here at 11 o'clock at night or 5 o'clock in the morning. They're just a phone call away," says Gary Pope, Twin Disc production manager.
At CNH, sales engineer Al Henderson spends 30 to 40 hours per week working side-by-side with CNH manufacturing engineers to select tools required for machining parts used in Case and New Holland tractors. M&F also supplies tools to other CNH plants in North America. The tractor manufacturer is currently developing parts to accommodate new 2011 EPA emissions standards.
"When product changes are happening, it's our task to tool all of those operations with the assistance of their MEs and internal Kaizen events. We're involved in all of their planning meetings and know what new parts are coming down," Henderson says.
Henderson is one of four M&F employees dedicated to the CNH account. M&F
manages more than $1.2 million in consigned inventory from two tool cribs
and several CribMaster ToolBox vending machines throughout the plant. Parts are
also stored in three high-rise Remstar Shuttle inventory storage units that hold up to 210 shelves filled with 16,000 active parts. The inventory is managed via the CribMaster database, enabling M&F employees and CNH managers to review a variety of inventory reports.
"A supervisor will get a daily report summarizing what his guys are charging each day. A business unit manager will get a report on what the departments are spending overall in the plant," says Henderson.
When required, the system can run additional reports. "CNH corporate is now standardizing CribMaster in all of their plants in North America," says Gray. "They're going to consolidate the databases and eventually have one database throughout North America. This will give CNH the ability to pull material between plants."
Reporting for duty
M&F has developed multiple cost savings reports to show customers the bottom-line impact of their efforts. They vary depending upon the cost structure of each customer and the importance that specific accounts place on documentation. Some are satisfied with a monthly or even quarterly summary of total tooling and abrasive spend by manufacturing cell, others want more detailed analyses of savings achieved by replacing one product with another.
The reports help demonstrate M&F's ability to deliver promised results. Gray says it's important to establish expectations as early as possible to avoid disappointments.
"We spend a majority of our conversations with customers determining what services they require," he says. "If the company asks for a quotation and then comes back to us and says, 'Your prices are too high,' we can respond by saying, 'What services don't you want?' You can cut to the hard number pretty fast that way."
No matter the customer, large or small, there's always going to be someone else who can or will supply products at a cheaper price, he adds.
"The thing we do best is provide service, products and support at the level the customer needs or wants. Couple this with a continuous cost savings program that provides proven results at all levels of any customer, and you create a win/win for everyone," says Gray.
In some cases, M&F began working with a customer after a previous supplier failed to meet expectations. The company won the business by promising low prices, but didn't build in enough margin to cover the necessary services or didn't maintain adequate inventory levels. Gray says Machinery & Factory strives to avoid that same mistake by setting realistic expectations.
"Many times we find that the previous company came in and promised a lot but gave a little," says Gray. "The difference is in being able to promise and deliver."
Theisen adds that changes in the manufacturing environment have resulted in multiple challenges for industrial distributors over the past year.
"One thing that has remained a constant with customers is getting the greatest value per dollar spent," he says. "Moving forward, it is our intention to listen and communicate with our customers to bring the greatest value possible to our end-users."
This article originally appeared in the May/June 2010 edition of Industrial Supply magazine. Copyright 2010, Direct Business Media, LLC.
COMMENTS: 0
---