Power tool innovation
By Rich Vurva
Manufacturers continue to introduce innovations in power tools to improve durability, usability and safety. We reached out to several power tool suppliers to get their comments on what is driving marketplace trends. Here are their responses.
Milwaukee Tool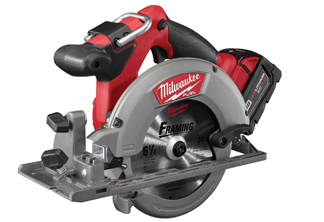 Professionals are looking for solutions that will make their job easier, and ultimately save time and money. User needs, such as durability, productivity, safety and ease-of-use, will continue to drive product development, explains Shane Moll, president of Power Tools for Milwaukee Tool.
"The mix of solutions we are able to provide that increase productivity will continue to evolve as technology is improved and the industry explores alternative installation methods and materials. Advancements in cordless technology platforms such as batteries, motors and electronics have been a catalyst to provide productivity solutions which were never thought possible," he says.
He added that nothing can replace the value of developing relationships with users to better understand the problems they face. "We get out on the job site to work side-by-side with real craftsman to understand the demands of a constantly changing workplace and how we can best deliver solutions that help them work both faster and smarter. Whether it is through our M12 and M18 cordless systems or our hand tool, accessory or test and measurement lines, Milwaukee is dedicated to delivering a steady stream of advanced solutions to contractors that offer increased productivity and ease of use."
For example, last fall Milwaukee expanded the M18 Fuel line with new products that include several 18-volt tools: the Sawzall reciprocating saw, 6-1/2-inch circular saw, four high-torque impact wrenches and two 4-1/2-inch - 5-inch grinders.
"Each of the new M18 Fuel products represents breakthrough innovation within our cordless ecosystem. These tools will provide unprecedented levels of productivity and flexibility for the user. The performance and durability that these tools bring can only be reached by combining the absolute best technologies with world-class engineering and job site testing," says Moll. "As we continue to drive breakthrough advancements in motors, Lithium-ion batteries, and electronics, the types of tools that can be effective cordless solutions will continue to evolve. Over the next year, Milwaukee will launch several products that users would never expect to see without
a cord."
Bosch
"The question we ask ourselves every day is how our power tools and accessories can make customers' lives better. And the answer is always about being more productive," says Jason Feldner, group product manager for Bosch Power Tools and Accessories.
He says that two trends – demand for increased cordless battery performance, and a need for improved tool storage organization and mobility – seem simple but have a major effect on the lives of customers.
Ten years ago, battery-powered solutions were only applicable for the right place and the right time, and rarely the go-to, all-day power tool solution.
"Users want cordless to be their first choice, because they don't want to be tied down to
cords or generators," Feldner says. "They want the freedom, power, performance and, most of all, runtime with no fear of running out of battery. And they don't want to have to carry a ton of batteries to be productive."
In 2013, Bosch launched the industry's lightest weight and most compact 18V and 12V Max Lithium-ion 4.0 Ah FatPack and 2.0 Ah SlimPack battery solutions (FatPack for more runtime and SlimPack for lighter weight working overhead). And, in Spring 2014, Bosch will launch a new 5.0 Ah battery pack, again the most compact and lightest weight in this category with no tangible increase in size or weight. For those not as familiar with Amp-hour (Ah) ratings, Feldner says, think of this as the gas tank on a car – the bigger the gas tank, the more runtime. And there is a lot more runtime now.
"To put this in perspective, back in 2011, the industry was working with 1.3, 1.5, 2.6 and just beginning to offer 3.0 Ah batteries, calling them 'High Capacity.' In only three short years, we have already nearly doubled the runtime of Lithium-ion packs from past generations with new 5.0 Ah packs. And the real beauty for the Bosch user is the fact that all these batteries are interchangeable with current and previous generation tools, as well. Be warned, this is not true for all competitors, which can cause issues for ongoing sales to existing customers," he says.
Feldner says that a second trend was uncovered in recent research. When asked their number one barrier to productivity, eight out of 10 contractors from varying trades said, "lack of organization."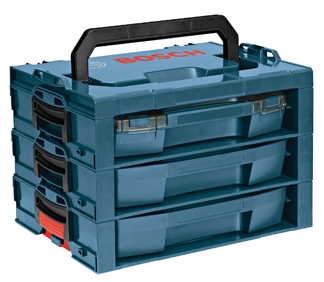 Lack of organization inhibited their work, whether it was searching for a hand or power tool in a tool bag or vehicle, trying to find a specific part or fastener, or just not planning for all they need in advance.
Bosch recently introduced its Click & Go system, which addresses three key areas: organization, storage and mobility. With five different sizes, the new system of L-BOXXes store nearly anything – hand tools, consumables such as blades, fasteners or couplings, power tools and equipment. And when ready, each box simply clicks together on top of the other and they are ready to pick up and go, or click onto the L-DOLLY or L-CART.
Various sized smaller internal cups, called organizers, are color coordinated and offer maximum flexibility for customers to personally set up their own kits how they want. Smaller iBOXX cases also feature organizers and clear lids for quick and easy reference. Each can travel separately or slide into the L-BOXX-3D or modular L-RACK shelf unit to carry multiple kits together.
Metabo Corporation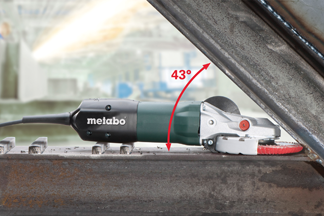 Metabo Corporation introduced its new family of flat head grinders with a unique low profile design that allows for easy access into confined spaces and narrow angles where standard grinders will not reach. It features a patented gear drive that allows for a very low profile head design. With a clearance of only 2 5/8", the tool features a unique design that enables grinding in confined spaces and tight acute angles of up to 43°.
"Our goal is to design safe and reliable problem-solving tools for professional metalworkers," says Terry Tuerk, senior product manager for Metabo USA. "And the new flat head angle grinder is the perfect example of that commitment. This grinder was designed specifically for working safely in tight areas where a modified and highly unsafe tool would have normally been used."
The cordless version features Metabo's new Ultra-M 5.2 Ah battery technology. With 75% longer runtime than a standard 3.0 battery, and 30% more runtime than a 4.0 battery, Metabo's new Ultra-M 5.2 battery system is ideally suited for the high demands of today's growing industrial cordless market. This new battery platform now allows users the ability to take the tool to the job, and provides them the power and runtime to grind and finish more metal than ever before.
The corded version features Metabo's patented LongLife Motor, TC Electronic Speed Stabilization and Electronic Kick Back protection. Additionally, the flat head grinder features a slim handle design for less fatigue when working on difficult-to-reach weld seams, as well as a 7-position locking burst proof guard. Specially designed accessories also improve safety and production time by optimizing the tool's power and effectiveness.
Dynabrade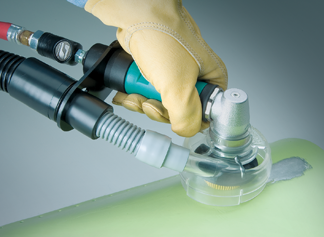 Ergonomics and quality are the two driving trends that users demand today, according to
Andrew Mandell, marketing manager for Dynabrade. He says a tool must be comfortable to use over a long period of time, which is why Dynabrade has designed in ergonomic features to address vacuum, vibration, insulation and noise.
"We have been very proactive to being able to respond to marketplace trends. An example would be offering a full line of vacuum tools to reduce contaminates in the workplace," he says. "Compressed air generates cold air transmission to the tool. Insulated housings on the tool reduce vibration and cold air transmission to the operator. In addition, mufflers reduce sound levels in the environment. On average, sound levels of our tools are as low as 78 Db(A)," Mandell says.
He says Dynabrade remains committed to delivering a high-quality, American-made power tool. "At Dynabrade, we are interested in building a long-term relationship based on quality, fairness and trust," Mandell says.
This article originally appeared in the May/June 2014 issue of Industrial Supply magazine. Copyright 2014, Direct Business Media.
COMMENTS: 0
---