Genuine Leadership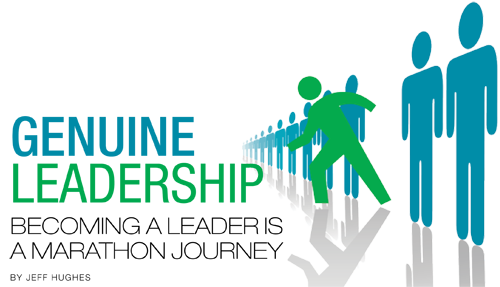 by Jeff Hughes
If you gathered 100 people in a room, each of them would have a varied definition of the term "leadership." To me, leadership basically means influence. We are all leaders if we have the ability to influence, whether it is another's behavior or thinking, or an outcome of some kind. But how people go about this great responsibility and duty, along with the underlying values that they may or may not hold, is key to separating the leader in name only from the genuine — or, as author Bill George calls it, authentic — leader.
Genuine leadership reveals itself in five ways:
Pursuing purpose with passion. Without a real sense of purpose, leaders are at the mercy of their egos.
Practicing solid values. Leaders are defined by their values, and values are personal — no one else can determine them for you.
Leading with the heart. Genuine leaders lead with the heart as well as the head.
Establishing enduring relationships. Genuine leaders are able to develop lasting connections.
Demonstrating self-discipline. Genuine leaders maintain a consistently high level of self-discipline.
Possessing and demonstrating all of these behaviors all the time are critical to becoming a genuine leader, yet they are not enough. There are two key steps to becoming a genuine leader. First, understand yourself. Second, take responsibility for your own development.
Becoming a leader is not simply a destination; it is a marathon journey through many stages until you reach your peak leadership acumen. In leading today, "one size" does not fit all. As leaders mature through multiple experiences, they develop a genuine leadership style that becomes their modus operandi and something that those they lead can have faith and trust in.
Where Self-Leadership Takes You
In this business we have to display and practice leadership in a number of different ways. We lead our companies in a general sense and our employees in a particular one. We also lead clients in helping them make the best decisions about the products and services we offer them. Perhaps most important, and the genesis of all other manifestations of successful leadership, we lead ourselves. Self-leadership is among the most difficult skills to master, but it's key to being a genuine leader. The seminal element of self-leadership is self-awareness, which may be characterized as emotional intelligence. "EQ" (emotional quotient) may in fact be more important for genuine leaders than "IQ." Leading with a combination of wisdom, humility and personal engagement with your people — and the right balance of EQ and IQ — one can transform a good business into a real success story. Leaders who are comfortable with themselves tend to be more open and transparent. Leaders who know their own strengths and weaknesses can fill their skill gaps with those of colleagues who complement them.
It is difficult to regulate your emotions, control your fears, or avoid impulsive outbursts when you feel threatened or rejected. Self-awareness, gained through accurate feedback from a trained coach, can help leaders identify and address their blind spots and weak areas.
As part of gaining clearer awareness of yourself, you must understand the values and principles that guide your leadership. Staying centered on your values is not easy, but if you are anchored by a high level of self-awareness, your "compass" can help you get back on track.
Common Activities of Leaders
There are certain activities great leaders focus on as a matter of course, depending on the capabilities of the people involved and the situations they face:
Showing up. As the saying goes, 80 percent of success is showing up. People notice when you're there. They notice even more when you're not.
Engaging people. The most empowering leaders engage a wide range of people by inquiring about their lives, sharing their own stories and being open and, at times, even vulnerable.
Helping teammates. The best leaders provide counsel, offer suggestions, or assist others in making vital contacts, whether on a professional or personal basis.
Challenging other people. Effective leaders sense when people are ready for more challenging experiences. They are intuitive and connected.
Stretching people's limits. The best leaders also empower others. They provide assignments that help maneuver individuals out of their safe or "comfort" zone. Given a chance to succeed or fail, an individual will, if nothing else, learn. Aligning people around a mission is the most empowering condition of all because it helps them achieve professional goals and gives purpose to the work they do. Without a shared mission, a group of people works aimlessly and accomplishes little.
No matter how excellent our business planning and acumen may be, external conditions, such as the global economy and increased competition, and internal conditions, such as poor staff selection and faulty execution, will inhibit the straightline growth we would all prefer.
Great leaders have the ability to keep the team focused on the long-term goal and, through transparency of thought and collaboration, work through course corrections and setbacks. Every aspect of business faces ups and downs; the genuine leader minimizes the down cycles through enthusiasm and presence, and celebrates even the smallest wins during the up cycles.
To be such a leader, you need to know what motivates you and have a realistic understanding of your strengths and weaknesses. This allows you to put your best capabilities to work and surround yourself with those whose strengths mitigate the potential impact of your weaknesses.
Purpose + Passion = Results
You may have your leadership style down. And that's nice. But what is the purpose of your leadership? Are you following your compass, your values and principles, or a timetable? When you understand your purpose, you are ready to lead an organization.
Just as important, what is your passion for leadership? Your passion is more than what drives you; it's your intrinsic motivation. Uncovering and then following your passion will help you discover the purpose of your leadership because it will reveal focus. Leaders can only sustain their effectiveness if they instill their passion in their employees and rally them around a shared purpose or mission.
The optimal goal is to empower each employee with the gift of self-leadership. Once you have empowered people to lead around a shared purpose, you and your organization are positioned to achieve superior results. As five-star general and later U.S. president Dwight D. Eisenhower said, "Leadership is the art of getting someone else to do something you want done because he wants to do it."
Define the target, give people the resources they need to achieve their part, provide coaching and support, and you will discover you have a group of driven, collaborative leaders working hard and smart to achieve the organization's goals. The measure of their success will be the measure of your success.
The effective use of power in relationships is essential to achieving one's goals. But genuine leaders understand that they need power to get things done, while learning to use it in subtle ways. They prefer to have others adopt their point of view or to build consensus rather than merely force subordinates to go along with them. The former creates buy-in; the latter builds resentment. Which type of work environment will you develop?
Leadership: The 15 Invaluable Laws
No one is born a great leader. A fundamental part of the evolution into effective leadership is embracing the concept of constant, intensive growth and development. John Maxwell is one of the country's top experts on this and other areas of leadership. In his book The 15 Invaluable Laws of Growth: Live Them and Reach Your Potential, Maxwell lays out a plan to help you grow exponentially.
The first law, and arguably the most important— the Law of Intentionality — tells us that growth doesn't just happen. Many people assume they will automatically grow. They won't. When you want to grow, you have to decide where you need to do so and what you want to learn. Here's how to get started.
Get committed. Find some way to get connected and committed. If you attend your association's annual convention, like the just concluded ISA Convention in Cleveland, you have demonstrated your commitment to getting the most out of networking and professional development opportunities.
Be consistent. Motivation gets you going, but discipline keeps you there. If you are feeling a lack of discipline, ask someone you trust and respect to help hold you accountable for successful and unsuccessful behavior change over a fixed time. This could be something as simple as exercising every day — or more complex, like earning your M.B.A. within two years.
Be creative. Embrace and develop your creativity. Find it and use it to your advantage. Turn difficulties and setbacks into opportunities and learning experiences.
Be purposeful. For every hour of interaction with people, spend two hours in preparation. If you don't create the future you want, you must endure the future you get. In everything you do, ask yourself whether it is benefiting you in your purpose.
Be reflective. This is an easy one to overlook. Do you like and respect the person you see in the mirror each morning? If not, take steps to prioritize your personal and professional objectives. Reflection begets insight.
Be grateful. We have so many obstacles each day that get us down. Practice being grateful. Consider the good you have done and want to do — and then do it.
As you pause to reflect on all of the above, write down two things you will start to do differently this week, and find someone to help hold you accountable to your goals. You will be amazed by the changes you can make in your life that can positively affect the lives of your family, your friends, your colleagues and yourself.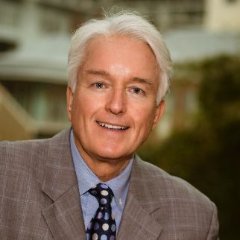 Jeff Hughes is CEO/president of the Industrial Supply Association. Reach him at jhughes@isapartners.org.
This article originally appeared in the May/June 2015 issue of Industrial Supply magazine. Copyright 2015, Direct Business Media.
COMMENTS: 0
---