When Off-The-Shelf Won't do
Northern Indiana hose distributor designs and builds custom solutions for customers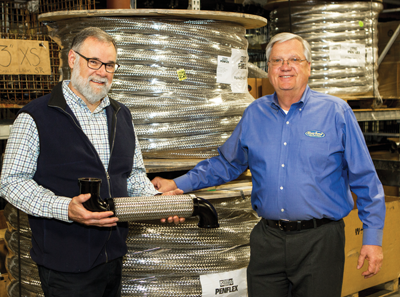 Jim Betz (left) and Lee Slavinskas are co-owners of River Bend Hose Specialty, a South Bend, Ind., distributor that primarily serves OEMs in Northern Indiana.
By Rich Vurva
When River Bend Hose Specialty was launched, it was just two guys operating from the rear of a van with a hose crimper inside. Jim Betz had worked for a handful of hose distributors in the South Bend, Ind., area in the late 1970s and partnered with a colleague to start their own company in 1981. About a year later, he was joined by Lee Slavinskas, who would eventually become a partner, and River Bend began picking up jobs throughout Northern Indiana.
The company built a reputation for providing quality service, especially when off-the-shelf solutions wouldn't work. The focus in the early days was on the MRO needs of local manufacturers. Betz and his original partner acquired a small building with easy access to area businesses shortly after incorporating, and began offering counter sales and service. Local customers appreciated the convenience of having a hose cut
and assembled while they waited. Competitors were willing to pass up labor-intensive, low-volume sales.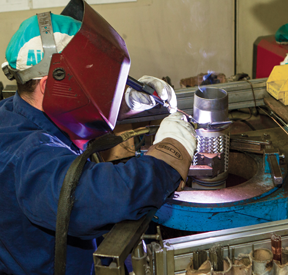 Today, River Bend runs a ParkerStore location near downtown South Bend, and a separate facility that serves as a weld shop, cylinder repair center and machining operation. With annual sales of about $13 million, the company has 50 employees and focuses on distribution and assembly of industrial and hydraulic hose, plus power transmission components such as bearings, cylinders, motors, belting, gear drives and sheaves.
The majority of River Bend's business has expanded from an MRO focus to providing custom hose and fittings to original equipment manufacturers including vehicle manufacturers that serve the defense industry, construction equipment makers and recreational vehicle builders. Other customer segments include manufacturers of air compressors, and packaging and assembly operations.
"For independent distributors to survive today you've got to add a lot of value and provide a lot of service," explains Slavinskas. He believes that the shift from MRO to OEM customers occurred because OEMs need – and are willing to pay for – value-added services.
"They want service. They need technical support. An independent distributor like us, with our experience and our technical capability, is in much better position to supply that to them," he says. "Our products are not commodities. We make sure we're helping our customers use the right thing at the right time and place. We're adding value."
Custom services
River Bend caters to OEMs by designing customized inventory management programs and – in some cases – by designing custom products. "We have designed specific programs for each OEM based on what they need," explains Betz.
For instance, a Kanban program for a vehicle manufacturer involves making weekly or twice weekly visits to replenish line item totes filled with brass fittings, cut hose sections, grommets and gaskets. Another OEM requires hose sections cut in pre-determined lengths with clamps installed on the ends. A different OEM may require spiral wrapped hoses.
"We buy everything in bulk and then cut and assemble it as required. It's a value-added service that OEMs require. The OEMs we deal with typically require a lot of value-added. There's always something special that we're doing for them," says Betz.
Each program requires working closely with the OEM's purchasing and production departments to make sure the proper quantity of items are on hand to correlate with production schedules. River Bend sales people frequently touch base with engineering and maintenance departments to find out what projects they're working on.
Data provided by customers helps River Bend know when to place orders with suppliers so there's enough assembled inventory available to meet demand. The programs require constant communication between all parties involved. If there's not enough product in stock to fill an order, an assembly line may go down temporarily, causing lost revenue opportunities for the customer. Too much inventory collecting dust on the shelves, and River Bend's profitability takes a hit because of inventory carrying costs.
"We accept a lot of responsibility in terms of forecasting. They share their production schedules with us and then we determine what we buy, what inventory do we keep on hand and what do we deliver to them," Slavinskas says.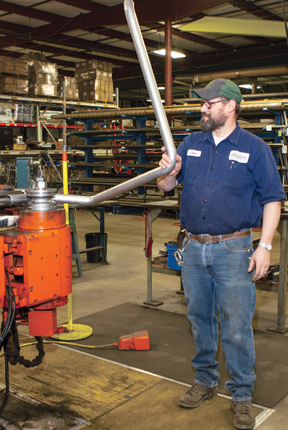 Thinking outside the box
Betz and Slavinskas have grown their business by being willing to try new things.
"We very seldom tell a customer that we can't do something or that we won't do something," says Betz. "We always try to figure out a way to do what they want."
For example, the engineering team for a local manufacturer built a prototype that used several sections of hose cobbled together. The customer sent the prototype and the design to River Bend and asked them to re-plumb the equipment, replacing hose with tubes to improve the look of the finished product. River Bend's technical team made several design recommendations and generated new prints for the customer to follow when the prototype was put into production.
"I would say we have a significantly more sophisticated and larger quality
assurance department than a lot of distributors of our size," says Slavinskas. "That puts us in a position to implement quality programs that customers want."
Over the years, as long-time customers began asking for products and services that River Bend did not offer, it provided new business opportunities. The company began selling power transmission products, joined the distributor-owned bearings and power
transmission cooperative IDC-USA and brought on a power transmission/bearings specialist to satisfy the needs of OEM customers that wanted to consolidate their supplier base.
River Bend also joined IDCO, a cooperative of industrial distributors of hoses and couplings, to take advantage of the group's combined buying power, pick up additional lines, share business practices with other independent distributors and gain access to product training and other networking opportunities.
When they wanted to expand sales in the Fort Wayne area, instead of assuming all of the cost and risk of opening a new branch, Betz and Slavinskas proposed launching a joint venture with another Parker distributor. Michigan-based Depatie Fluid Power Company teamed up with River Bend to form Hose and Automation Inc.
Betz and Slavinskas are also co-owners of an Indianapolis-based company that manufactures brake lines and fuel lines for truck and off-road vehicle manufacturers. The operation runs independent from the hose distributorship, and is another example of finding a way to satisfy a unique customer need even if it's outside the company's traditional niche.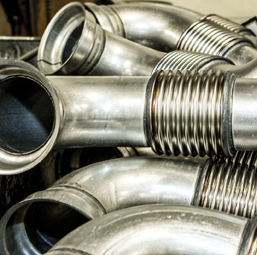 That kind of thinking is one reason why River Bend Hose has been able to weather economic cycles.
"You don't listen to the economists. You don't listen to what you hear on TV, you just keep working," Slavinskas says.
Unlike large companies driven by financial analysts, Betz and Slavinskas may decide to keep investing in an area of the business even if it doesn't show a quick return on investment. The approach paid off when River Bend purchased tube bending equipment and expanded into metal hose products.
"Once you get your foot in the door, you can begin to provide a service and offer some value to customers that you weren't able to do before," Betz says. "We'll stick with something a long time before we decide we don't want to do it. We've gone through a lot of growing pains."
Current projects include expanding the company's online presence to increase sales of products that don't require much assembly or customization and to expand the geographic footprint outside of the South Bend area.
Betz and Slavinskas have demonstrated that they are willing to do whatever makes sense to grow the business, even if it means trying something new. It's a far cry from those early days operating from the back of a van.
This article originally appeared in the May/June 2015 issue of Industrial Supply magazine. Copyright 2015, Direct Business Media.
COMMENTS: 0
---