Tools at height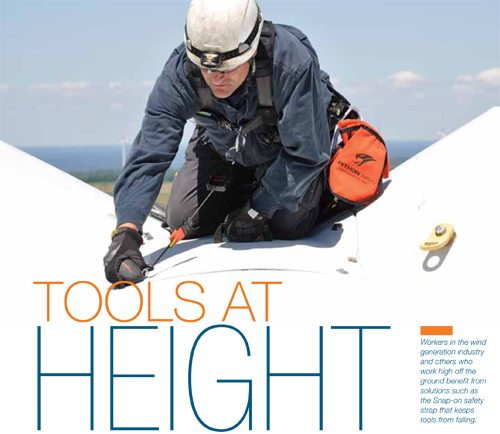 by Rich Vurva
Companies are taking a closer look at safety practices on the job site, and the danger of falling objects, including tools, is a huge concern for many employers and industries. A dropped tool from an elevated level poses severe risks to anyone below.
A tragic accident in New Jersey in November 2014 is a stark reminder of the importance of tethered tools. In that incident, a 58-year-old man was killed after being struck in the head with a tape measure that had become dislodged from the belt of a worker on the 50th floor of a high rise construction project. The man wasn't even directly underneath the falling tool. Rather, the one-pound tape measure fell nearly 500 feet, ricocheted off a piece of equipment about 15 feet from the ground, bounced once and struck the man's head. He was just exiting his vehicle to make a delivery to the work site. The man, who wasn't wearing a hard hat, died later that day. A one-pound tool falling from that height strikes the ground traveling about 140 mph.
The New Jersey accident wasn't an isolated incident. In fact, construction workers account for 20 percent of work related deaths, and in 2013, nearly 800 construction workers were killed on the job site; 82 were killed by falling objects, according to OSHA statistics. Dropped objects have become such an epidemic that some companies have implemented policies terminating employees responsible for a drop. Further, the U.S. Bureau of Labor Statistics reports that being struck by a falling object is the third leading cause of workplace fatalities and many of these accidents are completely preventable.
"Industries are recognizing the magnitude of the problem that's caused by falling tools, and they are looking to suppliers like Snap-on to develop solutions to help reduce this threat," said John Martell, a product manager at Snap-on Industrial.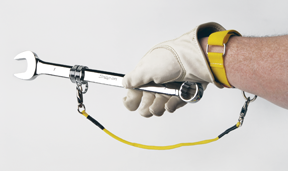 The concept of tethered tools is not new. For years suppliers have been attaching various tethering devices to existing tools and promoting them as tethered tools. "But this is a provisional solution at best. The problem with retro-fitting a tethering device is that it often interferes with the tool's functionality – and when this happens, technicians sometimes choose not to use it as they feel it hampers their ability to perform the task," Martell said. A tool can be tethered, but if a technician refuses to use the device because it's too cumbersome, then the design fails and the objective of a safer working environment is not reached.
Rather than looking at tethering devices as an afterthought, Snap-on's Tools at Height program incorporates the tethering devices early in the design process of its tools. Engineered attachment points must consider the tool's design and function in order to maintain or improve use when tethered. This process results in tools that integrate tethering devices to eliminate the risk of falling, without impacting their overall form and function.
In examining ways to make drop prevention systems better for technicians, industry has studied the most common cause of tool drops – the transfer between storage and use. More than half of drop incidents occur during this frequent action. With most systems, in order to secure a tool, the technician must first retrieve it and then clip or attach it to a lanyard. This process involves both hands and creates potential for dropped tools. This practice is one that required attention. When working at height, technicians should maintain three points of contact for their safety: two feet on a platform and one hand on a secured infrastructure. By using both hands to handle tools and attach the tool to a tethering device, the technician loses one point of contact.
"To address this concern, tethering systems have been developed that eliminate the additional actions normally required to secure tools," said Martell. An example is a tool belt in which each tool has its own pouch or holster with a tethering device already installed. This enables the technician to simply remove the tool, use it, and put it back into its place on the belt – all with one hand. Since every tool is already independently tethered, no device needs to be attached, which removes transferring issues and eliminates drops.
Belts and harnesses can be custom designed to meet specific applications within different industries such as power generation, oil and gas, and utilities. Systems can be designed with the proper tools, and ordered as turn-key solutions with a single part number. Every tool is already installed with its own tethering device and is ready to be used: just open the box, put on the belt, and go to work.
Anchoring workers
According to OSHA standards, workers are currently required to be anchored when they are four feet or higher above the ground. Safety best practices are increasingly dictating that a worker's tools have to be connected to eliminate the risk of falling. This protects both workers and other people on the ground, as well as the tools themselves.
"Complete tool offerings for 'work at height' have been available for a while in general construction and are now being tailored to other industries including nuclear power generation, tower erecting, and oil and gas," said Thomas Klein Jr., co-president of Klein Tools.
"Safety and quality are paramount to Klein Tools so we are proactively taking steps to introduce new tools that are compatible with work at height. By working with end-users in nuclear power generation, oil and gas and tower erecting, Klein is
redesigning products tailored to these applications so that the tools can be tethered," he said.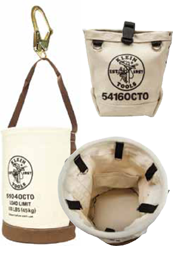 For example, many existing tools, such as bull pins, cannot currently be secured in a reliable manner. Klein will be incorporating a hole in its most popular bull pin products so a tether can be safely connected.
"Werner has learned directly from contractors that tools need to be accessible in a variety of work scenarios, including working at all height levels. There are a multitude of accessories that can be added to both stepladders and extension ladders that help make the job easier," said Chris Filardi, vice president of marketing at Werner Co. For example, Werner developed the Lock-in-System that allows users to customize their ladder top for a specific job.
Accessories "lock in" to the HolsterTop of specially designed stepladders to provide a more efficient way of keeping all tools, supplies and materials close at hand. Whether painting or doing extensive electrical work, the Werner accessories can be used for a variety of applications to increase overall productivity while ensuring safety by limiting multiple trips up and down the ladder.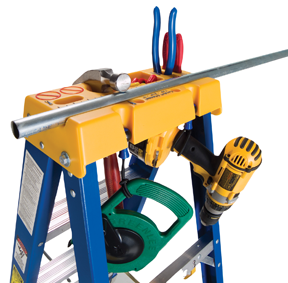 Werner develops products that provide maximum safety, durability and productivity. For example, the Old Blue Series Electrician's ladder is a unique product, it is not an ordinary stepladder, but a Jobstation. With a duty rating of 375 pounds, the Old Blue series features the MagnaGrip heavy duty magnet that secures tools and hardware right to the ladder top. The included Multi-Use hook is ideal for hanging tools and tool buckets.
The Lock-In sockets can accommodate even more tools and secure them from falling. Built-in spool holders, for both large and small spools, and conduit holders with a built-in cutting system, make these ladders ideal for electricians. The EDGE bracing system helps decrease damage to the rail, and the fiberglass rails are non-conductive, ideal for electrical projects. The Old Blue series is just one example of a complete climbing solution that secures workers' tools and prevents dropping and damage.
"With the increasing awareness of safety on the job site, as well as strict policies being implemented, contractors are looking for new ways to make their employees safer every day. It is up to the manufacturers to innovate and assist the contractor in achieving safe products to use while on the job," said Ty Smith, director of product development for Wright Tool.
"We currently have specialty items such as our 'Wright Grip SB' scaffold ratchet that has a lanyard ring built into the ratchet, as well as other products that can be tethered to the user's person."
The Wright Grip SB scaffold ratchet was specifically designed for high, tight work areas. The 3-in-1 tool features a 1/2-inch drive, 7/8-inch open-end ratchet with socket. Interchangeable hammer inserts are available in plastic, brass and steel. The tool is designed to eliminate the need for workers at high levels to carry and handle multiple tools.
COMMENTS: 0
---