The Tradition Continues
Quality Mill Supply transitions to the next generation of leadership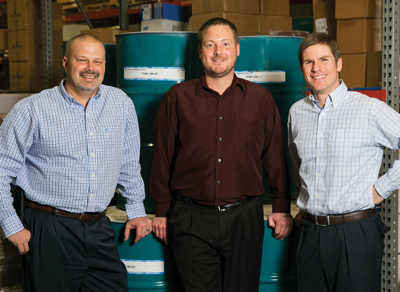 Left to right: Vice president of sales Tim Wallace, vice president of operations Ross Marshall, and president Evan Gilbert are the new generation of leaders at Quality Mill Supply
By Rich Vurva
Handing the reins of a business to a new generation is never easy. Does the new leader have what it takes to continue the legacy of excellence established by his predecessors? Will long-time employees and, more importantly, customers trust the ability of the younger generation to lead the company forward?
It's natural for stakeholders to be concerned during a transition period. Indications are that the changes happening at Quality Mill Supply in Franklin, Ind. – as new president Evan Gilbert takes over for retired executive Mike Baker – are going according to plan.
The son of company chairman Alan Gilbert has worked for the company founded by his grandfather for eight years. Prior to that, he was employed for four and a half years as an outside salesman for 3M. The experience helped him gain an appreciation for the supplier's role in the supply chain, learn how to sell in an industrial setting from an industry-leading manufacturer with a top-notch training program, and determine if a profession in the industrial supply industry was the career path he wanted to follow.
"Working for 3M was a terrific experience that helped me learn about the business from the end-user customer perspective and from the manufacturer's perspective. Doing so helped me gain credibility that would have taken longer to develop if I had come to work for Quality Mill Supply right out of college," Gilbert says.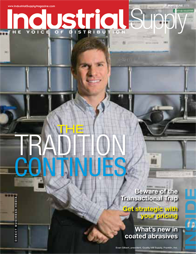 Learning the ropes
Soon after Gilbert started to work at Quality Mill Supply, southern Indiana was hit by 100-year floods. Many homes and businesses suffered damage, including a Cummins Inc. facility in Columbus, Ind. Then-president Mike Baker suggested that Gilbert coordinate the recovery effort for this key customer, including cataloging tools lost in the flood, processing insurance claims, and finding sources for replacement tools. The project took nearly a year to complete and helped build a long-term bond with a major customer.
When that effort was finished, Quality Mill's largest customer, Rolls Royce, mandated that key suppliers become ISO certified, so Gilbert joined the company ISO certification team, which included the purchasing manager, data analyst, and chief financial officer.
"That experience allowed me to learn the whole company, all the processes, meet everybody in the branches, and try to figure out where we were efficient and where we weren't," Gilbert says.
Knowing that the younger Gilbert would eventually be tapped to become his successor, Baker placed him in situations where he could gain valuable experience that would prepare him for a future leadership role. His next position, as a regional sales manager, helped Gilbert strengthen his relationships with key customers.
About three years ago, when Rolls Royce opened a new facility in Indianapolis, Gilbert spearheaded the effort to set up the new plant with cuttings tools, abrasives and other MRO supplies. The project provided an opportunity for him to meet key executives, learn how they do business, and prove himself to Quality Mill Supply's most important customer.
Dual mentors
Gilbert is grateful for the opportunity to be mentored by two industry leaders. From his father, a former president of the Industrial Supply Association (ISA), he learned how to treat employees, customers, and suppliers in a professional manner. From Baker, he was taught how to think strategically about running a business.
"I feel really fortunate because a lot of people don't have any mentors and here I have two. And two who are highly respected in the industry," Gilbert says.
After being named president in December 2015, Gilbert admits to experiencing some anxiety the first couple of months. "I remember thinking, 'I hope I don't run it off the rails.' But then I quickly realized that wouldn't happen because we have very good people here who know how to do their jobs," he says.
Gilbert has been careful not to make too many changes too quickly since becoming president. But he has instituted a few new ideas. For example, IT director Ross Marshall was promoted to the newly created position of vice president of operations. A 10-year QMS veteran, Marshall brings a focus on efficiency to areas of the company that can get trapped in sameness.
"I look forward to using the ISO program as a natural foundation for operations, focusing on efficient processes, and unifying branch operations to meet corporate directives," Marshall says.
The company has beefed up its training efforts, requiring employees to complete training pertinent to their jobs. Every employee's progress toward completing the required training is tracked using software provider Epicor's cloud-based Learning Management System, but the curriculum was developed internally.
Salespeople will complete the Consultative Sales Certification program offered through ISA to sharpen their sales skills.
A new peer mentor program links every new employee with another employee who helps make sure the new employee completes training requirements, answers job-related questions, and offers advice. A new quarterly employee performance review program makes sure employees have clearly defined goals and are provided the tools to meet those goals. Review meetings between employees and managers typically last 15 to 20 minutes and are intended to focus not just on areas where improvement is needed but to offer positive feedback as well.
Goals are clearly articulated so every employee knows what is expected of them individually, but also understands corporate targets. Corporate goals in 2015 included increasing net income, renewing key customer contracts, reducing active inventory by 25 percent, and increasing documented cost savings (which resulted in documented savings of $3.8 million for the year). All of the goals were met.
The company is on target to hit sales of $60 million in 2016. Customer segments include aerospace, medical, automotive, power generation, and general metal fabrication, which are served from the Franklin headquarters location and from branches in Muncie, Bloomington and Fort Wayne, Ind. A new branch just opened in April in Ferdinand, Ind., and the company also recently followed some major customers out of state.
Consistent messaging
A newly hired marketing firm is helping to build a new website and develop a more cohesive branding effort to promote the company. "They're helping us get our arms around our brand and making sure that our website, our marketing collateral, and all of our messaging going forward has a cohesive look and feel," explains Tim Wallace, vice president of sales. "In the past, while the logo was the same on everything, our messaging wasn't always consistent."
The website will support eCommerce functionality so customers can place orders, but it will also provide an overview of all of the various services that Quality Mill Supply offers customers, from safety services and gauge and measurement services to inventory management solutions.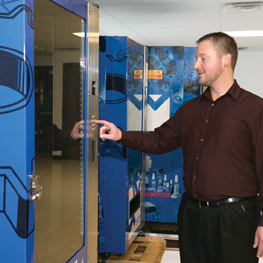 A new brochure to promote automated vending solutions will emphasize customized capabilities rather than a one-size-fits-all approach.
The easiest part of the process is getting a vending machine installed in a customer's facility, Wallace explains. The most important step, which takes a greater degree
of forethought and planning, is setting up the database correctly to make sure the right products are installed in the machine and that the system can generate the types of reports important to each customer's situation.
For example, some customers want to include reground tools in an automated vending machine, requiring the software to know to pull reground tools before pulling a new tool. Another customer hopes that an automated solution will help them control their total tooling costs, while a third customer may need the system to improve a deficient replenishment process.
"Each customer has differing problems and we try to identify what those problems are and then focus the program around that," explains Wallace.
Specialty services
Two growth areas for the company involve providing training and support services for safety and gauging and measurement.
"We don't concentrate on selling safety eyewear and other personal protective equipment so much as we sell the services, such as respiratory fit testing, confined space training, machine guarding, and fall protection training," says Gilbert. Similarly, the gauging and measurement effort involves more than simply selling measuring tools and surface finish testers. The key is having specialists on staff who can help develop custom gauging equipment and measurement equipment for customers.
"That part of our business has been growing very rapidly. We see it as a real value-add for our customers. Our salespeople get the specialist an audience with the end-user so our gauging specialist can talk to the customer's quality departments to build a customized solution," Gilbert says.
Gilbert describes the changes taking place since he assumed the mantle of leadership as tweaks to an already well-run machine. The role of the new generation of leaders within the company, he says, is to strive to continue a lengthy tradition of excellence.
This article originally appeared in the May/June 2016 issue of Industrial Supply magazine. Copyright 2016, Direct Business Media.
COMMENTS: 0
---