What's new in coated abrasives
by Rich Vurva
What trends are driving product development in the coated abrasives market today, and how have suppliers responded to those trends? We reached out to suppliers in the coated abrasives market recently to determine where distributors should look for new selling opportunities, what new products have been introduced recently, and what to expect in the near future. Here are their responses.
Walter Surface Technologies
"In the manufacturing and welding channel, everyone tries to find their way to optimize great product production," explains Jonathan Douville, Surfox and finishing abrasives product manager for Walter Surface Technologies. "Companies all want to increase productivity, sell the best quality product, and are also keeping a close eye on related costs. Basically, we all want to accomplish more, faster, for less!"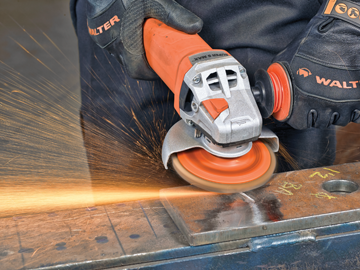 With this idea in mind, Douville says Walter Surface Technologies constantly develops new technologies for its coated abrasives product lines.
He says the price of abrasives barely impacts cost saving. "It's definitely more costly to use the wrong equipment. Saving 20 to 30 minutes during a production process by using a more efficient tool or abrasive can save a lot of money, not to mention increase productivity," he explains.
Walter Surface Technologies develops new abrasive technologies in close partnership with the most demanding end-users. Every day, hundreds of reps in the field test new products and share their knowledge with end-users.
"In 2010, we introduced Cyclone Technology, a high-tech blend of abrasive grains combined with a special cooling agent created to help achieve the fastest removal rate in the industry. These engineered grains with cooling agents are designed and tested under extremely high pressure and temperature and allow users to finish more pieces and vastly improve productivity. Cyclone Technology can be found in many of our finishing solutions," Douville says.
In the future, products will be optimized with regard to power tools, air grinders, and high power electrical grinders.
He adds that Walter offers product demonstration and training sessions to distributors at their convenience, on site or in one of Walter's many training rooms. "This allows us to educate and train distributors on how to sell more products more efficiently, increase productivity, achieve a better finish, and reduce costs all at the same time."
Walter also offers its Bucket Program to all users. The program was developed to optimize workflow and cost savings by an in-depth analysis of abrasive and tool usage by any given end-user. Walter representatives analyze the used abrasives, tooling, and brushes collected in the bucket over a few weeks and provide detailed productivity reports. These reports compare the usage of Walter products versus other competitive products and make recommendations on how to improve efficiency and reduce costs, maximizing every dollar spent on consumables.
"Thanks to these programs, distributors can offer the right product to the right end-user, and explain properly how users can be more efficient and reach better product quality in their current internal manufacturing processes, while saving money at the same time," he says.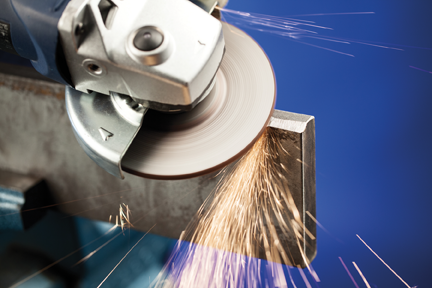 PFERD
All abrasive markets, including coated, are being driven by issues of improved productivity and labor risk reduction, according to John Thompson, national technical sales manager for PFERD. The total cost for manufacturing has begun to focus more on the actual time savings of improved system processes rather than the individual cost of a particular product. The human factor of labor and reducing risk of short-term and long-term injury are issues facing all manufacturing processes.
"PFERD continues to develop products and training programs designed to improve the knowledge level of our distribution network and user base. This promotes smarter and safer operation with more systems to address application issues designed for better output of finished goods at reduced total process costs. We offer multiple level training programs, from the 'basic' to 'market and material specific' sessions to improve the knowledge level of distribution as well as specific end-user requirements. In addition, safety and PFERDERGONOMICS training programs offer value far greater than the cost of our abrasive product offerings," Thompson says.
Specially designed backing pads that allow for different densities and response during use aid in the improvement of productivity. Carbide burs that are designed for faster material removal while reducing the number of additional actions to achieve paintable and sanitary finishes often replace the need for expensive and high volume coated products. "Over the 217 years PFERD has been in business, we have been able to identify real issues to reduce operator fatigue and other workplace hazards, so that they can be more productive over a full working day," he says.
In keeping with PFERD's emphasis on improving the working environment for the user, the company's PFERDERGONOMICs program quantifies product and application differences at the user level.
"Addressing issues to improve operator health and safety in the areas of noise, vibration, emissions, and haptics are at the forefront of our product development philosophy. Specific improvements in the design of dedicated products for requested needs, such as blind corner finishing for the food industry that started with our design of the INOX cut, POLIFAN-CURVE, CC-GRIND-SOLID, as well as our new A24R and SG CERAMIC bonded products, will continue the process at PFERD to offer faster and more system-designed solutions to improve the output of the manufacturing process," says Thompson.
Thompson also offers advice for distributors for working more effectively with their coated abrasives suppliers.
"Challenge the supplier to offer better factory training. The technology life cycle is getting shorter and shorter, and the distributor that expects to survive on a 30-minute factory product presentation once or twice a year often finds their service force is not fully informed. The need for the distribution sales/service champions to attend multi-day, extensive, product hands-on training is an investment that will separate the forward thinking distributor from their competition and catalog service provider. Internet training is fine for a much broader awareness, but the direct hands-on experience uses the full set of human senses and offers better retention of information. PFERD offers such an experience at our PFERDACADEMY for both distribution and specific end-user application driven needs. The programs are outlined at www.PFERD.com."
Mercer Industries
Scott Silver, marketing director for Mercer Industries, explains that with per capita income on the rise globally, transportation is growing, which means the automotive
industry will increase its use of coated abrasives. That trend will require coated abrasive suppliers to adapt to changing requirements regarding grains, backing material, performance, and efficiency.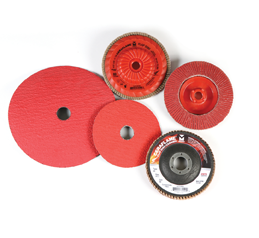 "Another trend is using stearate, a coating that prevents loading, meaning it helps the removed particles not stick to the abrasive surface," Silver explains. "That provides a great benefit to the user. Welding is a growing segment, especially with oil and gas facilities, so wire wheels and safety gear use is on the rise," he adds.
Mercer has introduced stearated PSA discs and rolls as well as hook-and-loop discs, Silver adds. "Response has been great. This year, we are introducing premium wire wheels with oil tempered steel wire that has excellent performance and long life. We are actively working on products specific to the automotive industry and expect to be a bigger player in that market in the future."
Mercer recently launched Ceraflame products that use a ceramic grain with top size coating for cool, fast cutting along with self-sharpening characteristics. This leads to a longer life with minimal loading. "We've improved our formula for aluminum oxide cut-off wheels, which allows for less wear on the machine and operator, plus extended wheel life," he says.
Diamond blades are coming down in price and are earning their way into the market. With higher performance and longer life, end-users are choosing to put them in their toolbox, he says. Higher flexibility will be needed for more detailed finishing, whether using paper, sponges, or any other material.
"Understanding customers' needs is critical in this business. As such, it's important for the distributor to share information they learn from their customers and end-users with the supplier. Having this intelligence, the supplier can develop and provide items that satisfy the needs of the marketplace," he says.
Rex-Cut Abrasives
In response to end-users calling for more efficient finishing tools, Rex-Cut Abrasives is working to provide products that streamline finishing applications by minimizing the steps needed to reach a desired finish.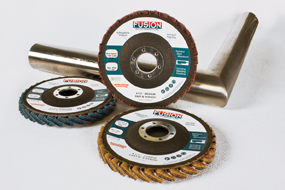 "To tackle this efficiency issue for applications requiring a grained-in finish on stainless steel, we introduced Fusion Interleaf Flap Discs in coarse, medium, and very fine grits," says Kate Reilly, Rex Cut marketing manager.
These premium Flap Discs have been designed using two complementary abrasive materials that allow users to grind down weld seams and provide a high quality grained-in finish in almost no time. "First, the state-of-the-art coated abrasive cloth allows for quick, controlled, and cool removal of material. Next, the surface conditioning flaps ensure an even finish, even at low pressure," she says.
Fusion is often used to finish light weld seams and angles, improve surface finish, refine coarse grinding lines, and prepare for polishing. Fusion works on multiple surfaces including stainless steel, aluminum, special alloys, and soft metals.
"One application Fusion has seen much success in is grinding and finishing welded stainless steel tubing and railing corners. We include the medium Fusion Disc in our Stainless Steel Tube Polish Finish Kit and Stainless Steel Tube Satin Finish Kit," Reilly adds.
"Due to the popularity of Fusion, and the challenge of achieving a grained-in finish on small parts or tight corners, we are expanding the line to include Fusion Interleaf Quick Change Flap Discs. More information on this new product will be available at rexcut.com soon," she concludes.
Weiler Corporation
"Aluminum grinding is huge right now, and although coated abrasives may not be used in great quantities in the development of automotive vehicles, and has been used in the market for ages, it is receiving more exposure than ever with the conversion of the Ford F150 to a high-strength, military-grade aluminum alloy body, driven by fuel economy improvements," says Tony Hufford, category manager, welding and fabrication at Weiler Corporation.
Aluminum is difficult to grind, as it typically has a lower melting point than common carbon steel, so it tends to "load" or "gum up" on coated abrasives. Manufacturers of coated abrasives continue to investigate better materials and coatings to reduce loading and extend the life of the media. This is true for all coated abrasives, including flap disc, belts, and resin fiber discs.
"Some cool things I have seen that are not in the market yet, or are new to market, and help reduce loading, are patterned grain designs, different types of top coating, and grain mixes," Hufford says.
While ceramics have improved over the last 10 years, new developments in how grains are shaped, how they fracture, attach to the coated abrasive backing, and
how they are stacked together continue to evolve. Some patents have expired in the industry, which may open opportunities for different shaped grains in the future.
"I was at the Cologne show earlier this year, and some manufacturers were basing their booth design on the top coat color of their ceramic grain. Ceramics will continue to improve and become more cost efficient in the next five years, and there is a big movement to use ceramic as a base when developing product that works well with aluminum," he says.
Dual flaps on flap discs is another trend in the marketplace. They combine two different types of coated abrasive to get the best features and benefits. For example, cotton-backed cloth grinds fast but does not last as long as some other backings. Combine that with a polycotton or polyester backing, and different grain configurations, and products have been developed that cut as fast as cotton cloth but last longer.
Some packaging trends for resin fiber discs to help diminish the issue of curling have emerged over the last five or so years, Hufford adds. Some are packaged on spindles with a plastic nut to hold them in place and others use sealed bags that look like something you would find on the space shuttle.
Weiler is taking a focused segmented market/material approach to learning more about market needs. "As we understand the complexities and chemical makeup of aluminum, as one example, we can develop products around those needs and chemical reaction expectations, while insuring that no residue is present that may cause a weld to fail inspection. We are also looking into specific segments with the goal to become experts through the voices of our customers, understanding not only their product needs but also their biggest headaches, and what they like and dislike about the way they are currently served in the market, so we can develop an overall value package that benefits particular markets," he says.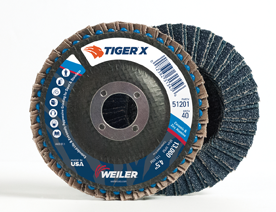 Weiler recently launched the TIGER X flap disc, with X3 industry-exclusive technology that combines a triple split coat grain anchoring system, dual flap design, and engineered abrasive cloth backing with intermixed ceramic alumina and zirconia alumina materials. This unique combination creates a faster grind rate while increasing life.
Hufford adds that resin fiber discs will continue to improve. "One of the biggest user complaints I hear in the field is that even with some of this spindle or bagged packaging, there are still issues with disc curl. I suspect that new solutions are right around the corner, so the user doesn't have to store them in a particular way to have a usable product at their fingertips," Hufford says.
He says that base coated material used to shape the product into a belt, roll, disc, flap disc, or wheel, etc., will continue to evolve. "The biggest changes, in my opinion, will come in the form of different options of cloth backing, different grain mixtures or different grains all together, and improvements to how those grains attach to the backing to maximize life without sacrificing cut rate," he says.
David Jescovitch, Weiler's business development manager, Welding & Fabrication, adds that it's important to consider the overall process when choosing an appropriate abrasive, not just cutting faster or leaving a finer finish on the immediate part versus the current process used.
"For example, an AO resin fiber disc finishing a surface on a long SS cabinet can be improved by changing to a ceramic grain disc. However, the consistency of that finish could be improved by using a higher amp tool. Also, if the length of the SS cabinet consumes several resin fiber discs, it may be more economical to switch to a flap disc to ensure the finish is consistent from one end of the cabinet to the other, without making a secondary pass."
Distributors and manufacturers should consider and be trained to discuss the entire process rather than just improve the immediate application, Jescovitch says.
"This is one of the advantages of having Weiler specialists examine the process rather than just converting an existing product," he says.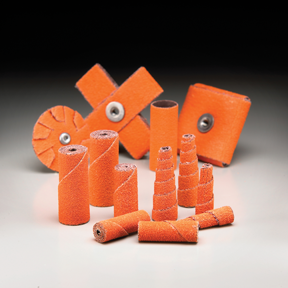 Norton Abrasives
Patrick Carroll, product/marketing manager MRO-coated abrasives for Norton America, Norton | Saint-Gobain, says one trend is the move to smaller machines and supporting abrasives. Customers are using smaller machines for a variety of reasons, including ergonomics, less vibration for operator comfort, better finishes, more control, even wear, and the ability to get into tighter spots.
Norton has responded with significant investments in "smaller" coated & Bear-Tex products, Carroll says. "One example is our recently introduced new line of Norton coated specialties including Quick Change discs, mini flap discs, flap wheels, and traditional specialties like cartridge rolls, spiral rolls, overlap slotted discs, square pads, and cross pads. These are available in an easy to specify line of good, better, best tier of products to fit each customer's need."
Another example is the line of Norton Bear-Tex Quick Change products featuring Rapid Prep, Rapid Blend, and Rapid Strip discs in standard and premium tiers.
Carroll adds that more customers are now finishing stainless steel and other harder-to-grind materials, complementing the historical focus of finishing carbon and other softer-to-grind materials. These harder-to-grind materials offer special challenges in finishing.
"Understanding this challenge, many suppliers are updating/improving the ceramic grain used in coated and Bear-Tex products. In addition, Norton is enhancing the backings used on both coated and Bear-Tex products by making them heavier, which allows for longer life and durability, important for added performance," he says.
Carroll suggests that distributors and suppliers can sell more new products by focusing on key industries like aerospace, foundry, and metal fabrication, where customers are driving the move to smaller machines and abrasives. Market-focused supporting literature, training, and samples kits maximize selling efforts and returns.
Gemtex Abrasives
"We address the diversified coated abrasives market with a dual approach," explains Frank Prenda, vice president of sales and marketing for Gemtex Abrasives. "First, we offer a variety of product configurations such as Trim Kut, Grind R, and quick change attachments in a multitude of minerals formulated for a broad spectrum of metal grinding applications (GEM Supreme)."
Equally important, Prenda says, is the ability to provide product configurations manufactured with proprietary formulations for use on specialty metals for a wide variety of applications, such as Strip Away. "We work closely with end-users in the development of products that offer the best cost-effective solution for their working environment. In some instances, new formulations are born from the users requirements for increased quality, durability, and productivity."
Much like the cutting tool industry, Prenda says Gemtex constantly experiments with ways to reduce heat build-up generated in coated abrasive applications involving exotic metals with high tensile strength (PMD Supreme) and metals with low melting temperatures like aluminum (PMD Supreme Plus). "The challenge, and always the priority, is to provide the highest quality product at the most competitive price," he says.
The goal at Gemtex is to work with distribution partners that share the same business philosophy to cut costs at the end-user level by providing the best products and methods to increase productivity. "This starts with training and a strong business relationship between distributor, supplier, and end-user. It is incumbent upon the supplier to provide distribution with the education and incentive programs to create the dialog necessary to achieve the end-users' goals. If all three work in tandem, it is a win, win, win," he says.
This article originally appeared in the May/June 2016 issue of Industrial Supply magazine. Copyright 2016, Direct Business Media.
COMMENTS: 0
---