Joint Marketing Plans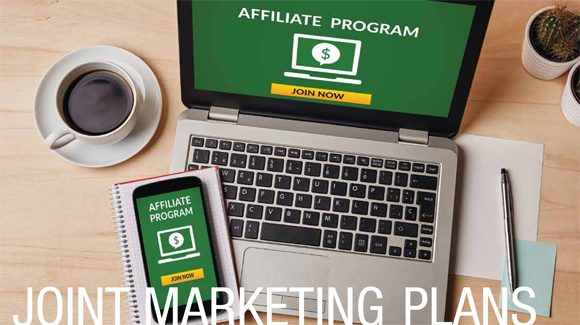 by Frank Hurtte
The so-called Joint Marketing Plan sometimes makes me cringe. Many involve expensive man-hours of time to formulate, yet at the end of the year, nothing happens. In theory, the
distributor and manufacturer sit down to synchronize their schedules to make sure important stuff happens. In the best of circumstances, both sides gain new traction in the market, the manufacturer gets more market share and the distributor gets new customer margins. Sadly, at least in my opinion, the payback is minimal.
The same tired old process continues year after year. With blinders firmly in place, the teams repeat the previous year's events and are surprised when they achieve the same results. The distributor gets frustrated, the supply partner feels used and the customer rarely notices a difference.
Manufacturers turn their marketing plans into policy
Perhaps the most common marketing plan comes in the way of co-op dollars. Working under the assumption that distributors actually understand marketing, the supply partner provides a percentage of sales to the distributor to spend on brand awareness, or co-branding. The distributor is allotted a budget for things such as hats, jackets, T-shirts, golf balls and other miscellaneous trinkets bearing the names of both the manufacturer and distributor. With tongue in cheek and the Road Runner cartoon in mind, the idea is that a customer brandishing a neat new "Wile E. Coyote Distribution – ACME Anvil" jacket will buy more ACME anvils in the future. Does it ring true? Well, maybe.
Distributors appreciate these plans because there are a few segments of our industry left where distributor-branded items are valued by customers. The items work out well for door prizes and swag bags for customer events and golf outings. While everyone likes getting something free, no one ever asks if they are truly effective. It's almost as though we're afraid to stop doing it.
At the same time, a growing number of manufacturers see the practice differently. Allow me to share a horror story straight from the lips of a regional vice president of a major supplier:
"I was visiting the headquarters of one of my distributors. They are nice people. Near the end of my visit, I did the mandatory tour of their facility. After the tour, I was ushered into a locked room that looked like the storage facility at the local golf pro shop. The distributor reached over and handed me two boxes of high-end golf balls and said, 'Here, these might come in handy this weekend.' I glanced down and they bore the logo of our biggest competitor. I don't believe this was a joke. He was just giving me some nice golf balls. I couldn't help but wonder where the money I gave them for marketing items went."
Somehow, I don't believe this is an isolated case. Even if the golf balls had the right client logo, what was the marketing purpose?
Another popular joint marketing adventure is participation in customer events. This comes in the way of internal trade shows, counter days, sports outings and similar events. These are designed to allow direct access to the distributor's customers; a chance to press the flesh. Following the lead of a few major marketing groups, these come with a price tag that often pushes into the thousand dollar range. I see the value, but one might wonder if this isn't good old-fashioned selling rather than marketing.
It's time we enter the digital age
Moving into the digital age, distributors and manufacturers alike were experimenting with the mysteries of the webpage. Distributors liked being referenced by the manufacturer's seemingly more powerful website. Manufacturers wanted their logos prominently displayed on the distributor website as a way of generating added customer awareness. Somewhere along the way, manufacturers were told their web search engine optimization (SEO) rankings would improve if their distributor partners provided not only their logo on websites but a link to the manufacturer's own site. All of this made great sense and the costs were relatively minimal. Both sides benefited and customers would somehow be impressed. Mostly, customers didn't notice. If they did notice, however, nobody had information to gauge the extent of the customer response.
We (as a group) were neophytes to the whole internet thing in those days recently past. No one thought of capturing customer locations, emails and other important information. After exploring the topic, I can't recall a single manufacturer that could accurately provide me with the number of click-throughs coming from specific distributors in the field. For distributors, one would wonder if a specific landing page for each click from a specific manufacturer might be appropriate.
Other marketing plans involve the use of newsletter inserts, blog posts and other information developed for the customer-based messaging. Distributors struggle to develop quality and relevant content. Since many distributors are not fully staffed in the marketing department, the results are often less than spectacular. Due to the nature of their business, even smaller manufacturers have skilled marketing teams capable of providing quality content with cool graphics and all the bells and whistles. However, there is a breakdown.
While product information is important, the content needs to carry a story, a localized story. Rather than just post a generic copy of some previous ad, why not customize it with a local landmark, the distributor's location or something tied to the distributor's territory? If the information goes out in email format, why not establish a plan for the distributor to send added information to those who open the email? Further, if the email carries a link for more information, the manufacturer could create a special landing page that promotes both the distributor and the manufacturer.
E-marketing on steroids
Why not establish a marketing plan to use social media to attract new customers? One very innovative company shared their new joint marketing plan with me. Instead of spending money on the typical "trash and trinkets" of days gone by, they are narrowing the use of their market dollars by buying very focused LinkedIn advertising. Here's how it works:
The company has a new set of products that create a need for their distributors and reps to call on a slightly new customer contact group. Instead of engineers, maintenance people and the normal suspects, this product technology generally requires customers who carry titles of facilities planner, production manager, plant engineer and a few other names. Generally, this is not a group well known to distributor salespeople.
The marketing team of the manufacturer and distributor select the location and titles of the targeted customer list. LinkedIn automatically places a carefully created advertisement offering additional information (and collects contact information) onto these prospective customers' profile pages.
Once this information is obtained, the distributor and supplier both send information on the product and the local expertise available. The distributor is given the choice as to whether lead qualification takes place through the manufacturer or via their sales team. Prior to giving the leads or follow-up responsibility to the distributor, the supplier designed a sample presentation and collateral to guide the sales guys unfamiliar with talking to this kind of customer contact.
The net result of all this equates to new customer contacts for both the distributor and supplier, better product introduction and accelerated sales growth for both organizations. Isn't this the goal of a marketing plan? It's time to get modern on joint marketing plans
Let's conclude this with a Machine Gun Kelly rapid fire look at joint marketing plans.
Cool new trinkets for customers – My guess is the top drawer of your desk is full of pens, clips, thumb-drives and other junk given to you by vendors. Each of them cost a buck and, for the most part, they languish until the next time you clean out your desk. Don't do it.
Calendars – The walls of your favorite customer are plastered with calendars carrying your logo and the logo of some key supplier. It makes you feel good every time you walk in the door. The customer seems to like them. But, these things are going for over five bucks a pop. How many of them go to waste?
Shirts and hats – Your sales team shows up to work wearing polo shirts and jackets from your best suppliers. They like it, I like it. Proceed with caution.
Supplier-provided email and blog posts – If they are done right, they bring recognition. I recommend improved use and content. Go for it.
Supplier-provided instructional videos for your website – I just fixed the headlights on my new car with a video from YouTube. If you have a library of these from various manufacturers, your website traffic improves. We've got to do more.
Joint cooperation on social media – This one can reap major benefits. Read above.
Joint customer training – I believe training is the new marketing. Train your customer's people and the distributor and manufacturer score big. Mini-trade shows should carry a healthy dose of training to bring extra customer value. Do lots of this.
Will this ever be over?
Thankfully, this article ends soon. Marketing, however, is a never ending task. Sadly, we often fail to adjust our practices with the time. What worked in 1989 won't work in 2019 and what works in New York probably won't work in Iowa. Our research indicates the best joint marketing programs are those developed specifically to match the territory needs of individual distributors. A few progressive suppliers have set up programs for their marketing teams to interact and brainstorm with distributor marketing teams. Those joint marketing programs work.

Straight talk, common sense and powerful interactions all describe Frank Hurtte. Frank speaks and consults on the new reality facing distribution. He has a new book out – "Plan on Breaking Through – Strategic Planning for Accounts." Contact Frank at frank@riverheightsconsulting.com, (563) 514-1104 or at riverheightsconsulting.com.
This article originally appeared in the May/June 2019 issue of Industrial Supply magazine. Copyright 2019, Direct Business Media.
COMMENTS: 0
---